The Blue Jays seem poised to contend for the playoffs following a series of bold offseason moves by GM Alex Anthopoulos.
Major League Signings
Melky Cabrera, OF: two years, $16MM. 
Maicer Izturis, IF: three years, $9MM. $3MM Club option for 2016.
Henry Blanco, C: one year, $750K.
Mark DeRosa, IF: one year, $750K. $750K Club option for 2014.
Darren Oliver, RP: one year, $3MM. Club option exercised.
Total Spend: $29.5MM.
Notable Minor League Signings
Trades and Claims
Acquired SP Josh Johnson, SP Mark Buehrle, SS Jose Reyes, OF Emilio Bonifacio and C John Buck from Marlins for SS Yunel Escobar, IF Adeiny Hechavarria, P Henderson Alvarez, P Justin Nicolino, OF Jake Marisnick, C Jeff Mathis and P Anthony DeSclafani. C John Buck later traded to Mets.
Acquired SP R.A. Dickey, C Josh Thole and C Mike Nickeas from Mets for C John Buck, C Travis, d'Arnaud, P Noah Syndergaard, and OF Wuilmer Becerra.
Acquired RP Jeremy Jeffress from Royals for Cash Considerations.
Acquired IF Mike Aviles from Red Sox for P David Carpenter. IF Mike Aviles later traded to Indians.
Acquired RP Michael Schwimer from Phillies for 1B Art Charles.
Acquired RP Esmil Rogers from Indians for IF Mike Aviles and UT Yan Gomes.
Claimed UT Lars Anderson off waivers from White Sox.
Claimed P Chad Beck off waivers from Pirates.
Claimed UT Russ Canzler off waivers from Indians. Later claimed off waivers by Indians.
Claimed P Mickey Storey off waivers from Astros.
Claimed C Eli Whiteside off waivers from Yankees. Later claimed off waivers by Rangers.
Claimed P Scott Maine off waivers from Indians. Later claimed off waivers by Marlins.
Claimed P David Herndon off waivers from Phillies. Later claimed off waivers by Yankees.
Claimed C Bobby Wilson off waivers from Angels. Later Non-tendered.
Claimed P Tyler Brummett off waivers from Phillies.
Claimed P Cory Wade off waivers from Yankees.
Claimed OF Scott Cousins off waivers from Marlins. Later claimed off waivers by Mariners.
Claimed P Tommy Hottovy off waivers from Rangers.
Extensions
R.A. Dickey, SP: two years, $25MM. $12MM Club option for 2016.
Josh Thole, C: two years, $2.5MM.
Notable Losses
John Buck, Travis d'Arnaud, Jeff Mathis, Eli Whiteside, Bobby Wilson, Kelly Johnson, Yunel Escobar, Adeiny Hechavarria, Mike Aviles, Scott Cousins, Henderson Alvarez, David Carpenter, Jason Frasor, David Herndon, Brandon Lyon, Scott Maine, Carlos Villanueva.
Needs Addressed
A transformative offseason began with a change of leadership for the Blue Jays. They traded manager John Farrell to the Red Sox, ending a two-year relationship that concluded with the revelation that Farrell preferred to to manage in Boston. John Gibbons returns to Toronto, where he managed from 2004-08.
The Blue Jays re-built their rotation, acquiring R.A. Dickey, Josh Johnson and Mark Buehrle in a pair of high-profile trades. These pitchers provide the Blue Jays with much-needed depth following a season in which a thin rotation got exposed when injuries struck. The Blue Jays also addressed bullpen needs, bringing back Darren Oliver and acquiring Jeremy Jeffress and Esmil Rogers.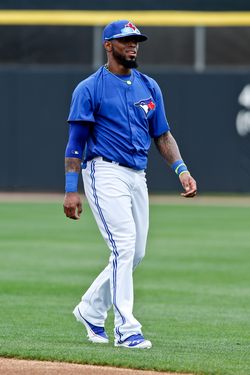 The starting lineup has a new look, with Jose Reyes, Maicer Izturis and Emilio Bonifacio up the middle. These new acquisitions and holdover Rajai Davis could add significant value on the basepaths, as Dave Cameron of FanGraphs recently explained. 
Melky Cabrera becomes the team's primary left fielder after signing a two-year, $16MM contract. It's a substantial commitment for a player linked to performance enhancing drugs, but the deal has significant upside. Newcomers Mark DeRosa, Henry Blanco and Josh Thole provide the team with depth on the bench and at Triple-A Buffalo.
Anthopoulos spent aggressively on free agents Cabrera and Izturis and, after years of stockpiling prospects, traded from minor league depth. In Dickey, Johnson, Buehrle, Reyes and Cabrera the team acquired five former All-Stars. Best of all, the Blue Jays didn't have to surrender much off of their MLB roster to acquire these players and establish themselves as contenders. 
Questions Remaining
The Blue Jays have significant health questions entering the 2013 season. Jose Bautista underwent surgery on his left wrist last year and Johnson and Brandon Morrow have had trouble staying healthy in recent years (recent DL trips are reason enough to have some concern going forward, as Russell A. Carleton of Baseball Prospectus recently showed). Knee and elbow issues plagued Ricky Romero in 2012, and the left-hander put together a career-worst season. The Blue Jays can't afford a repeat performance from Romero. 
Colby Rasmus, who played so well early on in 2012, struggled mightily in the second half. The Blue Jays need more from Rasmus in 2013. Meanwhile, Cabrera will have the chance to quiet skeptics after missing the end of the 2012 season due to a violation of MLB's drug policy.
Adam Lind, the Blue Jays' projected designated hitter, has a 93 OPS+ over the course of his last 1500 plate appearances. He had a great 2009, but that's a long time ago now, as '09 All-Stars Brad Hawpe and Zach Duke can attest. If an argument exists that Lind is now anything more than a platoon hitter with little defensive value, I haven't seen it.
Deal of Note
The blockbuster trade with Miami did more than re-stock the Blue Jays' roster. It signaled a change in direction for a Blue Jays team that had previously spent modestly under the ownership of Rogers Communications. The Blue Jays play in one of North America's largest markets, and they clearly view themselves as Canada's team. Now they're actually acting like a large market club.
The blockbuster trade improved the Blue Jays in a number of areas, none more important than the starting rotation. They had one of the worst starting rotations in baseball this past season in terms of innings, ERA, wins above replacement, strikeout rate and walk rate. Injuries contributed to the disappointing year, but the club didn't have enough depth.
Toronto's blockbuster trade with the Marlins addressed the issue of rotation depth in a meaningful way. Buehrle has completed 200-plus innings in every one of the last 12 seasons and Johnson rebounded from an injury-shortened 2011 season to pitch 191 1/3 innings in 2012. Gibbons and the Blue Jays would surely welcome similar performances in 2013. 
The acquisitions of Johnson and Buehrle pushed pitchers such as J.A. Happ, Chad Jenkins and Brad Lincoln down on Toronto's depth chart. Just about every team goes through five or ten starters over the course of the season, so Happ and others will get their chances. The difference is, they're no longer the team's best options.
Overview
The Blue Jays entered the offseason as a flawed, 89-loss team with a manager who preferred to leave. They emerged from it as the World Series favorite — at least according to Las Vegas. In between Anthopoulos made a series of tremendous moves, restoring hope for a fan base that hasn't had a playoff team in two decades. The players are in place. Now it's a matter of staying healthy and meeting expectations.
Photo courtesy of USA Today Sports Images.