The White Sox announced that they have agreed to sign Chris Sale to a five-year extension. The deal will guarantee the left-hander $32.5MM and could keep him in Chicago through 2019. Sale, a client of Jet Sports Management, emerged as a frontline starter in 2012.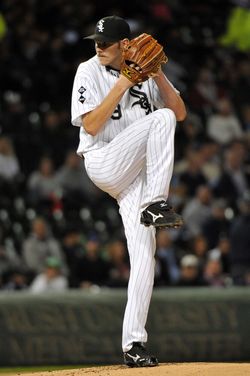 "We are thrilled to be able to reward Chris for his accomplishments thus far in his career and to keep one of the best young starters in the league in a White Sox uniform for potentially the next seven years," White Sox senior vice president/general manager Rick Hahn said.
Sale's deal covers his remaining pre-arbitration season, his three arbitration seasons, and at least one free agent year. The contract also includes club options for the 2018 and 2019 seasons. The 23-year-old will earn $850K in 2013, $3.5MM in 2014, $6MM in 2015, $9.15MM in 2016 and $12MM in 2017. The White Sox have options for $2018 ($12.5MM) and 2019 ($13.5MM) with $1MM buyouts.
The deal includes an escalator that could increase the total value of the contract to $60MM over seven years, Dan Hayes of CSNChicago.com reports (on Twitter). Sale would have to win a Cy Young to trigger the escalator.
Sale pitched like one of the American League's top starters in 2012 after contributing out of the bullpen for his first two MLB seasons. He posted a 3.05 ERA with 9.0 K/9 and 2.4 BB/9 in 192 innings in 2012, earning a spot on the AL All-Star team.
As MLBTR's Extension Tracker shows, it's nothing new for pitchers with two-plus years of service to sign five-year extensions worth $30MM or so. Jonathon Niese, Derek Holland, Trevor Cahill, Yovani Gallardo and Jon Lester are among the pitchers who signed these deals. Typically the extensions include at least one club option.
Bruce Levine of ESPNChicago.com first reported the agreement. Photo courtesy of USA Today Sports Images.