The Marlins have become synonymous with Major League fire sales after gutting the team once again.
Major League Signings
Notable Minor League Signings
Trades and Claims
Notable Losses
John Buck, Yunel Escobar, Jose Reyes, Emilio Bonifacio, Scott Cousins, Heath Bell, Chad Gaudin, Josh Johnson, Juan Carlos Oviedo, Mark Buehrle, Sandy Rosario.
Needs Addressed
Marlins owner Jeffrey Loria explained to reporters in February that the team needed to "push the restart button" after their splashy 2011-12 offseason spending binge failed to produce a winning club and the accompanying ticket sales in the inaugural season of the new ballpark.  The restart process actually began in July, when the Marlins traded Anibal Sanchez, Omar Infante, Hanley Ramirez, Randy Choate, Edward Mujica, and Gaby Sanchez for younger, cheaper players.  They took a step further in October, firing manager Ozzie Guillen and trading pricey reliever Heath Bell.
The team's actions up to this point were somewhat defensible.  Jacob Turner, Nate Eovaldi, Brian Flynn, Rob Brantly, Zack Cox, Gorkys Hernandez, and Yordy Cabrera were acquired in those trades.  The young players received had some warts, but the traded Marlins veterans were either impending free agents (Anibal Sanchez, Infante, Choate) or slipping in performance and/or overpaid (Ramirez, Gaby Sanchez, Bell, Mujica).  Many teams would have chosen not to spend $95.5MM to retain the three free agents, would have welcomed the payroll flexibility gained by moving the other four, and might have deemed the Guillen experiment a failure after one year.  The Red Sox, for example, pushed the restart button in a similar way by shedding Kevin Youkilis, Adrian Gonzalez, Carl Crawford, Josh Beckett, and Nick Punto and firing volatile manager Bobby Valentine.
In November, however, the Marlins made it clear that they were not just retooling to take another shot at contending in 2013.  The payroll flexibility was not about reallocating money toward other players; it was about keeping the money and slicing payroll drastically.  The Marlins and Blue Jays shook the baseball world with a 12-player trade, in which the Marlins sent starters Josh Johnson and Mark Buehrle, starting shortstop Jose Reyes, utility man Emilio Bonifacio, and catcher John Buck to the Blue Jays.  The Marlins ditched over $160MM in contractual commitments to Johnson, Buehrle, Reyes, and Buck.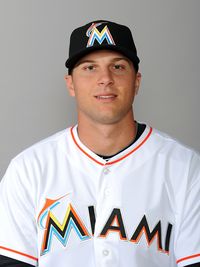 Aside from the desire to reduce their financial commitments drastically, the Marlins acquired a collection of young players to bolster their farm system.  In the view of Baseball America, they acquired two top 100 prospects from the Jays in the trade: center fielder Jake Marisnick (pictured) and lefty Justin Nicolino.  ESPN's Keith Law seems to feel similarly about the total value of the pair.  The Marlins also acquired useful young players in Alvarez, DeSclafini, Hechavarria, and Derek Dietrich (for Yunel Escobar).  However, it is clear to me that adding the best young players possible was secondary to shedding contracts, because the Marlins would have gotten more back by auctioning off Reyes, Johnson, and Bonifacio separately while showing a willingness to include a notable amount of cash with Reyes.  I think they would have had a harder time unloading Buehrle and Buck had they not been bundled into the megadeal.
When the dust settled, the Marlins obviously improved their farm system.  By how much is subjective.  Loria was quick to suggest his team's farm system is now fifth in baseball, a nod to Baseball America's rankings, as opposed to 16th as per ESPN's Keith Law.  Loria left out the fact that the team's five best prospects, as ranked by BA, were already in the organization prior to the offseason purge.  Ultimately the Marlins have a couple of very good outfield prospects, four years of Giancarlo Stanton, fairly interesting young players around the infield, and an enviable collection of young pitchers.  The Marlins have at least drawn praise for choosing former catcher Mike Redmond to manage these kids.
Technically we should mention the $5.35MM the Marlins spent on Rauch, Polanco, and Pierre.  They're veteran placeholders, something even the cheapest rebuilding team usually acquires each offseason.  At least the Marlins can be a drawing card for low-rent free agents, since the team can provide playing time.  Aside from Stanton, who is hopefully part of the Marlins' plan for the future, the team is bereft of veterans with trade value.  A different team might spin a good first half from Ricky Nolasco plus relief for his $11.5MM salary into a decent prospect this summer, but it's reasonable to expect the Marlins to prioritize the salary relief.
Questions Remaining
There's an argument for the Marlins' binge-and-purge model, if done right.  Baseball Nation's Marc Normandin made the case in November 2011 that the Marlins had "loaded up and burned down successfully twice now," and the resulting pair of championships beat rooting for the Pirates, even if the Marlins were also hard to watch between their '97 and '03 titles.  One problem is that the Marlins didn't binge all that well in the 2011-12 offseason.  Bell was a clear overpay from Day 1, Buehrle was the second-best free agent starter in a weak crop, and the team opened 2012 with multiple issues.
Binging and purging on free agents has major consequences: fans hate you for it, and free agents don't want to sign with you.  The Marlins have taken a desirable place to play, Miami, and made it something free agents will make a point to avoid, as they do with a few other big league cities.  As for the fans, it's easier for an owner to play fast and loose with them when the prospect of moving the team is still viable.  Looking only at the roster and contracts, the Marlins' purge would have made them more valuable to a potential new owner if not for one thing: the $639MM, mostly publicly-financed ballpark they had built.  Because of the toxic situation the Marlins' ownership created, it might take a three-year run of success to even see if baseball has a chance in Miami.  The team would be in a much better position had they never binged in the first place.
Is there still a way to lock up Stanton and win back a few fans?  Loria knows he'll have to let the 23-year-old slugger play out the season, at which point a commitment over $100MM may be required.  Money talks, even the Marlins' money, but it might have to be a precedent-shattering deal to convince Stanton.  The counterargument is to trade him this summer, since the team still has plenty of needs and Loria's reputation can't get much worse anyway.  Before you cook up a lopsided trade proposal in the comment section, though, keep in mind that Stanton is far, far more valuable on the trade market than Reyes or Johnson was.
Overview
The Marlins chose an extremely unpopular path this offseason, although at least they didn't play it safe.  Nothing Loria can say will change the public's perception of him and the team.  The franchise might still be saved, if Loria eventually sells.  It could be a nice situation for a new owner: Loria takes the fall for the fire sale, and maybe in two or three years the Marlins will begin a sustained run of success.  But for 2013, at least, this team might not crack 70 wins.