Braves right fielder Jason Heyward is one of few star-caliber players currently going year-to-year.  Just 23 years old, Heyward is under the Braves' control as an arbitration eligible player through 2015.  What would a fair extension look like for the Excel Sports Management client?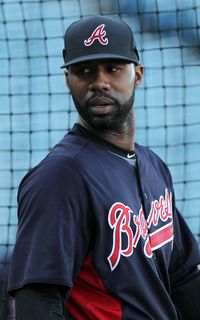 One comparable could be the Orioles' Adam Jones.  Jones signed a six-year, $85.5MM extension in May of last year, about three months after the salary for his second arbitration year was determined.  A Heyward extension, if it were done during this season, would include that second arb year.  Jones was closer to free agency than Heyward is, which generally gets the player more money.  Since Heyward has less service time than Jones did, perhaps the Braves could replace the fifth guaranteed free agent year with a club option.  That would put us around $75MM over six years (2014-19).  Even if the 2020 club option is exercised, Heyward would be able to enter free agency at age 31 and get another big contract.
The Braves, perhaps, could point to an older but more evenly matched Orioles outfielder extension, the one Baltimore did with Nick Markakis prior to the 2009 season.  At the three-year service point, Markakis compared favorably to Heyward in terms of OBP and SLG.  Both players had exactly 59 career home runs, but Markakis had 33% more RBIs and a superior platform year, one in which he posted a .406 OBP.  So even though that contract is four years old, the Braves could make a case against guaranteeing much more than the $63.1MM Markakis received covering his second arbitration year through his third free agent year (five years in total for that slice).  The Orioles did not get a club option on Markakis or Jones, however, so that will be a tough sell for Heyward.
One thing to note about Heyward, of which the Braves are surely aware, is that last year he derived a lot of value through defense, and that generally doesn't pay in arbitration.  Last year's high-water marks of 27 home runs and 82 RBIs are decent, but Heyward would have to take his offensive counting stats to another level to break the bank in arbitration.  In February there was talk of the Braves trying to buy out Heyward's arbitration years, but I don't see much reason for the club to do a two-year deal.  They haven't done a long arbitration year extension in general since Brian McCann in March 2007, according to our extension tracker, and Heyward has significantly more service time than McCann did.  If the Braves want to secure some of Heyward's free agent years, now might be the ideal time.  A five or six-year offer in the $63-75MM range would be fair.
Photo courtesy of USA Today Sports Images.