The No. 3 overall selection from last year's draft is on his way to the Majors. Larry Stone of the Seattle Times tweets that top prospect Mike Zunino will be on the next plane to Seattle to join the Mariners.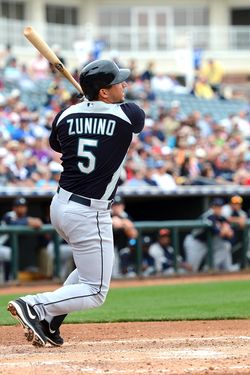 Zunino, 22, ranked as the No. 17 prospect in baseball prior to this season according to Baseball America's Top 100 list. He placed 23rd on MLB.com's Top 100, and ESPN's Keith Law ranked him 18th in a recently updated edition of his Top 25 prospects (Insider required). Law notes that while Zunino has struggled, he's also the only hitter from last year's draft who has already advanced to Triple-A.
Zunino has indeed struggled, batting .238/.303/.503 with 11 homers in 47 games for Triple-A Tacoma this season. The former Florida Gator is striking out quite a bit (28.4 percent), though his average has likely been partially deflated by a .277 BABIP. It's hard to believe Zunino could be any worse than the .202/.276/.322 batting line produced by Seattle catchers thus far, but Dave Cameron of Fangraphs and the U.S.S. Mariner questions the motives behind the move, opining that Zunino hasn't earned his call-up (Twitter links).
The Mariners have waited long enough with the promotion to delay Zunino's free agency by a full season, but he could still be eligible for Super Two status, given the projected service time cutoff of two year, 119 days. If he stays in the Major Leagues for the remainder of the season, Zunino will earn 112 days of service time. With this promotion, he joins Kevin Gausman and Michael Wacha as the only first-round selections from the 2012 draft to have reached the Majors.
Photo courtesy of USA Today Sports Images.