Diminutive second baseman Jose Altuve already has "his face on the side of the stadium," explains Astros GM Jeff Luhnow, and now has the contract to support his status as the team's biggest attraction. Altuve agreed today to an extension that will guarantee him $12.5MM over the next four years and includes two club options for the 2018 and 2019 seasons ($6MM and $6.5MM, respectively). In addition to buying out Altuve's remaining pre-arbitration season and all of his arbitration years, the Astros now control the 23-year-old Altuve for his first two free agent-eligible seasons.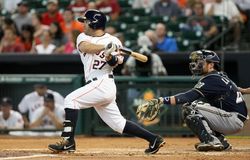 Altuve, a client of Octagon since leaving the Boras Corporation in May, has held down the club's regular second base job since last year. Altuve emerged last year with a .290/.340/.399 line and 33 stolen bases over a full season of 630 plate appearances. He has failed to maintain quite that pace so far this season, however, as he currently sports a .280/.317/.354 line in 380 plate appearances. Altuve has swiped another 21 bags thus far in 2013, though, and advanced defensive metrics peg him as a stable, if unspectacular, presence at the keystone. 
The move to lock up Altuve represents the first significant long-term commitment since Houston handed the reigns to GM Jeff Luhnow, but is unlikely to be the last. The deal does not provide Altuve with any no-trade protection. While the Astros will only be bound to pay $12.5MM to Altuve over the next four seasons, the deal would be worth up to $25MM over its full six year term if the club exercises both options. Altuve was not set to reach arbitration eligibility until 2014 and will not be eligible for free agency until 2017, at which time the Astros will have to decide whether to exercise one or both of the options they hold.
As MLBTR's Tim Dierkes explained upon Altuve's change of agents, the then-hot-hitting Altuve could conceivably have been worth a five-year deal in the range of up to $30MM. Dierkes pointed to the relevant, if not precisely comparable, extensions given to Alcides Escobar (four years, $10.5MM) and Cameron Maybin (five years, $25MM). With Altuve cooling off at the plate considerably since that time, the parties seem to have followed the Escobar model in structuring this deal. Both the Altuve and Escobar extensions guaranteed four pre-free agent seasons in exchange for a pair of options. Altuve, like Escobar, is a light-hitting, speedy middle infielder whose value is heavily dependent upon getting on base. In that respect, Altuve's lower walk rate and higher strikeout rate this year (as against 2012) are of some concern, especially since his ISO is also down.
While Altuve has yet to take the step forward that some expected after an All Star appearance last season, he nevertheless remains a valuable young commodity. Luhnow says that the team felt the time was right to "remov[e] some of the uncertainty for him and for us." Certainly, by reaching agreement now, Houston was able to lock up Altuve at a lower price than he might have commanded earlier in the year (or, conceivably, could command down the line). And the limited guarantee holds down the deal's risk to an Astros organization that has been highly protective of its present and future payroll.
Brian McTaggart of MLB.com was the first to report that the parties had reached agreement. McTaggart also tweeted that the deal did not include a no-trade clause. CBSSports.com's Jon Heyman provided the first detail on the length and value of the contract (on Twitter), with FOX Sports' Ken Rosenthal reporting the value of the option years (also via Twitter). 
Photo courtesy of Troy Taormina/USA Today Sports Images.