The Indians have signed utility man Ryan Raburn to a two-year extension with a club option for a third season, the team announced via press release. It's reportedly a $4.85MM extension, and the option year is valued at $3MM with a $100K buyout.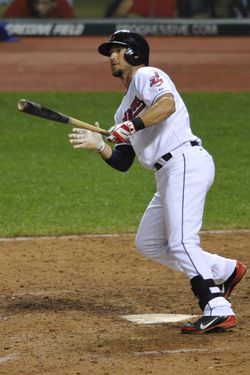 Raburn, a client of CSE, would have been a free agent following the season had he not signed an extension. He will earn $2.25MM in 2014 and $2.5MM in 2015.
Raburn, 32, signed a minor league deal with the Indians back in January that has proved to be one of the best minor league pick-ups of the offseason. He was released by the Tigers back in November, as Detroit clearly wasn't comfortable giving him a raise via arbitration (MLBTR contributor Matt Swartz had projected a $2.1MM salary for Raburn in 2013).
Raburn has been used primarily as a right fielder by the Tribe this season, though he's also seen time in left field and at second base. He's hitting a strong .277/.370/.565 with 13 homers in just 211 plate appearances. Raburn has been particularly strong versus left-handed pitching, hitting southpaws at a .307/.402/.627 clip with five homers.
As shown in MLBTR's Transaction Tracker, this marks the third extension hammered out by Indians GM Chris Antonetti since assuming the role after the 2010 campaign (when longtime GM Mark Shapiro was promoted to club president). Antonetti has also worked out a two-year, $16.5MM deal for Asdrubal Cabrera and a five-year, $21MM deal for Carlos Santana.
Paul Hoynes of the Cleveland Plain Dealer first reported the terms of the contract's guarateed portion as well as the yearly breakdown (Twitter links). MLB.com's Jordan Bastian was the first to report that the option was for $3MM (also via Twitter).
Photo courtesy of USA Today Sports Images.