SUNDAY: Blazek is indeed the player who will go to Milwaukee in exchange for Axford, Haudricourt tweets. The Brewers have confirmed the transaction in a press release adding Blazek will join the club tomorrow.
SATURDAY: Reliever Michael Blazek may be the PTBNL, Tom Haudricourt of the Milwaukee Journal Sentinel writes. The Cardinals optioned Blazek, 24, to their Triple-A affiliate on Thursday, but he never reported to the team. According to Haudricourt, he was probably told to wait and see if he clears waivers and is moved to Milwaukee in the deal.
The right-handed Blazek threw 10.1 innings for the Cardinals this season in his first taste of the big leagues, posting a miserable 6.97 ERA. However, he was much better in 45 2/3 minor league innings, compiling a 1.97 ERA across stops at Double-A and Triple-A. If Blazek is claimed by either the Marlins or the Cubs – the only two NL clubs with worse records than the Brewers - the Cardinals would likely pull Blazek back and complete the trade at the end of the season, Haudricourt says.
FRIDAY, 10:56am: Brewers GM Doug Melvin told MLB.com's Adam McCalvy that the player will be announced next week but wouldn't divulge whether he is a pitcher or position player. Melvin added that there's no cash in the deal, meaning the Cardinals are assuming all of Axford's salary (Twitter link).
10:03am: The Brewers announced, via press release, that they have traded right-hander John Axford to the Cardinals. The Cardinals also announced the trade, via Twitter, adding that they will send a player to be named later to Milwaukee.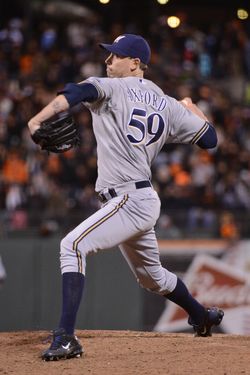 Axford, 30, has a 4.45 ERA with 8.9 K/9, 3.8 BB/9 and a 43.8 percent ground-ball rate in 54 2/3 innings for the Brewers this season. He lost the closer's role almost immediately this season and saw his ERA soar over 10.00 but rebounded in May, June and most of July. His struggles have returned of late, as he's allowed runs in seven of his past 13 appearances, pitching to an 8.25 ERA in that time.
Axford is earning $5MM in 2013 after avoiding arbitration for the first time this past offseason. Of that $5MM, roughly $847K remains. As a Super Two player, Axford will be eligible for arbitration three more times and can be controlled through the 2016 season.
In Axford, Cardinals GM John Mozeliak has acquired a flamethrowing righty that served as the Brewers' closer for nearly three full seasons. He posted a 3.04 ERA with 11.4 K/9, 4.1 BB/9 and 105 saves in 201 innings for the Brew Crew from 2010-12. Despite his struggles this season, he's still averaging 95.2 mph on his fastball, which is very close to his career mark of 95.5 mph.
We heard last night that the Brewers were looking to trade one of their relievers in advance of Saturday, which is the deadline for acquired players to be eligible for postseason play with their new teams. Shorty before the trade, Derrick Goold of the St. Louis Post-Dispatch wrote that the Cardinals may be open to adding a reliever from outside the organization to help a bullpen that has been taxed in the season's second half. Earlier this morning, we speculated that Axford might be a fit for the Cardinals on MLBTR's Facebook page.
Goold also tweeted that this is the first trade between the Brewers and Cardinals since 2003. On Aug. 27 of that year, the Brewers traded right-hander Mike DeJean to the Cards for a PTBNL that ended up being Mike Crudale.
Photo courtesy of USA Today Sports Images.