If you're looking for a power-hitting catcher, there's no better choice than Brian McCann.  McCann has played eight full seasons in the Majors, ranking worse than third in home runs at the position only one time.  He's averaged 21 bombs per year, and he has 20 this year even though his season didn't begin until May.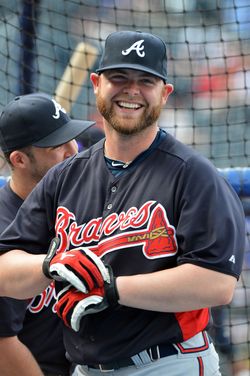 Strengths/Pros
McCann is a bona fide middle of the order bat, at a position for which a .246/.311/.390 line qualifies as average.  His career batting line is .277/.350/.474, which is not far from what he's accomplished in 2013.  Along with the big-time power, McCann can also draw a walk, with a career rate of 9.5%.
How many free agents will hit the market coming off a 20 home run campaign?  Assuming club options are picked up on Coco Crisp and Adam Lind, just 11 players including McCann will manage the feat.  Of those 11, only McCann and Robinson Cano play an up-the-middle position, if we don't consider Shin-Soo Choo a center fielder.  Like Cano, McCann provides offense at a position not known for it.
McCann won't turn 30 until February, so he's the youngest prominent free agent bat. 
Defensively, FanGraphs has numbers calculated by The Fielding Bible, as well as Hardball Times contributor Bojan Koprivica, suggesting McCann is about league average at throwing out potential base stealers and preventing them from trying, and he is above average at blocking pitches.  McCann appears to add significant value by virtue of his pitch framing ability.  In May, Ben Lindbergh of Baseball Prospectus wrote, "McCann's framing skill has saved the Braves almost 125 runs over the past five seasons."  McCann's ability to handle a pitching staff is hard to quantify, but reports are positive.
Weaknesses/Cons
The big concern heading into this season was McCann's shoulder.  He played through shoulder pain in 2012, receiving cortisone shots in August and September.  McCann had surgery in October to repair a torn labrum, and the Braves had enough faith to pick up his $12MM option for 2013 a few days later.  He made his season debut on May 6th and would hit six home runs that month.  McCann's continued health and strong play seems to have quieted concerns about the shoulder, as he garnered his seventh All-Star nod this year.
A left-handed hitter, McCann hasn't done much against southpaws recently.  Since 2012, he's batting .234/.271/.379 against lefties.
McCann has caught over 8,800 regular season innings in his career, and caution is required when throwing big money at a catcher in his 30s.  Former Marlins catcher Charles Johnson rates high on McCann's list of Baseball Reference comparables, and Johnson also caught over 7,000 innings before age 30.  Once he reached 30, Johnson had only 300 games left in the Majors.  Johnson did not have the luxury of the designated hitter, as McCann might, but the offensive bar to be an above average DH or first baseman is higher than at catcher.  McCann's market won't be limited to American League teams, but he'll be a much easier sell if DH is an option in the latter part of the contract.
McCann is likely to receive and turn down a qualifying offer, in which case he will come with the added cost of a first or second round draft pick.
Personal
Brian married his high school sweetheart Ashley, and they reside in Suwanee, Georgia with their son and new baby girl.  Brian is known as a family man.  The family supports the Rally Foundation, which aims to find better treatments of childhood cancer.  Brian's older brother Brad reached Double-A in the Marlins organization, and their father, Howard, coached baseball at Marshall University.  In the clubhouse, Brian is a team leader who is beloved by teammates and fans.  
Market
There is sentiment among baseball executives and agents that McCann will be best served going to the American League, allowing him to spend an increasing number of games at designated hitter as the contract progresses.  On the other hand, free agent signings are about short-term gain, and McCann is a capable backstop at present.  For NL teams, there's always the option of McCann learning first base if catching becomes untenable.  I imagine an NL team would seek a shorter term at a higher average annual value.
The Rangers have tried to acquire McCann via trade in the past, and they're the early speculative favorite.  The Yankees, Red Sox, Blue Jays, Tigers, Phillies, and Dodgers also seem like viable options.
What are the odds McCann signs a new deal with his hometown Braves, the only organization he's ever known?  If the slugger tells agent B.B. Abbott to get him the best possible contract, I think he's likely to move on.
In terms of other starting catchers on the free agent market, there's Saltalamacchia, A.J. Pierzynski, Carlos Ruiz, and maybe Dioner Navarro.  That's actually a better selection than in recent years.  As far as power bats in general, there's Cano, Nelson Cruz, Mike Napoli, Marlon Byrd, Raul Ibanez, Hunter Pence, Carlos Beltran, Curtis Granderson, Kendrys Morales, and Choo.
Expected Contract
It's difficult to determine whether McCann will get a fifth guaranteed year.  In recent offseasons, position players B.J. Upton, Josh Hamilton, Jose Reyes, Prince Fielder, Albert Pujols, Adrian Beltre, Jayson Werth, and Carl Crawford managed the feat.  None of those players are catchers, nor is McCann a superstar like some of them were.  A team could plan to move him off catcher at the tail end of the deal, but the wear of nearly 9,000 innings behind the dish has already been exacted on McCann's body, and raises durability questions for the future. 
The Werth contract aside, I think a fair average annual value for a very good player who is not a superstar is around $16-17MM.  Ultimately I expect McCann to sign a five-year, $80MM deal.
Photo courtesy of USA Today Sports Images.