When the Indians sent four minor leaguers — including a pair of first-round picks in Drew Pomeranz and Alex White — to the Rockies to land Ubaldo Jimenez in July 2011, they likely pictured a controllable ace that could lead their rotation for two and a half seasons. That didn't prove to be the case off the bat, but over the past five months, Jimenez has looked every bit the part of the pitcher they were hoping to acquire.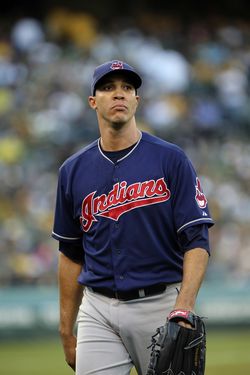 Jimenez has a 2.72 ERA with 150 strikeouts against 65 walks in his past 145 2/3 innings dating back to April 29, and his 43.5 percent ground-ball rate is closer to his career level than last season's surprisingly low 38.4 percent mark. Jimenez's well-timed surge has likely changed him from a one-year deal type of pitcher to a multiyear asset that many teams will covet.
Strengths/Pros
Jimenez will turn just 30 years old in January, making him one of the youngest starters available on the free agent market. Only Phil Hughes is decisively younger, while Josh Johnson and Scott Kazmir are roughly the same age. Each comes with red flags, as Hughes has had a rough season and been bumped from New York's rotation, while Johnson has been injured and ineffective all season, and Kazmir comes with his a long injury history and threw only 63 big league pitches from 2011-12.
Jimenez also racks up strikeouts frequently and is doing so at the highest rate of his career in 2013 (9.1 K/9). He comes without a significant platoon split, as right-handers have a career .689 OPS against him versus .709 for left-handers. In 2013, he's actually had a slight reverse-platoon split. When Jimenez is on his game, it doesn't matter what side of the plate opposing hitters are standing on.
He's also very durable. Jimenez has started at least 31 games in each season from 2008-12 and is on pace to start at least 30 contests in 2013. Among upcoming free agents, only Bronson Arroyo and Tim Lincecum have made more starts since 2008. Arroyo is seven years older, while Lincecum hasn't recovered from his struggles and diminished velocity like Jimenez has. He's been on the disabled list just once in his career, when he missed just over two weeks with a cut on the cuticle of his right thumb — a non-concerning injury to say the very least.
Weaknesses/Cons
Even when he's at his best, Jimenez's control has never been great. He's averaged 4.1 walks per nine innings in more than 1,200 career innings, and he's twice led the league in wild pitches. His ground-ball rate exceeded 50 percent with ease early in his career, but that number has dropped in recent seasons. His 43.5 percent mark in 2013 is a step up from 2012's mark of 38.4 percent, but he's still below the league average.
Jimenez's ground-ball rate isn't the only thing that's dropping; his once blistering 96.2 mph fastball has cooled off all the way down to an average of 91.7 mph this season. It's worth noting that like his ground-ball rate, his velocity has ticked back upward late in the season. Baseball Prospectus' Ben Lindbergh recently profiled (subscription required) some mechanical changes that Jimenez made to slow down his delivery, but even if those are to credit for his turnaround, one scout told Lindbergh that Jimenez's delivery is still flawed.
Personal
Jimenez enjoys spending time with his family and is very interested in music, as he demonstrated by showing off his drum skills in a visit to the MLB Fan Cave in 2012. However, those who know him describe him as driven and passionate about the game of baseball, noting that his main focus –especially when he isn't pitching up to his capability — is delivering his best possible performance on the field.
Market
The Indians hold an $8MM option on Jimenez, but the 2011 trade triggered a clause that will allow him to void the option if he wishes. He's a virtual lock to do that, which will force the Indians to decide whether or not to extend Jimenez a qualifying offer. Cleveland, who typically operates on a tight budget, already has more than $48MM in 2014 salary commitments before arbitration raises to Justin Masterson, Chris Perez, Michael Brantley, Drew Stubbs and Vinnie Pestano. A qualifying offer of nearly $14MM would seem to be too great a risk, especially given potential in-house replacements like Danny Salazar and Trevor Bauer.
The Indians may yet be interested in retaining him — they did exercise a $5.75MM club option last October in hopes of just this type of turnaround — but Jimenez will undoubtedly appeal to a number of teams. As a pitcher who has endured recent struggles, he may prefer to seek maximum security in terms of years. Teams such as the Angels, Giants, Padres, Twins, Yankees, Orioles, Pirates, Brewers and Rockies could all be on the lookout for starting pitching help this offseason.
Expected Contract
Jimenez has age and durability on his side as he heads into a free agent market that will consist of numerous teams looking to bolster their rotations. Many suitors could liken Jimenez's final five months of 2013 to his strong 2010 campaign and consider signing him an opportunity to get an ace-caliber starter at a below-market rate.
It's hard to peg someone who has had a comparable career, but Jorge De La Rosa was a similar high-strikeout, spotty command pitcher following the 2010 season when he signed a contract that guaranteed him three years and $30MM (two years, $21MM plus a $9MM player option that, if triggered, gave Colorado an $11MM club option for a fourth year). That contract is outdated, however, and De La Rosa never possessed Jimenez's durability.
If Jimenez decides he wants to risk a one-year deal in hopes of repeating 2013 and cashing in on a five-year deal at age 31, he could sign a contract in the one-year, $14MM range or simply accept a qualifying offer, should Cleveland extend one. A player with Jimenez's upside would certainly warrant $14MM on a one-year contract, however, the safer play would be for Jimenez to sign a contract in the three-year range.
Assuming he performs over the next three seasons, he could still hit the open market again heading into his age-33 season and earn another sizable contract. As a reliable innings eater with ace-caliber upside, I expect that he will sign a three-year, $39MM contract, with an outside chance that a team makes an Edwin Jackson type of offer (four years, $52MM).
Photo courtesy of USA Today Sports Images.