SUNDAY: The Diamondbacks have announced, in a press release, right-hander Matt Langwell is the PTBNL. The 27-year-old made his MLB debut with the Indians this season appearing in five games (all in relief) allowing three runs (all earned) and five hits in 5 1/3 innings. Langwell, an 11th round draft pick of the Indians in the 2008 amateur draft, has posted a 2.24 ERA, 7.8 K/9, and 2.8 BB/9 in 60 1/3 innings for Triple-A Columbus this year covering 42 games, including one start.  
FRIDAY: The Indians swung a deal to bolster their outfield and DH depth today by acquiring Jason Kubel from the Diamondbacks in exchange for a player to be named later. Both teams have announced the trade. Arizona will reportedly receive a fringe prospect and pay all but $200K of the remaining $2.27MM owed to the 31-year-old ($1.27MM in salary plus a $1MM buyout of a $7.5MM club option).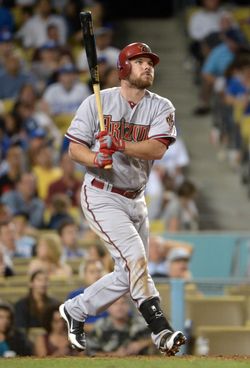 For Kubel, the trade completes a fall from grace with his now-former club. After registering a strong .253/.327/.506 triple-slash line and swatting 30 home runs in 506 plate appearances last year, Kubel has failed to live up to the remainder of his two-year, $16MM deal. Always a sub-par defender, Kubel has been below average at the plate in 2013, leaving him with -1.7 fWAR on the year — second worst in all of baseball. After 267 plate appearances, his line stands at .220/.288/.324, leading to the Diamondbacks' decision to designate him for assignment on Tuesday. 
The Indians will hope that a return to the AL Central will reinvigorate Kubel, who was a positive (if unspectacular) contributor for several seasons with the Twins. His best season came in 2009 with Minnesota, when he hit .300/.369/.539 with 28 home runs over 578 plate appearances. Kubel's left-handed bat could allow him to platoon with Drew Stubbs in right and appear as a DH, although Jason Giambi has filled the role of left-handed designated hitter to date.
All in all, this acquisition is somewhat curious at first glance. For one thing, the Indians are still paying the salary of one disappointing, defensively damaging slugger — Mark Reynolds — to play for a hypothetical Wild Card rival. While he had been terrible for much of the year in Cleveland, Reynolds was swinging the stick better than Kubel, offered more positional flexibility, and has put up a very serviceable .265/.324/.471 line since joining the Yankees. And the club already has a lefty to handle DH duties (Giambi) along with three left-handed-hitting outfield options (Michael Brantley, Michael Bourn, and Nick Swisher). 
While the Tribe remains only four games out of the second Wild Card slot, it is not entirely clear how the acquisition of Kubel will move the needle. The team can plug an additional lefty in the lineup against righties by putting Kubel in the outfield, but even the utility of a platoon seems limited. The vast majority of Kubel's plate appearances this season came with the platoon advantage, making his numbers look all the worse. Indeed, his presumable platoon partner, Stubbs, has a .219/.278/.367 line against righties that is still better than Kubel's. Stubbs also sports a .147 ISO against same-handed pitchers and is unquestionably a better baserunner and defender. While Kubel's career numbers look much more promising than his dismal 2013, his upside is in all cases severely limited by his poor fielding and baserunning. And it is not as if the team has plenty of time to rework his swing or approach this year.
Neither does Kubel look to be a buy-low, future rebound candidate for Cleveland. His two-year, $16MM deal expires this year and contains a $7.5MM option for 2014 that seems very unlikely to be exercised. Assuming his option is bought out, Kubel will become a free agent at the end of the season. Unless the club restructures his deal or re-signs him on the open market, Kubel seems to be a short-term rental aimed at increasing the club's 2013 postseason chances.
Chris Cotillo of MLBDailyDish.com first reported on Twitter that the Indians were close to acquiring Kubel. Steve Gilbert of MLB.com first reported that an agreement had been reached. Ken Rosenthal of FOX Sports added that Arizona will pay nearly all of Kubel's remaining salary and receive a fringe prospect (Twitter links). MLB.com's Jordan Bastian tweeted that the Indians were only paying $200K of Kubel's salary.
Steve Adams and Edward Creech contributed to this post. Photo courtesy of USA Today Sports Images.