SUNDAY: Twins GM Terry Ryan would not confirm Welker is the PTBNL saying the Pirates will choose the player from an agreed upon list, reports Mike Berardino of the St. Paul Pioneer Press.
SATURDAY, 8:49pm: The PTBNL is pitcher Duke Welker, MLB sources tell Tom Singer of MLB.com. Welker, 27, threw 1 1/3 scoreless innings in a brief stint with the Pirates earlier this season, his first with a major league club. In the minors, the 6-foot-7 right hander has a 3.25 ERA in 61 innings for the Pirates' Triple-A affiliate this year.
1:24pm: The Pirates have made a second bold August trade, acquiring first baseman Justin Morneau from the Twins in exchange for outfielder Alex Presley and cash or a player to be named later. After Pittsburgh traded for Marlon Byrd and John Buck, the NL Central-rival Cardinals responded with a deal for John Axford. Today, the Bucs sent another volley and left no question that they intend to raise the Jolly Roger over the division this year.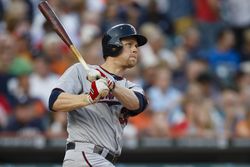 Morneau, 32, is in the midst of a hot streak after starting the year slowly. His .836 OPS and nine home runs during the month of August have raised his composite triple slash line to .250/.315/.426. Of course, Morneau has never returned to the form he showed between 2006-2010, when he was one of the league's more productive hitters. Nevertheless, he has been swinging a big stick of late and his left-handed power bat could play up at PNC Park. 
Presley is a 28-year-old outfielder who saw only limited action with the Pirates this year, putting up a .264/.274/.389 line in 73 plate appearances. While he registered a strong .804 OPS in 231 plate appearances as a 25-year-old in 2011, that has proved so far to be a flash in the pan, as Presley managed only a .237/.279/.405 line when given a chance to play more frequently in 2012. Presley will be under control for league-minimum salary next season. While he does not offer a ton of upside at this point in his career, Presley is probably the kind of player that it makes sense for the Twins to take a chance on.
Of course, the biggest impact from this deal is on the Pirates' intense pennant race with the Cardinals and Reds. By adding the left-handed bat of Morneau, the Bucs now have ample platoon options between first base and the third outfield spot. The team can now use a combination of Garrett Jones and Morneau against righties, and then trot out Byrd and Gaby Sanchez for southpaws. 
Morneau, who is set to become a free agent in the coming off-season, had cleared waivers when no team was apparently willing to take on the remainder of his $14MM salary this year. With the Pirates now willing to pay full boat and kicking in a return, however marginal, the Twins were seemingly rewarded for holding onto Morneau at the non-waiver trade deadline and allowing him to re-establish his value. Of course, Minnesota also paid his salary for an additional month, and now will only save a bit over $2.2MM on the end of the deal.
The team apparently chose to move the lifetime Twin rather than re-signing him, but could still bring Morneau back via free agency in the coming off-season. Having already determined that it would only extend Morneau at a much lower price than his current deal, however, Minnesota does not figure to dangle significant money.
Ken Rosenthal of FOX Sports first reported the deal on Twitter. Jon Heyman was first to report (on Twitter) that Minnesota would also receive a player to be named later or cash. Bob Nightengale of USA Today reported on Twitter that the Twins were only interested in re-signing Morneau at a lower price.
Photo courtesy of USA Today Sports Images/Rick Osentoski.