Most relievers don't have to wait until age 34 to get their first crack at a closing gig, but the wait has been worth it for Grant Balfour. The Aussie right-hander missed two full seasons thanks to Tommy John surgery and shoulder surgery following a promising debut with the Twins in his age 25-26 seasons. He rediscovered himself in Tampa Bay before heading to the A's in 2011. Balfour was handed the ninth inning in his second season with Oakland, and has racked up 62 saves from 2012-13 for the back-to-back AL West champions.
Strengths/Pros
Strikeouts are the name of the game for Balfour, and few free agent relievers have been better than him in 2013. Balfour's 10.8 K/9 trails only Jesse Crain, Fernando Rodney and Carlos Marmol among impending free agent relievers.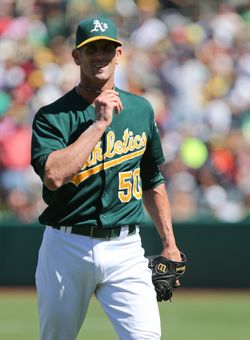 Crain comes with health concerns, Marmol's struggles are well documented and Rodney's a year older with inferior command.
Balfour doesn't have the near-95-mph fastball average that he had in his best season with the Rays (2008), but his 2013 average of 93.4 mph is plenty respectable. It's also his best mark since that dominant 2008 season, so his stuff isn't in a state of decline.
While Balfour clearly had injury problems early on in his career, he hasn't hit the disabled list with an arm injury since his 2006 shoulder surgery. He's appeared in at least 57 games in each of the past six seasons.
Balfour lived up to his somewhat ironic last name early in his career, averaging 4.7 walks per nine innings in parts of six seasons from 2001-09. However, since that time he's averaged just 3.3 walks per nine while striking out more than a batter per inning. He hasn't posted a single-season ERA north of 2.59 since 2009, and he won't be tied to draft pick compensation, as the cost-conscious A's won't risk offering a $14MM qualifying offer.
Weaknesses/Cons
As previously mentioned, Balfour's been healthy for each of the past two seasons, but he does have a long list of injuries throughout his career. He underwent knee surgery this past offseason to repair a torn meniscus, and he spent time on the DL with oblique and intercostal strains in 2010 and 2011. While a great deal of his injuries are in the past, a 36-year-old reliever that's gone under the knife three times does come with some risk.
His command has been solid over the past four seasons, but ihis BB/9 mark has actually crept upward incrementally since 2010. While he's still considerably better than he was early on in his career, Balfour's 3.9 BB/9 in 2013 is on the high side. He's also uncorked nine wild pitches in 2013 despite entering the season with just 12 in his entire career.
Impressive as Balfour's overall numbers are in recent years, much of those numbers come from a significant home/road split. O.co Colliseum is one of the game's most pitcher-friendly environments, and Balfour has a 1.58 ERA in 113 2/3 innings there, compared to a more pedestrian 3.78 ERA in 85 2/3 innings on the road. He's averaged 0.71 HR/9 at home and 1.05 HR/9 on the road. Teams in smaller parks may be wary of Balfour, whose career ground-ball rate is just 35.2 percent.
Personal
Balfour is known as an intense, fiery competitor and often shouts (and curses) to himself on the mound to get his adrenaline flowing. Sports are in his blood, as the A's media guide tells us that his father was a rugby player in their native Australia and is now the general manager of the Australian Baseball League's Sydney Blue Sox. Balfour played rugby as well through college and spent much of his amateur career as a catcher. He and his wife, Angie, have a daughter together.
Market
Balfour will have plenty of competition on the open market with Rodney, Joe Nathan, Joaquin Benoit and Brian Wilson all hitting free agency as well. Balfour doesn't lead that group in strikeouts, control, fastball velocity or saves, but agent Keith Miller of ACES can point to the fact that his client possesses the best mix of youth and health among those peers. Though he turns 36 in December, he's younger than Nathan, Benoit and Rodney, and unlike Wilson, Balfour isn't coming off of a major surgical procedure.
For what it's worth, 69 percent of respondents in the recent Free Agent Faceoff that I conducted between Balfour and Benoit felt that Balfour was the superior option.
He recently acknowledged how important it was for him to pitch a clean ninth inning in Game 5 of the ALDS, even though the A's were losing, as he knew it could have been his last appearance for the A's. Oakland will obviously have a place for him, but he could be too spendy for the A's after two strong seasons as a closer. Balfour earned just $12.25MM over the course of his three years with the A's, but the price tag will be higher now. If not Oakland, he could be a fit for the Tigers, Yankees, Angels, Mariners, Brewers or Rockies. The Orioles and Indians could be in the mix as well, should either team decide to non-tender its high-priced incumbent.
Expected Contract
Following the 2011 season, Nathan was able to secure a two-year, $14.5MM contract with the Rangers coming off an uninspiring return season from Tommy John surgery. Balfour's recent injury history isn't as concerning, and he's hitting the market a year younger than Nathan was at that time. While he doesn't have Nathan's track record as one of the game's elite closers, I expect that agent Miller will consider Nathan's old contract the floor for his client — and rightfully so.
Relievers rarely get three guaranteed years at this stage of their careers. Heath Bell managed three years and $27MM, but he did so as he was entering his age-35 season. Balfour will begin next season as a 36-year-old, but should be able to match Bell in terms of average annual value. I expect that Balfour will end up signing a two-year, $18MM contract, perhaps with a vesting or club option that will allow him to match Bell's contract if he remains healthy.
Photo courtesy of USA Today Sports Images.