The Mets have stated a desire to add some offense to their club, and they kicked off their free agent spending by inking veteran outfielder Chris Young to a one-year contract that is reportedly worth $7.25MM. The Mets officially announced the signing of Young, a client of Reynolds Sports Management, Tuesday afternoon.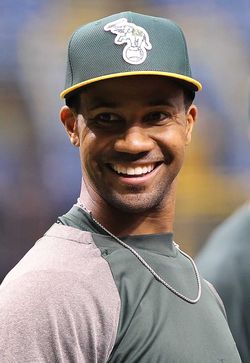 Young spent last season with the A's after being acquired in the three-team deal with the Marlins and Diamondbacks that sent Heath Bell to Arizona. Oakland turned down an $11MM option on Young after the powerful right-handed swinger slashed just .200/.280/.379. Young still managed to club 12 homers, and part of his downturn in batting average to do with a career-worst .237 batting average on balls in play. The low average can't be chalked up solely to poor luck though, as Young's strikeout rate climbed to nearly 25 percent and his 17.5 percent infield flyball rate was the ninth highest in baseball among players with 350 plate appearances.
Young typically grades out as a strong defender and is capable of playing all three outfield spots, making him a valuable pickup for defensive purposes alone. He also owns a career .262/.363/.474 batting line against left-handed pitching. If he can cut down the pop-ups and punchouts a bit, Young could return to the form that saw him average 3.7 fWAR and 4.2 rWAR from 2010-12 with the D-Backs.
Obviously, with Young coming off a poor season, the budget-conscious Athletics did not make him qualifying offer. The Mets, therefore, aren't required to surrender a draft pick to sign him. The Mets have prioritized adding bats early this offseason, and Young figures to be a low-cost option that will still allow them to pursue bigger fish like Nelson Cruz, Curtis Granderson and Jhonny Peralta.
Jon Heyman of CBS Sports first reported the signing. Ken Rosenthal of FOX Sports tweeted that it was a one-year deal, and ESPN's Buster Olney reported the $7.25MM salary (Twitter link).
Steve Adams contributed to this post. Photo courtesy of USA Today Sports Images.