The Indians exercised their $8MM club option on right-hander Ubaldo Jimenez, but as expected, he has voided the option and become a free agent, according to Paul Hoynes of the Cleveland Plain Dealer. Because Jimenez voided the option, the Indians will not have to pay the $1MM buyout.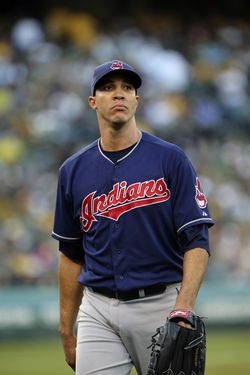 Jimenez, who turns 30 in January, pitched to a 3.30 ERA with 9.6 K/9, 3.3 BB/9 and a 43.9 percent ground-ball rate in 182 2/3 innings this season. Those numbers don't tell the whole story of how dominant Jimenez was for most of the season; 28 percent of the earned runs allowed by Jimenez occured in his first four starts. From April 29 through season's end, Jimenez pitched to a 2.61 ERA with 9.7 K/9 and 3.7 BB/9.
As I noted in my free agent profile for Jimenez, he will be one of the most desirable free agent pitchers on the market due to his relative youth, dominant finish and previous success with the Rockies in 2009-10. At the time, I projected a three-year, $39MM contract for Jimenez, but if I could take that prediction back, I'd probably increase it in the wake of Tim Lincecum's two-year, $35MM contract with the Giants. Jimenez and his agents at SFX seem unlikely to settle for a one-year, $4MM increase over Lincecum, who was himself an NL West ace at the same time as Jimenez before enduring a similar decline to the one Jimenez experienced from 2011-12. A three-year deal with a higher average annual value or even a four-year deal in the range of Edwin Jackson's $52MM contract with the Cubs definitely seems possible for Jimenez at this point.
Jimenez was originally acquired by the Indians in a July 2011 blockbuster that sent former first-round picks Drew Pomeranz and Alex White to Colorado along with right-hander Joe Gardner and first baseman Matt McBride. The wheels immediately came off for Jimenez in Cleveland, though Colorado didn't fare much better. White and Pomeranz, the two centerpieces, both flopped with the Rockies. White was sent to Houston in an offseason trade that netted setup man Wilton Lopez (White required Tommy John this season), and Pomeranz has yet to establish himself.
I noted in Spring Training that barring a turnaround for Pomeranz or Jimenez, the trade looked like a lose-lose deal. Jimenez has clearly swung the deal in the favor of the Indians, as he helped propel them to an improbable playoff berth this season, and Cleveland now stands to gain a compensatory draft pick once Jimenez inevitably turns down a $14.1MM qualifying offer (the deadline for an offer is Monday).
In addition to Jimenez, Cleveland is also set to lose lefty Scott Kazmir to free agency. If the Indians are unable to retain either free agent, it would make sense to see GM Chris Antonetti pursue a veteran starting pitcher on the free agent market to supplement their current rotation of Justin Masterson, Danny Salazar, Corey Kluber and Zach McAllister.
Photo courtesy of USA Today Sports Images.