The Indians have overhauled their roster via free agency this season, adding the likes of Nick Swisher, Michael Bourn, Brett Myers and Mark Reynolds on Major League deals while bringing in notable veterans such as Matt Capps and Daisuke Matsuzaka on minor league pacts. At the 2011 Trade Deadline, however, the Tribe addressed its biggest needs in a different manner, dealing a package of four prospects to the Rockies in exchange for then-ace Ubaldo Jimenez. 
Cleveland traded right-hander Alex White (22 years old at the time), first baseman Matt McBride (26 at the time), righty Joe Gardner (23 at the time) and lefty Drew Pomeranz (22 at the time) to Colorado in exchange for Jimenez, who had at least two and a half years of team control remaining on a low-cost contract. It was a steep price to pay, as Pomeranz and White represented the Indians' first-round picks from the previous two drafts. Gardner, meanwhile, had entered the season as Cleveland's No. 9 prospect, according to Baseball America.
Let's break the trade down player-by-player…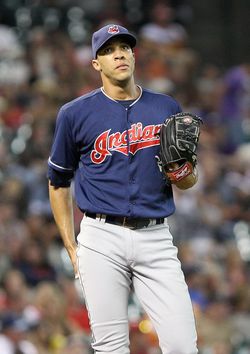 The Major League Side
Ubaldo Jimenez: To say Jimenez has been a disappointment in Cleveland would be putting things lightly. In 242 innings with the Indians, Jimenez has a 5.32 ERA, 7.6 K/9 and 4.5 BB/9. He entered 2012 with a career ground-ball rate near 50 percent, but saw that mark plummet to 38.4 percent last year. His once-blazing fastball has dropped from an average of 96.1 mph from 2009-10 to just 92.5 mph in 2012. His 4.8 BB/9 last season was a career-worst, and he led the American League in both losses (17) and wild pitches (16). In spite of all that, Indians GM Chris Antonetti exercised the team's $5.75MM club option on Jimenez this past offseason in hopes that he can rebound to something in the vicinity of the ace-caliber pitcher he once was. Jimenez is just 29 years of age still, and the price was right for Cleveland to give him another shot. His performance in 2013 will be one of they key factors in Cleveland's fate as their revamped roster makes a run at dethroning the reigning AL Central champion Tigers.
Drew Pomeranz: Pomeranz has a 5.01 ERA in 115 big league innings for the Rockies. His 1.9 K/BB ratio isn't exactly inspiring, but he was significantly better in a small minor league sample last season. Pomeranz posted a 2.31 ERA, 8.9 K/9 and 3.7 BB/9 in 50 2/3 innings between Double-A and Triple-A (46 2/3 of which were at Triple-A). He's still just 24 years old and is one year removed from entering the season as BA's No. 30 overall prospect and MLB.com's No. 24 ranked prospect. His fastball was down to averaging 91.2 mph season after previously sitting several ticks higher, but BA noted prior to 2012 that his ability to keep the pitch down in the zone and his deceptive delivery allowed the pitch to play at lower velocity. If Pomeranz can regain some of his velocity and/or hone his command of the strike zone, there's still time for him to blossom into the No. 2 starter BA and MLB.com projected him to be.
Alex White: Like Pomeranz, White struggled greatly in his Major League time with the Rockies. He posted an unsightly 6.30 ERA in 134 1/3 innings for the Rox from 2011-12. His marks of 5.9 K/9 and 4.5 BB/9 were significantly worse than his Triple-A rates of 7.8 and 3.0, respectively. White put the ball on the ground frequently in 2012 (54.1 percent) but lost more than a mile per hour off his fastball, dropping to a 91.2 mph average (identical to Pomeranz's, oddly enough). White was injured at the time of the trade and missed 82 games in the 2011 season with a strained ligament in his finger. How much that impacted his 2012 results remains to be seen, but he'll have a chance to prove he's worthy of a spot in a Major League rotation. It won't be with the Rockies, however, as the team traded White to the Astros along with Alex Gillingham to acquire ace setup man Wilton Lopez.
The Prospect Side
Joe Gardner: Gardner ranked as Colorado's No. 25 prospect prior to the 2012 season but dropped off the club's Top 30 list this year. He ranks 18th among Rockies' farmhands according to MLB.com's Jonathan Mayo, however, who calls Gardner's sinking fastball a "groundball machine" and notes that his change-up has some deception that leads to swings and misses. He also features a "slurvy" slider that Mayo grades out to be slightly better than his change but worse than his fastball. Gardner worked primarily as a starter at the Double-A level, but Mayo notes that he was very sharp in a five-appearance bullpen cameo. In total, Gardner compiled a 3.97 ERA, 6.4 K/9 and 2.5 BB/9 in 138 1/3 innings during his age-24 season. Today is his 25th birthday (Happy birthday, Joe!), and should have a chance to crack the big league roster this season with a strong minor league performance.
Matt McBride: McBride is currently Colorado's 33rd best prospect, according to BA, though they note that most of his value comes as a utility player due to the fact that he can play catcher on occasion. BA notes that he's a poor defender whether behind the plate, in right field or at first base, and that his ability to make frequent contact is accompanied by a lack of home run power. McBride hit .205/.222/.308 in 81 plate appearances for the Rockies last season, walking only once and whiffing 17 times. He did manage a .344/.365/.535 triple slash line at Triple-A. Still, at 27 years of age, he's not much of a prospect at this point, which was reflected in Colorado's decision to remove him from the 40-man roster in November.
That Joe Gardner and Matt McBride posted the best 2012 numbers of anyone involved in this trade is a telling sign. To be blunt, the deal currently doesn't look good for either side. A rebound campaign for Jimenez or a breakout from Pomeranz would alter that, but surely both teams had visions of aces in their minds when pulling the trigger on this deal — not a host of 5.00+ ERAs. Colorado picked up some value in flipping White for a strong bullpen arm with three years of team control remaining, though that could prove regrettable if White puts it all together as an Astro. For the time being, three teams are simply left hoping that they can squeeze some value out of the once highly regarded talent in this deal.
Photo courtesy of USA Today Sports Images.