8:07pm: It is not yet clear whether the Jeter accounting saga is resolved, but Sherman has provided a full breakdown of what is apparently the most convoluted Competitive Balance Tax calculation yet encountered. The net, Sherman reiterates, is that Jeter's player option would have registered an approximately $10.75MM hit, while his new deal will count for $12.81MM.
You'll need to read the piece for the complete details, but the causal agent in this odd scenario is a CBA provision that addresses contracts, like Jeter's, that have cheap options attached. Pursuant to that (unspecified) clause, Sherman says, the Yanks were charged a prorated portion of the option year value in each of the first three years of the deal, which in turn required yet more maneuvering in calculating the present cap hit.
4:07pm: Sherman tweets that the MLBPA is arguing with the Commissioner's Office over how the luxury tax calculations are being handled, adding that new numbers are coming.
Ken Rosenthal of FOX Sports chimes in, noting that the contract now will save the Yankees a bit of money over what the option would have saved. The Yankees will save roughly $1MM, with $12.8-$13.2MM counting against the luxury tax for reasons that are "too complicated to explain," as Rosenthal puts it (all Twitter links).
1:36pm: Joel Sherman of the New York Post reports that the common belief that this deal saves the Yankees from the luxury tax threshold is a misconception. According to Sherman, given the way that the luxury tax is computed, this deal will count more significantly against the luxury tax than Jeter's player option would have. Had Jeter exercised that option, $10.75MM would have gone against the luxury tax in 2014, says Sherman, but this new deal will count $12.8MM toward the luxury tax (Twitter links)
12:20pm: The Yankees announced that have re-signed shortstop Derek Jeter to a one-year deal worth $12MM. Jeter, who is represented by Casey Close of Excel Sports Management, had a $9.5MM player option on his previous contract, but this deal will override that option.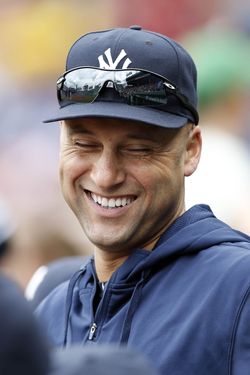 The long-time Yankee Captain will turn 40 next June and appeared in just 17 games this season, making the decision to give him a $2.5MM raise on his option a curious one. However, by agreeing to a new deal, Jeter is no longer on his old contract, the average annual value (AAV) of which counted against the luxury tax. Had he exercised his player option, Jeter would've added $6.5MM to the AAV of his three-year, $51MM contract ($3MM of the option was guaranteed in the form of a buyout). Doing so would have raised his AAV to $14.375MM. Instead, his $12MM contract will be the number that counts against the luxury tax, thereby actually saving the Yankees $2.375MM relative to the luxury tax.
Jeter underwent surgery to repair a broken ankle last October and missed the majority of the season recovering from inflammation in his surgically repaired foot. Upon activation, he encountered a pair of DL stints for calf and quadriceps strains. In his 17 games, Jeter batted .190/.288/.254 with a home run. However, he's just one year removed from a campaign that saw him hit .316/.362/.429 with 15 homers en route to his fifth career Silver Slugger award.
The Yankees sorely missed Jeter's production in 2013, as their shortstops combined to bat a woeful .228/.283/.308 on the season. While those numbers do include 17 games of an injury-hobbled Jeter, his bat will be an unquestionable boon to that lineup in 2014, if he's healthy. The Yankees deployed a mix of Jeter, Eduardo Nunez, Jayson Nix, Luis Cruz, Brendan Ryan, Alberto Gonzalez and Reid Brignac at the position in 2013.
By addressing Jeter's situation during the five-day exclusive period following completion of the World Series, Yankees GM Brian Cashman allows himself to focus on other pressing offseason issues, most notably the status of impending free agent Robinson Cano.
Photo courtesy of USA Today Sports Images.
Jeff Todd contributed to this post.