SATURDAY, 4:42pm: The Mets have confirmed the deal via press release.
WEDNEDSAY, 4:31pm: The Mets and Bartolo Colon are in agreement on a two-year, $20MM pact, according to Ken Rosenthal of FOX Sports (via Twitter).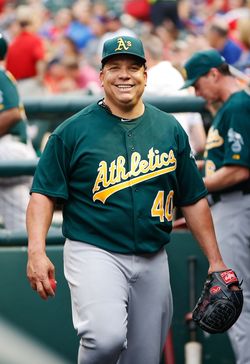 Colon's agent, Adam Katz of the Wasserman Media Group, was reportedly targeting a two-year deal rather than a one-year pact and he apparently succeeded.  The hurler had interest from several clubs, including the Twins, Rangers, and Orioles, despite his age and previous ties to PEDs.  The Indians also had some level of interest in a reunion, according to Paul Hoynes of the Plain Dealer (on Twitter), but were unwilling to go to two years.
Colon, 40, pitched to a 2.65 ERA with 5.5 K/9 and 1.4 BB/9 in 30 starts last season for the A's. Colon's velocity and strikeouts have dropped as he's aged, but he's also taken his command to new levels and now is one of the most precise pitchers in all of baseball. Over the past two seasons — a span in which he's thrown 342 2/3 innings — Cliff Lee is the only starter in all of baseball with a lower BB/9 rate than Colon.
There had been interest between Colon and Oakland in a reunion, but chances of that reunion likely dissolved when the A's added Scott Kazmir on a similar two-year deal worth $22MM. Colon's contract comes in just a shade under the two-year, $23MM inked by Tim Hudson to pitch for the Giants, showing that teams aren't deterred by aging arms in this market, as long as they remain productive.
Colon will join Zack Wheeler, Dillon Gee and Jonathon Niese in the Mets' rotation and replace some of the production lost when Matt Harvey suffered a torn ulnar collateral ligament and underwent Tommy John surgery. The Mets' 2015 rotation will likely consist of Harvey, Colon, Wheeler, Niese and Gee with other arms like Rafael Montero and Jenrry Mejia potentially in the mix as well.
For his career, the veteran owns a 3.94 ERA with 6.8 K/9 and 2.8 BB/9 in 16 seasons for the Indians, Expos, White Sox, Angels, Red Sox, White Sox, Yankees, and A's.
Steve Adams contributed to this post. Photo courtesy of USA Today Sports Images.