The Tigers have officially announced a deal sending big right-hander Doug Fister to the Nationals in exchange for pitching prospect Robbie Ray, utility infielder Steve Lombardozzi, and southpaw reliever Ian Krol. Detroit adds young, cost-controlled talent in the trade, while the Nats will upgrade an already-strong rotation with Fister.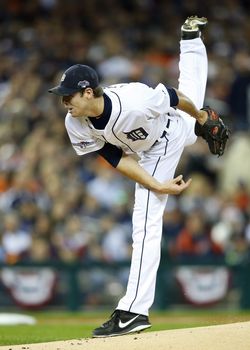 Fister, a 29-year-old righty who is represented by PSI Sports Management, is undoubtedly the biggest name changing places in this swap. He posted a 3.67 ERA last year for Detroit in a sturdy 208 2/3 innings. Over the last three years, Fister has racked up 13.3 fWAR, falling between David Price and Cole Hamels at ninth in baseball (as noted by Dave Cameron of Fangraphs, via Twitter). He is projected by MLBTR contributor Matt Swartz to earn $6.9MM this year through arbitration, and is not eligible for free agency until 2016. 
Heading back to Detroit are a series of youngsters with plenty of cheap years remaining. Ray is a 22-year-old southpaw who was a consensus top-ten prospect in the Washington organization. The 12th rounder signed for above slot in 2010, and rose to the Double-A level last year in his age-21 campaign, notching 58 innings of 3.72 ERA ball at Harrisburg. Lombardozzi has spent the last two seasons in the bigs with Washington after rising through the ranks with reportedly limited tools. Now 25, Lombardozzi posted a .259/.278/.338 line in 2013 and is primarily a second baseman, though he has played third and the corner outfield. Krol is a young, left-handed reliever who showed a power fastball in his jump to the bigs last year. That he constituted value in this deal was a win for Washington, which picked him up last year as the player-to-be-named-later in the three-team deal that also brought A.J. Cole and Blake Treinen to D.C. from the A's and sent Michael Morse to the Mariners.
The Tigers reportedly wanted fellow young hurler Taylor Jordan in the deal, according to a tweet from Jeff Passan of Yahoo Sports, but the Nats refused to include him. Before acquiring Ian Kinsler, Detroit was offered Howie Kendrick from the Angels in a deal that would have included Fister, MLB.com's Alden Gonzalez tweets, but declined that option.
As I explained in my breakdown of the Nats' off-season, the rotation was likely the single area where the club could make the greatest impact through a major addition. It appears that GM Mike Rizzo has done just that with today's trade. At first glance, the deal appears to be a major win for a Nationals club that has ample young pitching to deal from. Though Ray was certainly a well-regarded prospect, he was not the club's highest-rated minor league arm and was not expected to have a chance at a rotation spot this year. And while Lombardozzi and Krol were both useful players, neither seems to be irreplaceable.
Chris Cotillo of MLBDailyDish.com (via Twitter) first reported the deal, and was the first to report (via Twitter) that Ray and Lombardozzi were likely to be included in the package. Jim Bowden of ESPN.com first reported in a tweet that Krol and Lombardozzi would be included. Adam Kilgore of the Washington Post first reported (via Twitter) that Ray was indeed the prospect headed to Detroit.
Photo courtesy of USA Today Sports Images.