Roy Halladay is retiring from baseball, according to Jon Heyman of CBS Sports. Halladay will sign a one-day contract with the Blue Jays today so that he can announce his retirement from the game as a member of the Jays, adds Heyman (Twitter links).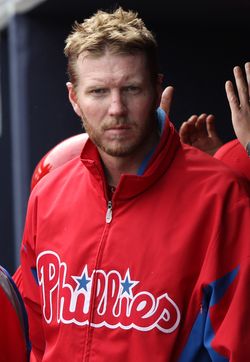 Halladay, 36, has been hampered by shoulder injuries in each of the past two seasons and underwent surgery to attempt to repair the issue in May 2013. He returned to the mound for the Phillies in late August and made six more starts but still wound up posting an uncharacteristic 6.82 ERA in his final, injury-riddled campaign.
Halladay, affectionately referred to as "Doc," spent the better portion of a decade as one of the greatest pitchers of his time. From 2001-2011, Halladay pitched an even 2300 innings and posted a stellar 2.98 ERA with 7.0 K/9 and a brilliant 1.6 K/9. Despite pitching in two of baseball's most hitter-friendly environments — Toronto's Rogers Centre and Philadelphia's Citizens Bank Park — Halladay yielded just 0.7 homers per nine innings in that time as well.
That peak run for Halladay saw him pile up accolade after accolade; Doc was named to eight All-Star teams, won a pair of Cy Young Awards and added in five other Top 5 finishes in the Cy Young voting — most recently finishing runner-up in 2011. Halladay finished in the Top 10 in NL MVP voting in both 2010 an 2011 as well.
Perhaps most famously, Halladay will be remembered for firing a no-hitter in Game 1 of the 2010 National League Division Series against the Reds, with a fifth-inning walk to Jay Bruce being the lone plate appearance preventing him from a perfect game. Just five months prior, Halladay had hurled a perfect game against the Marlins during the regular season.
Halladay's sudden retirement brings to close a career that will finish with a 203-105 record, a 3.38 ERA and 2,117 strikeouts in 2,749 1/3 innings pitched. Halladay's 67 complete games and 20 shutouts are a rarity in today's game of specialized bullpens, and they serve as a testament to the durability and mental acumen that allowed him to lead the league in innings pitched on four separate occasions. Baseball-Reference.com values his career at 65.6 wins above replacement, and Fangraphs is even more generous, rating him at 67.6 WAR. Halladay earned just shy of $149MM in his career, per Baseball-Reference.
Congratulations on a great career to one of the best of our generation, and best of luck in life after baseball, Roy.
Photo courtesy of USA Today Sports Images.