5:05pm: Berardino reports that Hughes' contract contains a limited no-trade clause that allows Hughes to block trades to three teams (via Twitter). Nolasco received a similar clause.
2:31pm: Mike Berardino of the St. Paul Pioneer Press reports that Hughes will earn $8MM in each year of the contract. Also, in each season of the contract, Hughes will earn $250K for reaching 180 and and 195 innings pitched, as well as an additional $500K for reaching the 210-inning threshold (Twitter links).
2:10pm: The Twins made it clear late in the 2013 season that they planned to spend on free agent pitching this offseason, and they've now done so by issuing the two largest free agent contracts in franchise history. Minnesota announced Ricky Nolasco's four-year, $49MM contract earlier in the week, and on Thursday they announced the signing of Phil Hughes to a three-year, $24MM pact. Hughes, a client of CAA Sports' Nez Balelo, can reportedly earn an additional $1MM worth of incentives in each year of the deal.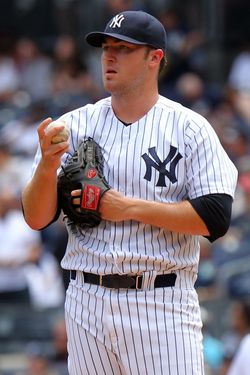 A still-young 27, Hughes appears to have succeeded in translating the promise of his stuff into a larger contract than many projected. While our own Steve Adams' assessment of an $8MM annual salary for Hughes was correct, he predicted a one-year deal that would allow Hughes to hope for a big season in a spacious ballpark (such as Targe Field in Minneapolis) that would allow him to re-enter the market next winter. The two additional years on the contract are surprising, as few, if any, pegged Hughes for a three-year deal. Hughes came within one year of the four-year, $32MM deal that the Royals gave to Jason Vargas, a pitcher with an inferior fastball who's nevertheless been better, more durable and more consistent.
While he's steadily maintained his low-90s velocity since breaking into the big leagues in 2007, Hughes owns a career 4.54 ERA in more than 780 innings. Home runs have always been a problem for the right-hander, as he's averaged almost 1.2 per nine innings for his career. This year, he posted a 1.48 HR/9 en route to a 5.19 ERA in 145 2/3 innings. The Twins no doubt hope that a transition to Target Field, a much more spacious ballpark than Yankee Stadium, will be a panacea for Hughes' longball issues.
Durability is also a concern for Hughes, as he's never reached the 200-inning mark in his career and has just three times surpassed 100 innings. He struggled down the stretch in 2013, posting a 6.32 ERA in the season's second half. Over his career, Hughes has logged DL time for back and shoulder issues.
Coupled with the recent Ricky Nolasco signing, the deal represents something of a change in tactics for the Twins, who haven't typically been big spenders on the free agent market. In fact, as Neal notes in his article, the Nolasco and Hughes deals represent the two largest contracts the club has ever given to outside free agents. The struggles of the 2013 Twins rotation, which ranked last in the majors in ERA and K/9, apparently prompted the team to commit to major upgrades. Like Nolasco, inking Hughes won't require Minnesota to forfeit a draft pick, as the Yankees didn't extend him a qualifying offer.
LaVelle E. Neal III of the Minneapolis Star Tribune was the first to report the signing and the terms. 1500 ESPN's Darren Wolfson was the first to report the additional incentives in Hughes' contract (Twitter link).
Photo courtesy of USA Today Sports Images.