Not long ago, the thought of Phil Hughes hitting free agency at age 27 would have come with lofty contract expectations. The former No. 4 overall prospect in the game, per Baseball America, enjoyed a dominant season in the bullpen with the 2009 Yankees en route to a World Series title. He followed it up with a solid 4.19 ERA in 176 2/3 innings in the rotation at age 24 — a season in which he earned his first All-Star nod. It's been mostly a downhill ride for Hughes since that point, however, and he'll head into free agency having posted an ERA north of 5.00 in two of his past three seasons.
Strengths/Pros
Through all his ups and downs, Hughes has steadily maintained solid control. He's averaged 2.7 walks per nine innings from 2010-13 (a span of 674 innings pitched). Part of the reason he's able to limit walks is because of the way that he attacks hitters.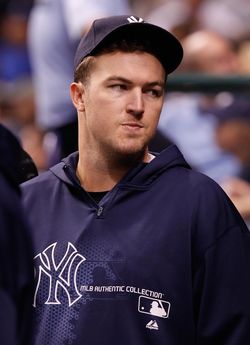 Among qualified starters over that same four-year stretch, only Cliff Lee, Tommy Milone and Kevin Slowey have thrown a first-pitch strike at a higher rate than Hughes' 66.7 percent.
Additionally, his 7.6 K/9 rate over the past two seasons is a tick above the league average for starting pitchers (7.2). Hughes' 2.95 K/BB ratio ranks 13th out of the 41 potential free agent starters with more than 50 innings pitched this season.
He also compares favorably to his competition in terms of fastball velocity. Using the same criteria, Hughes' average fastball — 92.4 mph — ties him with Ervin Santana and Mike Pelfrey for eighth highest among potential free agent starters (or seventh if you want to remove Jon Lester, whose option is sure to be exercised, from the list).
Likely the most appealing factor for Hughes' suitors will be the fact that he's actually been a very solid pitcher away from Yankee Stadium. Hughes checked in with a 5.19 ERA overall in 2013, but that was due to a bloated 6.32 ERA when pitching in the Bronx. On the road, Hughes posted a 3.88 ERA. Over the past four seasons, Hughes has a 4.11 ERA and 3.80 FIP on the road compared to a 5.12 ERA and 5.02 FIP at home. As a right-handed fly-ball pitcher, Yankee Stadium (and its short porch in right field) is perhaps the worst possible setting for Hughes.
Hughes is the youngest free agent starter on the market, and while at one point there was talk of the Yankees extending a qualifying offer for that reason, the Yankees don't figure to bring Hughes back for $14.1MM. He won't cost his new team a draft pick.
Weaknesses/Cons
Hughes' home struggles can't simply be written off. No matter where he signs this offseason, he's going to have to pitch some games in hitter-friendly stadiums, and those are daunting settings for a pitcher with the sixth-lowest ground-ball rate in all of baseball over the past four seasons (33 percent).
While he's just 27, Hughes has some injury baggage on his resume already. He missed nearly half the season in 2011 with inflammation and fatigue in his right shoulder, and he has a history of back issues. Hughes dealt with a herniated disk in his back as a minor leaguer, and he's missed small amounts of time with back-related injuries since. He also had a stress fracture in his rib that cost him nearly all of the 2008 season.
Hughes has only topped 100 innings three times in his career, and he's never reached 200 frames. And, in two of those three 100+ innings seasons, he's significantly faded down the stretch. After a 4.57 first-half ERA in 2013, he faded with a 6.32 ERA in the season's second half. In 2010, his ERA sat at 3.65 at the All-Star break, but he limped to the finish with a second-half ERA of 4.90. Hughes' injury troubles, low innings totals and second-half struggles in seasons with a full starter's workload will give teams serious concerns about his durability.
Personal
Hughes is a devout Christian and has the bible verse "I can do all things through Christ who strengthens me" tattooed on his left arm. As he explained to Ben Reiter of Sports Illustrated back in 2009, Hughes actually got the tattoo while on a road trip to Atlanta. In his free time, one of Hughes' favorite hobbies is cooking.
Market
After six years at Yankee Stadium, it seems unlikely that Hughes would opt to pitch for a team in a hitter-friendly environment. Teams in spacious home parks will likely appeal to Hughes, and it was already reported over the summer that the Twins are expected to be interested. Target Field in Minneapolis is plenty spacious, and they liked him when discussing trade packages for Johan Santana all the way back in the 2007-08 offseason.
While Hughes was quoted as saying he wouldn't immediately disregard an offer to pitch out of a team's bullpen, he clarified shortly after that his strong preference was to remain in a starting role for as long as he can. Even with his struggles at home, he shouldn't have a problem doing so.
A move to the National League could be beneficial to Hughes, who is a native of Mission Viejo, Calif. His hometown is located just 75 miles north of San Diego and 48 miles south of Los Angeles, so geographically speaking, the Padres, Dodgers and Angels may be appealing. If he's willing to pitch further north, I'd imagine the Giants and Mariners to be another pair of West Coast teams that would have interest. We've seen the Pirates buy low on talented hurlers like Francisco Liriano and (former Yankee) A.J. Burnett recently. The Nationals have done the same, albeit with less success, in signing Edwin Jackson and Dan Haren.
Expected Contract
It's rare that a starting pitcher hits free agency at such a young age, but Hughes doesn't have much of a track record on his side at this time. In fact, in a recent edition of MLBTR's Free Agent Faceoff, nearly 72 percent of the 8,000+ respondents said they'd rather sign Scott Kazmir as a free agent this offseason, despite Kazmir's own spotty track record.
Hughes could look to follow Jackson's lead and sign a one-year, make-good deal before cashing in on a multiyear contract, or he could prefer to take whatever two-year deal is on the table for him to maximize his earnings. We saw Francisco Liriano take the latter approach last offseason, and I'd expect Hughes to have an opportunity at a two-year deal with a modest annual value as well.
A rebound campaign in 2014 would set Hughes up as a desirable arm entering his age-28 season on next year's free agent market. I wouldn't be surprised to see him go the Liriano route and ink a two-year contract (he'd still be able to hit free agency again at age 29), but my prediction is that Hughes will sign a one-year, $8MM contract this winter.
Photo courtesy of USA Today Sports Images.