SATURDAY, 4:17pm: The Yankees confirmed the signing via press release.  The seven-year contract takes the outfielder through 2020 with a club option for 2021.
WEDNESDAY: Ellsbury is guaranteed $148MM over the first seven years of the contract, and there is a $21MM option for an eighth year that comes with a $5MM buyout, according to Yahoo's Tim Brown (on Twitter).  Meanwhile, Jayson Stark of ESPN.com (on Twitter) hears that an option year has not yet been agreed upon.
TUESDAY, 11:45pm: Ellsbury's deal includes a no-trade clause, tweets Jon Heyman of CBSSports.com.
8:00pm: The deal includes an eighth-year option that could boost the total value to $169MM, according to Bryan Hoch of MLB.com (on Twitter).
7:41pm: Ellsbury's deal is worth $153MM over seven years, according to Mark Feinsand of the New York Daily News (on Twitter).  That tops Carl Crawford's deal by $11MM.  
MLBTR's Tim Dierkes predicted that Ellsbury would get a seven-year, $150MM deal in his free agent profile earlier this offseason.
7:31pm: The Yankees have agreed to sign Jacoby Ellsbury, according to Mark Feinsand of the New York Daily News (via Twitter).  Jon Heyman of CBSSports.com first reported that the two sides were closing in on a seven-year pact.  It is believed the deal will top Carl Crawford's $142MM, seven-year deal with one estimate pegging the deal at about $150MM, according to Heyman.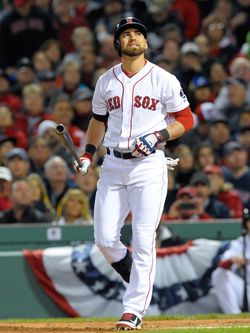 The Yankees have been in simultaneous talks with Shin-Soo Choo, Carlos Beltran, and many other top free agents, including their own Robinson Cano.  Things have stalled somewhat with Cano, however, as the Yanks don't want to go far beyond $170MM over seven years and Cano's team looking for about $260MM.  Heyman spoke with sources who didn't rule out the Yankees continuing their purusit of Choo or Beltran, but it would seem unlikely at this point.  One source told Jeff Passan of Yahoo Sports (on Twitter) that a deal with Ellsbury or another top outfielder won't preclude the Yanks from re-signing their star second baseman.
ESPN's Jayson Stark reported on Monday that talks were moving faster than expected for the Scott Boras client.  Boras is notorious for waiting out the market to find the right deal as he did with Prince Fielder (signed in late January) and Michael Bourn (February).
Ellsbury offers more pop than the typical center fielder, with a career slugging percentage of .439 and isolated power of .141.  While his power is more of the doubles and triples variety, which is aided by his speed, he did hit 32 home runs in his stellar 2011 campaign.  In that year, Ellsbury led all of baseball with 9.1 wins above replacement, finished second in the AL MVP voting, won a Silver Slugger and a Gold Glove, and made the All-Star team.  However, the left-handed batter wasn't much of a threat against southpaws this year, posting a .246/.323/.318 line in 237 plate appearances.
The 30-year-old has also consistently posted above average UZR and DRS numbers in center field.  While he has come back to earth somewhat since '11, he checked in with 5.8 wins above replacement in 2013, which is second only to Robinson Cano among free agents. 
Of course, much of Ellsbury's game is predicated on speed.  Now, the Yankees have to hope that Ellsbury can stay fleet-footed for some time and will be able to adjust when his motor eventually wears down.
The Yankees have been vocal about their desire to get under the $189MM luxury tax threshold this winter, but it remains to be seen where they'll stand after the Ellsbury deal and Brian McCann's five-year, $85MM pact.  Now more than ever, one has to imagine that the Yankees are rooting for MLB's side in the Alex Rodriguez saga.
The market for Ellsbury has been somewhat cloudy, but the Mariners and Giants were both believed to have interest.
Yankees people envision Ellsbury in center with Brett Gardner moving to left, Heyman writes.  The 30-year-old was ranked No. 2 on Tim Dierkes' Top 50 Free Agent Power Rankings.  With Ellsbury and McCann in the fold, the Yankees have now forfeited their first and second round picks.
Photo courtesy of USA Today Sports Images.