The Dodgers have officially announced the extension of ace Clayton Kershaw, who receives a groundbreaking seven-year, $215MM contract one year before he would have qualified for free agency. Notably, the deal includes an out clause that the southpaw can exercise after five seasons, at which time he will still be just 30 years old.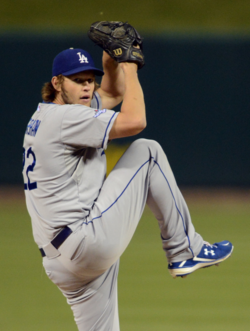 Kershaw's representatives at Excel Sports Management have secured their client the highest-ever annual salary for a baseball player. His $30.7MM AAV bests those achieved in the one-year, $28MM deal for Roger Clemens back in 2007 and Alex Rodriguez's ten-year, $275MM deal.
Kershaw's extension also gives him more new money than any pitcher contract in baseball history. Indeed, the deal exceeds the next biggest commitment — the seven-year, $161MM C.C. Sabathia deal — by a whopping $54MM. Likewise, it dwarfs other, more recent guarantees, including Zack Greinke's $147MM free agent pact and the extensions of Cole Hamels ($144M in new money), Justin Verlander ($140MM), and Felix Hernandez ($135.5MM). 
Though it does not have a no-trade clause, Kershaw's contract contains language that would significantly impact his rights in a trade scenario. First and foremost, Kershaw would obtain the right to void the deal if traded. If he is sent to another club mid-season, he could void the rest of the deal before the start of the following season. If, instead, Kershaw is dealt during the offseason, he gets the right to void the remainder of the contract after the end of the ensuing campaign. He would also pick up a one-time, $3MM bonus if he is traded during the offseason.
Obviously, these clauses present a significant barrier to any trade, at least until the point at which Kershaw's opt-out clause would otherwise be available to him. In particular, they convey immense leverage to Kershaw to demand a massive, new extension from any team that wishes to acquire him. 
Kershaw's salary will be somewhat backloaded. The big lefty will earn $22MM in 2014, $18MM of which is a signing bonus and only $4MM of which is in salary. His salary then tracks as follows: $30MM (2015), $32MM (2016), $33MM (2017), $33MM (2018), $32MM (2019), and $33MM (2020). The deal also contains incentives: Kershaw stands to earn $1MM for a Cy Young campaign and $500K for landing second or third in the voting. 
This means that the opt-out decision facing Kershaw after the 2018 season will effectively be a two-year, $65MM proposition. If he leaves that money on the table, the deal would end up paying him $150MM over five years, good for a straight $30MM AAV.
Kershaw's nearly unprecedented level of early-career performance had lined him up for a projected $18.15MM arbitration payday this year, in the analysis of MLBTR contributor Matt Swartz. As MLBTR's Tim Dierkes notes on Twitter, that would imply an approximately $32.8MM AAV ($197MM over six years) for Kershaw's free agent years.
Indeed, Kershaw's historic contract was earned by a legitimately historic run in his career's early going. The soon-to-be 26-year-old became only the third pitcher in MLB history — following Greg Maddux and Lefty Grove — to lead the big leagues in ERA for three straight seasons, which he accomplished after posting the low mark again last year. He has registered a close second to Verlander in terms of fWAR (18.5 against 19.1) among starters over that same time period.
Last year was Kershaw's best season yet, as he posted a 1.83 ERA in 236 innings, leading the league in strikeouts (232) and WHIP (0.915) to go along with his ERA title. The net of his MLB career to date is a 2.60 ERA in 1,180 innings, buttressed by 9.2 K/9 against 3.0 BB/9. He has made at least 30 starts in every year since 2009 and has thrown over 200 innings for each of the last four seasons. Needless to say, Kershaw has been both outstanding and durable.
For the Dodgers, Kershaw adds a massive, but seemingly manageable, new obligation to the books. As I explained back in November, Los Angeles was running away from the rest of the league in terms of post-2014 salary obligations. Though major signings by clubs like the Yankees and Rangers have evened things out somewhat in the interim, L.A. will continue to set the pace on future spending. But that spending level is backed up by an unmatched $340MM local TV revenue stream.
As I further explored, the Dodgers stand to gain the most out of any team in baseball from an inflationary salary environment, as their massive obligations stand to see the largest decrease in real value as salaries rise. The money owed Kershaw, too, could reduce substantially in relative terms if salary trends continue upward. Moreover, as also illustrated in that piece, Los Angeles has a huge ramp-down in its future commitments beginning after the 2018 season, which creates some additional breathing room. But with the opt out landing at that same point, that salary space could ultimately end up going towards yet another extension.
As Dierkes notes on Twitter, Kershaw's contract is the ninth MLB deal to include an opt-out clause. Of the other eight deals, only those agreed to by Vernon Wells and Elvis Andrus came by way of extension rather than free agency. 
Looking at the broader market impact, the Kershaw extension will undoubtedly be pointed to in negotiations regarding other top starters. Major arms that are set for free agency next year include Max Scherzer, James Shields, and Jon Lester, with David Price headlining the 2016 crop. Though Kershaw may be in a league of his own given his age and track record, his new deal certainly stretches the scale of reasoanbly attainable salaries upwards.
ESPN.com's Ramona Shelburne first reported the signing and its terms (via Twitter). Jon Heyman of CBSSports.com first reported the annual payment structure on Twitter. Joel Sherman of the New York Post first reported the deal's trade provisions (all links to Twitter). 
Photo courtesy of USA Today Sports Images.