2:45pm: Crisp receives $11MM in 2015 and 2016, and his vesting option is worth $13MM with a $750K buyout, Slusser tweets.
2:38pm: John Hickey of the Bay Area News Group reports that Crisp's extension guarantees him $22.75MM (Twitter link). Susan Slusser of the San Francisco Chronicle reports the option breakdown: Crisp's 2017 option will vest if any of these conditions are met: 550 PAs in 2016; 1100 PAs in 2015-16; 130 games played in 2016; or 260 games played from 2015-16 with at least 110 of those coming in 2016.
1:41pm: The Athletics have announced (via Twitter) a two-year extension for center fielder Coco Crisp that includes a vesting option for the 2017 season. The Steve Comte client had been scheduled to hit free agency following the 2014 campaign but is now controllable by the A's through his age-37 season.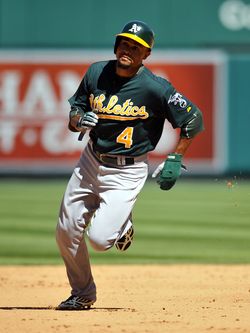 Crisp, who turned 34 in November, slugged a surprising 22 homers in 2013 — a new career-best. Those 22 homers were accompanied by 21 stolen bases (in 26 attempts) and a strong .261/.335/.444 triple-slash line, resulting in career-highs in OPS+ (119) and wRC+ (117). Ultimate Zone Rating pegged Crisp's glove in center field as slightly below average for the the third straight season, but Defensive Runs Saved rated him at +6 runs and feels he's been slightly above average in that same three-year span.
Crisp originally came to the A's on a one-year, $5.25MM deal prior to the 2010 season. Oakland exercised a $5.75MM club option for the 2011 season and then re-upped with Crisp on a two-year, $14MM contract following the completion of that campaign. Earlier this offseason, GM Billy Beane picked up his primary leadoff hitter's $7.5MM option. All told, he's earned $31MM in his Athletics career to this point (including his 2014 salary) and rewarded the team with a .264/.327/.417 batting line, solid defense in center field and elite value on the basepaths. Dating back to 2010, only four players in baseball — Michael Bourn, Elvis Andrus, Drew Stubbs and Rajai Davis — have added more value on the basepaths than Crisp, per Fangraphs.
Crisp should be flanked corner outfielders Yoenis Cespedes and Josh Reddick for at least the next two seasons in Oakland. His extension weakens what already looked to be a thin market for free agent position players next offseason — particularly outfielders. Brett Gardner and Colby Rasmus are among the top names in next year's class, which also includes aging sluggers such as Michael Cuddyer and Josh Willingham. Rebound campaigns from Chris Young, Grady Sizemore, Melky Cabrera and/or Nick Markakis could improve the outlook.
Photo courtesy of USA Today Sports Images.