The Braves have agreed to a seven-year extension with shortstop Andrelton Simmons, the club announced today via press release. The Relativity Sports client receives a $58MM guarantee.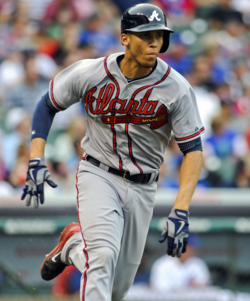 Simmons, 24, will now be under contract with Atlanta through the 2020 season. The deal covers all of his arb-eligible years and includes two seasons of free agent eligibility. With just 1.125 years of service heading into 2014, Simmons was a possible (but by no means certain) Super Two player for 2015.
Placing in the same service class as recent extension signees like Julio Teheran, Martin Perez, Jose Altuve, Anthony Rizzo, Paul Goldschmidt and Madison Bumgarner, Simmons' guaranteed money tops them all. Indeed, Simmons now sets the high mark for all extensions of players with between one and two years of service, topping Ryan Braun's eight-year, $45MM deal from back in 2008.
Last year, his first as a regular, Simmons sported a .248/.296/.396 line in 658 plate appearances, with 17 home runs and 6 stolen bases. While his hitting stats do not jump off the page, Simmons' defensive reputation is nearly unmatched. Baseball-Reference credited him with a remarkable 5.4 dWAR, resulting in an overall value of 6.8 wins above replacement. While Fangraphs weighs his overall contribution at 4.7 WAR for 2013, his UZR/150 (23.9) and Defensive Runs Saved (41) paint a picture of a high-floor player. Simmons would increase his value significantly moving forward, of course, if he can retain his power and get on base at a stronger clip.
Simmons gets a $1MM signing bonus. He will make the following annual salaries: $1MM (2014), $3MM (2015), $6MM (2016), $8MM (2017), $11MM (2018), $13MM (2019), and $15MM (2020).
It has surely been a stunning last few weeks for a Braves organization that entered the offseason with a host of talented young players and questions about whether they could all be retained. Added to the recent extensions for Teheran, Craig Kimbrel, Freddie Freeman, and Jason Heyward (the latter of which did not extend control), Atlanta has now committed just over $280MM to its existing roster in just over two weeks' time.
Though Atlanta reportedly suffers from one of the game's least favorable TV deals, it has signed on for a new ballpark (and surrounding development) deal that promises new revenue. Indeed, GM Frank Wren said recently that expected income from that new endeavor was critical in funding the team's extensions.
Samuel Whitmore tweeted last night that the Braves were set to agree to a seven-year deal with Simmons. Ken Rosenthal of FOX Sports first tweeted the contract value. Jon Heyman of CBSSports.com reported the annual breakdown via Twitter.
Image courtesy of USA Today Sports Images.