Homer Bailey and the Reds have officially agreed to terms on a six-year, $105MM extension, including a $25MM mutual option with a $5MM buyout. Cincinnati will control the 27-year-old hurler through at least the 2019 campaign.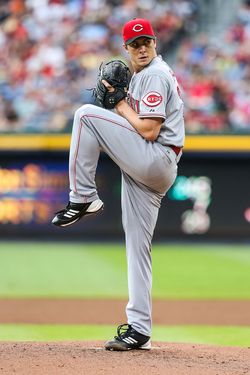 Bailey, a client of Excel Sports Management, successfully avoids arbitration by agreeing to the massive extension and also forgoes his first venture into free agency, which would have come at the end of the 2014 season. He had filed for an $11.6MM salary last month, while the Reds countered with an offer of $8.7MM. The two have been said to be working on a long-term deal for quite some time.
The former No. 7 overall draft pick back in 2004, Bailey has steadily improved over the past few seasons, culminating in a 2013 campaign that saw him post a 3.49 ERA with 8.6 K/9, 2.3 BB/9 and a 46.1 percent ground-ball rate in 209 innings. That marked the second consecutive season in which Bailey had posted a 200-inning campaign with an ERA well under 4.00 and a K/BB ratio of well over 3-to-1. It bears noting, also, that Bailey has thrown no-hitters in each of the last two seasons.
Bailey's deal accelerates throughout. He will receive $9MM and $10MM over the next two years, then see a significant bump to $18MM in 2016, $19MM in 2017, $21MM in 2018, and $23MM in 2019.
Notably, a significant portion of each year's annual salary will be deferred until the month of November, after the end of each season covered. Bailey's in-season salaries will be $3MM (2014), $4MM (2015), $11MM (2016), $12MM (2017), $14MM (2018), and $15MM (2019), with the remainder deferred to the fall of each year. Likewise, the $5MM buyout of the mutual option year is deferred until the following November, if it becomed payable. If Bailey is dealt, however, that aspect of the contract is swept away and he would receive all money during the appropriate season (or, in the case of the buyout, at the point that the option is declined). 
Though the Reds are a small-market club with definite payroll restrictions, the team has spent aggressively in recent years to secure its talent. Cincinnati issued a franchise-record 10-year, $225MM extension to Joey Votto in April 2012 and locked up second baseman Brandon Phillips on a six-year, $72.5MM extension one week after that deal. With a salary in the range of $10MM likely had they avoided arbitration on a one-year deal, Bailey has essentially signed away five free-agent seasons for a total guarantee of $95MM — or $19MM annually.
Despite that spending, the deal calls into question whether or not the Reds will be able to retain the rest of its rotation. Bronson Arroyo has already departed via free agency, but the Reds are equipped to handle that loss for the time being (rookie Tony Cingrani will fill his spot). More pressing will be the contractual situations of Johnny Cueto, Mat Latos and Mike Leake — all of whom are under control through the 2015 season. Latos, in particular, would be costly to sign to a long-term deal, but it would seem difficult for the Reds to allow 60 percent of their rotation to walk in two years' time, even with Cingrani and top prospect Robert Stephenson on the horizon.
For the time being, Bailey will return to a strong Reds rotation that will also include Cueto, Latos, Leake and Cingrani. His extension weakens the 2014-15 free agent class, which is currently set to be headlined by Max Scherzer, James Shields, Justin Masterson and Jon Lester. It remains to be seen whether any of those names come off the board as well. Lester, in particular, appears to be a likely extension candidate, and both Scherzer and Masterson have been rumored to be in line for new deals as well. Bailey and Masterson are relatively close in age and are coming off of similarly valuable campaigns, making the former's extension a particularly relevant comparable for the Indians hurler.
The move is unquestionably the largest of the season for the Reds, who otherwise made a series of fairly small moves. Cincinnati traded Ryan Hanigan to the Rays in a three-team deal; inked free agents Brayan Pena, Skip Schumaker and Manny Parra to two-year deals; and also worked out a two-year extension for right-hander Sam LeCure. Most notably, however, are the departures of Arroyo and Shin-Soo Choo. GM Walt Jocketty, new manager Bryan Price and the rest of the Reds' brass are hopeful that Cingrani can fill Arroyo's shoes, and that top prospect Billy Hamilton can occupy center field and the leadoff position in the absence of Choo.
The Cleveland Plain Dealer's Paul Hoynes first reported that the parties were close to a six-year extension. MLB.com's Mark Sheldon was first to report that a deal was in place. Joe Kay of the Associated Press reported the annual breakdown.
Photo courtesy of USA Today Sports Images.