Brett Gardner was positioned to be one of the top free agents in next year's class, but he's no longer on the market. The Yankees officially announced today that they have signed the Pro Star Management client to a four-year extension with a club option for a fifth season. Gardner's new deal begins in the 2015 season and is reportedly worth $52MM. He receives a $2MM signing bonus and will earn $12MM in 2015, $13MM in 2016, $12MM in 2017 and $11MM in 2018. The 2019 club option is worth $12.5MM and contains a $2MM buyout.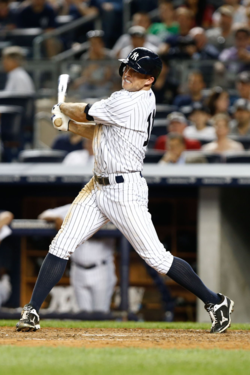 "It's something that's been in the works for a little while," Gardner said (as quoted by Mark Feinsand of the New York Daily News). "I made it known to them that I wanted to stay here and be a part of this. I learned from guys that come from other places that there's no better place to play, so I look forward to staying here and helping the team win."
Yankees GM Brian Cashman told reporters, including Curry (Twitter links ), negotiations began with agent Joe Bick during the Winter Meetings and was hopeful something could be worked out because the 30-year-old was one of the Yankees' best players last season.
"I like what he brings — the speed dynamic, the defense and I think the offense is there as well," Cashman said (as quoted by MLB.com's Joey Nowak). "Although he's going to be playing left field most of the time for us, I think he's one of the better leadoff/center fielders that this game can provide."
Cashman also said some contract language still needs to be ironed out, but the extension is a done deal (via Curry's Twitter feed). ESPN's Buster Olney tweets Michael Bourn's four-year, $48MM deal with the Indians a year ago was a comparable used during negotiations.
Gardner will make $5.6MM in 2014, his final season before free agency eligibility. His future with the Yankees briefly seemed to be in doubt after the Yankees acquired Jacoby Ellsbury and Carlos Beltran this offseason, as there were plenty of rumors that the Yankees might trade him. In late December, however, the Yankees said they had "absolutely no intention" of trading Gardner, and this deal reveals their high level of commitment to him. That high level committment, however, does not involve a no-trade clause. Curry tweets Gardner asked about no-trade protection, but the Yankees did not want to do it.
Gardner's extension removes him from the free agent corner outfield market next offseason. Gardner agruably would have headlined the group, which, per MLBTR's 2015 Free Agents list, could include Michael Cuddyer, Norichika Aoki, Josh Willingham, Torii Hunter and Melky Cabrera.
The YES Network's Jack Curry first reported (on Twitter) that the two sides were nearing a four-year, $52MM contract, and Jon Heyman of CBS Sports tweeted that the agreement had been reached. Heyman also tweeted the yearly breakdown, with Joel Sherman of the New York Post adding that Gardner would receive a $1MM bonus if traded.
Photo courtesy of USA Today Sports Images. Edward Creech and Steve Adams contributed to this post.