TUESDAY: Bourn will take his physical tomorrow and the Indians will introduce him at a Thursday press conference, Paul Hoynes of the Cleveland Plain Dealer reports (Twitter links). Bourn will earn $7MM in 2013, $13.5MM in 2014 and 2015, and $14MM in 2016.
MONDAY: Michael Bourn has agreed to a four-year, $48MM deal with the Indians, according to Jon Heyman of CBS Sports. The contract contains a $12MM vesting option for a fifth year (Twitter links). The option vests if Bourn reaches 550 plate appearances in the final season of his contract, Ken Rosenthal of FOX Sports reports (on Twitter). Bourn is represented by Scott Boras.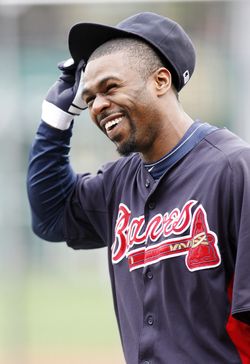 Bourn's contract is the second four-year deal that the Indians have given out this offseason, as the team also agreed to a four-year, $56MM contract with Nick Swisher in early January. Cleveland forfeited its second-round pick in order to sign Swisher, and the Bourn signing will cost them their competitive-balance pick, which would have been No. 69 overall according to Baseball America's Jim Callis (on Twitter). Bourn's former team, the Braves, will now pick 31st in the upcoming draft, Callis adds. (A refresher on the new draft pick compensation system can be found here.)
The 30-year-old Bourn hit .274/.348/.391 this past season with the Braves, adding nine homers and 42 stolen bases. He topped 155 games for the third time in the past four seasons and played stellar defense according to both UZR/150 (+22.4) and The Fielding Bible (+24).
Bourn was pursued heavily by the Mets over the past few weeks, but signing him would have required forfeiting the No. 11 overall pick in the 2013 draft. The Mets wanted to make an appeal to MLB that would allow them to keep the pick due to the fact that they felt they earned it by finishing with one of the ten worst records in baseball.
As MLBTR's Transaction Tracker shows, it's been an exceptionally busy offseason for Indians GM Chris Antonetti. In addition to Bourn and Swisher, Cleveland has also signed Brett Myers (one year, $7MM) and Mark Reynolds (one year, $6MM). In total, Cleveland spent a whopping $117MM on free agents this offseason, not including minor league deals with notable base salaries for Daisuke Matszuaka and Jason Giambi. The Tribe also exercised Ubaldo Jimenez's $5.75MM option and acquired Trevor Bauer and Drew Stubbs in a three-team blockbuster that sent Shin-Soo Choo to Cincinnati.
The addition of Bourn gives Cleveland an enviable surplus in the outfield, meaning that either Stubbs or Michael Brantley could end up on the trading block in the coming weeks. They could also shift Swisher to first base and use Reynolds as a designated hitter, which would allow them to deploy a strong outfield of Brantley, Bourn and Stubbs.
Bourn ranked third on Tim Dierkes' list of Top 50 free agents this offseason, behind only Zack Greinke and Josh Hamilton. With Bourn's agreement, the only members of that list that remain unsigned are fellow Scott Boras clients Kyle Lohse and Jose Valverde.
Photo courtesy of USA Today Sports Images.