The Orioles continued what has been an incredibly busy seven-day span by announcing the signing of slugger Nelson Cruz to a one-year deal. Cruz's contract contains a base salary of $8MM, plus $750K in incentives — a disappointing outcome for a player who declined a $14.1MM qualifying offer from the Rangers and at one point reportedly sought a four-year, $75MM deal. ESPN's Jerry Crasnick tweets that Cruz rejected two- and three-year offers this offseason, although the timeline of those offers is unclear. Cruz is represented by the Wasserman Media Group.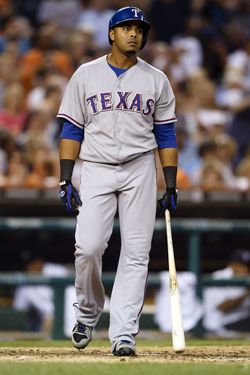 Cruz, 33, hit .266/.327/.506 in 456 plate appearances in 2013. A 50-game suspension for his connection to the Biogenesis scandal shortened his season. As MLBTR's Steve Adams noted in profiling Cruz in early November, however, that didn't stop Rangers manager Ron Washington from offering praise for Cruz as a teammate and a clubhouse presence.
The Rangers will now receive what is currently the No. 30 overall pick in the 2014 draft as a result of Cruz signing elsewhere. The Orioles, meanwhile, will sacrifice the No. 55 pick. Losing the No. 17 pick when they struck a deal with Ubaldo Jimenez likely made it easier for the Orioles to sign Cruz, since they would no longer have to give up a first-round draft choice in order to do so. In addition to Cruz and Jimenez, the Orioles have also signed Korean righty Suk-min Yoon to a three-year deal in the past week.
The Cruz deal is another win-now move for the Orioles, who are trying to build on an 85-win 2013 season and string together more wins before the potential departures of Chris Davis and Matt Wieters following the 2015 season. Cruz will serve as the Orioles' primary designated hitter, and he will also likely occasionally see time in the outfield. The transition to Camden Yards and the other hitter-friendly parks of the AL East should be a good move for Cruz, whose drastic home/road splits have drawn some criticism this offseason.
Of the remaining free agents, Cruz's pact with the Orioles most obviously affects Kendrys Morales. The Orioles reportedly had interest in Morales, so now the already-small number of interested bidders for Morales appears to be even smaller. Also, Cruz signing for one year and $8MM will likely make it even more difficult for Morales, a similar player, to get a sizeable deal.
The size of the deal will also likely increase skepticism throughout baseball about the qualifying offer process. That Cruz received so little was surely due in part to the fact that he had draft-pick forfeiture attached, and one year and $8MM is by far the smallest contract to which a qualifying offer player has agreed.
Enrique Rojas of ESPN Deportes first reported that the two sides had reached an agreement after CBS Sports' Jon Heyman reported that they were closing in on a deal.
Steve Adams contributed to this post. Photo courtesy of USA Today Sports Images.