The Pirates have officially agreed to extend another outstanding young outfielder, locking up Starling Marte to a six-year, $31MM deal that includes two option years. The contract kicks in for the 2014 season, meaning that it will extend team control over the 25-year-old by three seasons.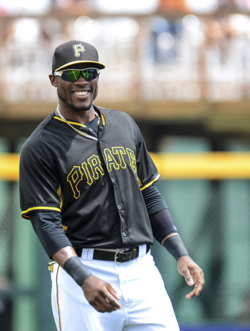 Marte, 25, has just 1.070 years of service and was set to reach arbitration in 2016 and free agency in 2019. The Legacy Agency client had a breakout 2013 season. WIth a .280/.343/.441 triple-slash to go with 12 home runs and 41 stolen bases, along with strong baserunning and defensive marks, Marte's contributions were valued at 4.6 fWAR and 5.4 rWAR.
He fits in alongside the dynamic Andrew McCutchen to form one of the league's most exciting young outfield combinations — all the more so when one considers that prospect Gregory Polanco could soon join the mix. With McCutchen under control through 2018 on his own early-career extension, and Polanco yet to accrue a single day of MLB service, that group should anchor the club for years to come.
Marte receives a $2MM signing bonus, but his salary will be just $500K in 2014. He will then earn the following annual salaries: $1MM (2015), $3MM (2016), $5MM (2017), $7.5MM (2018), and $10MM (2019). The options could reach $12.5MM (2020) and $13.5MM (2021) with escalators, says Heyman, and come with a $2MM buyout attached in some manner. In sum, the $31MM guarantee covers six seasons, and the tab could increase to a $57MM deal over eight years in the likely event that both options are picked up.
The extension guarantees one of Marte's free agent-eligible seasons while giving the club options over two more. In that respect, at least, it looks to be a more favorable approach for the Pirates than that adopted by the Braves in their recent deal with shortstop Andrelton Simmons, who was guaranteed $58MM to sign on (like Marte) through the 2020 campaign as a player with between one and two years of service. While the value of the option years on Marte's deal will likely bring its total achievable price in line with the Simmons deal, the Bucs take on substantially less risk by structuring the last two seasons as options. And that is even before one considers that Marte could be a bigger arbitration earner than Simmons given his gaudy stolen base totals.
Of course, the Marte contract nearly doubles the value of the most recent, reasonably comparable outfielder contract (Denard Span's 2010 deal with the Twins). But that deal is surely outdated by this point, and Marte offers more pop and bigger upside than did Span at the time of his contract. In the end analysis, moreover, the precise details matter less in this situation than the overall results. By promising to pay Marte only through his age-29 season, but getting control over him through his age-31 campaign, the Bucs have ensured control over an exciting young player through (but not past) his prime years at a reasonable price.
Dominican radio commentator Orlando Mendez first reported the deal's length and value via Twitter. Jon Heyman of CBSSports.com reported the deal was finalized on Twitter. Ken Rosenthal of FOX Sports reported (via Twitter) that final agreement was close. MLB Network's Jim Duquette (Twitter link) reported that the deal included two option years, while Heyman tweeted that the deal would begin in 2014. The option value and annual breakdown was reported by Heyman (links to Twitter).
Photo courtesy of USA Today Sports Images.