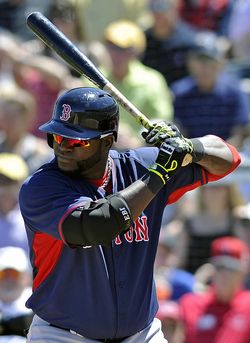 The Red Sox have announced that they've signed David Ortiz to a one-year extension through 2015, with a team/vesting option for 2016 and a team option for 2017. Ortiz will reportedly receive $16MM next year, which (as Nick Cafardo of the Boston Globe notes on Twitter) matches the 2015 salary of Mike Napoli, the team's highest-paid player.
The options are designed to change in value based upon playing time (unlike the escalating terms of his prior deal, which were tied to time spent on the DL). For 2016, if Ortiz falls shy of 425 plate appearances the option will be a straight, $10MM club option. If he reaches that mark, the option vests and becomes guaranteed at $11MM. An additional $1MM guarantee is tacked on at each of the following PA thresholds: 475, 525, 550, 575, and 600. For the 2017 option, the value moves in the precisely the same way, except that it has no vesting element.
"With this agreement, we have near certainty that David Ortiz will finish his career in a Red Sox uniform, which is something we have all wanted and that we are all proud of," said Red Sox owner John Henry. "It is difficult to describe David's contributions to our city both on the field and off the field, and we are so proud to have this ambassador of our game with us as he continues on this road to Cooperstown."
Though he's entering his age-38 season, Ortiz is fresh off yet another outstanding season at the plate in which he batted .300/.395/.564 with 30 homers in 600 plate appearances. Big Papi has been vocal about wanting to work out a one-year extension to remain with the club and has not shied away from telling reporters that he feels he's earned another significant payday as "The Man" in Boston's lineup at an age where many have been reduced to complementary roles. It's hard to argue that Ortiz's production isn't worthy of that salary, as he's been at least 34 percent better than a league-average hitter in each season from 2010-13, according to OPS+ and wRC+.
Via Twitter, ESPNBoston.com's Gordon Edes was the first to report the two sides had reached agreement on an extension. Rob Bradford of WEEI.com reported that Ortiz would receive $16MM in 2015. FOX Sports' Jon Paul Morosi tweeted the extension could include a club option for 2016, which would become a vesting player option based on plate appearances. Edes tweeted there was also an option for 2017. Jon Heyman of CBSSports.com first tweeted details of the vesting and escalator provisions of the option years, with Alex Speier WEEI.com reporting the full terms of the options. 
Steve Adams, Charlie Wilmoth, and Jeff Todd contributed to this post. Photo by USA Today Sports Images.