TUESDAY: Blanton has been released by the Athletics, tweets Chris Cotillo of MLBDailyDish.com. 
SUNDAY, 9:57pm: Fletcher now clarifies that Blanton has left the Athletics' Triple-A team, but it's unclear whether he's actually retiring.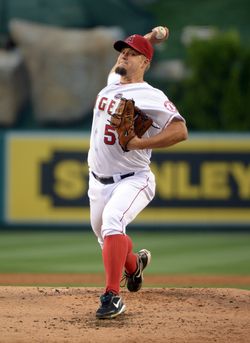 8:56pm: Longtime starting pitcher Joe Blanton has retired, Jeff Fletcher of the Orange County Register tweets. Fletcher notes that the Angels are still on the hook for the remainder of Blanton's $7.5MM salary for 2014, plus a $1MM buyout for 2015, even though Blanton has started two games for the Athletics' Triple-A team in Sacramento this year. The Angels released Blanton in March.
The Athletics drafted Blanton out of the University of Kentucky with the 24th pick in the first round in 2002, making him the second selection in their "Moneyball" draft class, after Nick Swisher. Blanton made his big-league debut in 2004, then became a regular in the A's rotation in 2005. After several years eating innings in Oakland, Blanton headed to Philadelphia for Josh Outman and two other prospects in 2008. Blanton pitched in the World Series for the Phillies in both 2008 and 2009, and the Phils signed Blanton to a three-year extension prior to the 2010 season. He stuck with the Phillies until 2012 before they traded him to the Dodgers for the stretch run that year.
Blanton then signed an ill-fated two-year, $15MM deal with the Angels, struggling while posting a 6.04 ERA with 7.3 K/9 and 2.3 BB/9 in 132 2/3 innings last season. Blanton, 33, finishes his career with a 4.51 ERA, 6.2 K/9 and 2.4 BB/9 in 1,567 1/3 innings.
Photo courtesy of USA Today Sports Images.