5:03pm: MLB.com's Corey Brock explains the reasoning behind announcing the contract as a six-year deal despite only adding five new years (Twitter link). Though Gyorko's 2014 salary remains unchanged, there is language in the deal which adds both insurance and benefits to Gyorko's 2014 contract.
3:48pm: The Padres have locked up one of their infielders for years to come, but it isn't the one whose extension status has grabbed the most headlines over the past couple of years; San Diego announced today a six-year extension for second baseman Jedd Gyorko that will keep the ACES client in San Diego through the 2019 season and contains a club option for the 2020 season.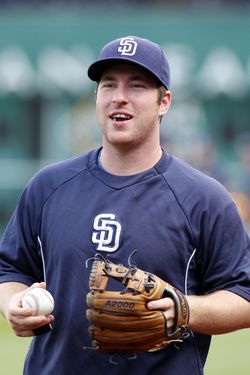 Gyorko's deal appears to be a six-year extension in name only, as the reported breakdown of his contract doesn't include a change to his previously agreed upon 2014 salary. He will earn $2MM in 2015, $4MM in 2016, $6MM in 2017, $9MM in 2018 and $13MM in 2019 before the Padres have the option of retaining him for $13MM for 2020 or paying him a $1MM buyout. Gyorko's deal also reportedly contains escalators that pertain to the option year, meaning the value of that option could rise over the course of the deal.
"We are happy to sign Jedd and secure the rights to two free agent years," said general manager Josh Byrnes in the press release issued to announce the deal. "Jedd is a homegrown player in his fifth season with the Padres organization and has been a consistent performer every step of the way. He has shown us a real commitment to this organization and to the city of San Diego."
Gyorko, 25, had a solid rookie season in which he batted .249/.301/.444 with 23 homers in 525 plate appearances. That effort, which was more impressive than it would appear at first glance due to his pitcher-friendly home stadium, was enough to earn him a sixth-place finish in the National League Rookie of the Year voting.
A natural third baseman, Gyorko has moved over to second base in San Diego due to the presence of Chase Headley at the hot corner for the Friars. Advanced defensive metrics both felt that he did an admirable job there, with The Fielding Bible's Defensive Runs Saved pegging him at -1 runs, while Ultimate Zone Rating estimated that he saved 1.8 runs per 150 games. That defensive flexibility is crucial for the Padres, who could lose Headley to free agency at season's end. Should that happen, Byrnes will have the freedom to pursue both second base and third base options to fill the void, knowing that Gyorko can handle whichever position is not filled by a potential new addition.
The Padres already controlled Gyorko through the 2018 season via the arbitration process, so the Padres have effectively secured an additional two years of control over Gyorko (though only one is guaranteed). His contract is the largest signed by a second baseman with between one and two years of service time, though not the largest deal ever for a player in that service class. Andrelton Simmons, Ryan Braun and Anthony Rizzo have topped that figure. Regardless, that is an impressive group of peers for the slugging infielder to join.
Byrnes isn't shy about pursuing extensions for his young players, though a few of them have gone awry due to injuries in recent years. As can be seen via MLBTR's Extension Tracker, the Padres have recently extended Cameron Maybin (five years, $25MM), Cory Luebke (four years, $12MM), Carlos Quentin (three years, $30MM), Nick Hundley (three years, $9MM), Huston Street (two years, $14MM), Will Venable (two years, $8.5MM) and Chris Denorfia (two years, $4.25MM).
ESPN's Buster Olney was the first to report the deal (via Twitter), with ESPN's Keith Law adding (via Twitter) that it was a six-year deal with a seventh-year option. Ken Rosenthal of FOX Sports added that the deal ran 2015-19 with a club option, and Chris Cotillo of MLB Daily Dish reported the $35MM guarantee and $13MM option value (Twitter links). ESPN's Jayson Stark tweeted about the escalators, with Cotillo adding that they applied only to the option year. Jeff Passan of Yahoo sports reported the year-to-year breakdown (via Twitter).
Photo courtesy of USA Today Sports Images.