THURSDAY: If Archer does not reach Super Two status, he is guaranteed $20MM, MLBTR has learned. In that instance, he would receive a $1MM signing bonus, $500K in 2014, $1MM in 2015, $1MM in 2016, $3MM in 2017, $4.75MM in 2018 and $7MM in 2019. The option years and buyouts would not change, regardless of his Super Two status. Either way, the guarantee is still the largest ever for a player with less than one year of service time.
WEDNESDAY: The Rays have established themselves as annual contenders by extending young players early in their Major League careers, and the next such case presented itself today as the team has announced a six-year contract for right-hander Chris Archer. Archer's deal buys out all of his pre-arbitration and arbitration years, and will be worth $25.5MM if he achieves Super Two status but less if he does not (Super Two seems highly likely for Archer, who entered the year with 156 days of service). The contract also also contains a pair of club options that can push the value of the deal to $43.75MM over eight years. The Relativity Baseball client also reportedly receives a $500K bonus if he is traded during this contract.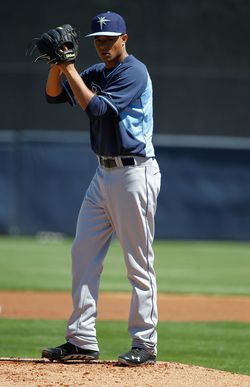 Assuming he reaches that Super Two status, Archer will receive a $1MM signing bonus and a $500K salary in 2014, $1MM in 2015, $2.75MM in 2016, $4.75MM in 2017, $6.25MM in 2018 and $7.5MM in 2019.  The Rays can buy out Archer's 2020 option for $1.75MM.
Archer, 25, broke out with the Rays in 2013 with a strong performance that netted him a third-place finish in the American League Rookie of the Year voting. The North Carolina native posted a 3.22 ERA with 7.1 K/9, 2.7 BB/9 and a 46.8 percent ground-ball rate in 128 2/3 innings for the Rays, cementing himself as a member of the team's rotation. He averaged a blistering 95 mph on his fastball, which could eventually help him reach the his minor league levels of striking out a batter per inning. Perhaps most important for the Rays was Archer's improved command; he had averaged five walks per nine innings in his minor league career.
Archer's new deal is the largest ever for a player with less than one year of service time, eclipsing the six-year, $17.5MM extension and the five-year, $14MM extension signed by his own teammates Evan Longoria and Matt Moore, respectively.
The Rays originally acquired Archer from the Cubs along with Hak-Ju Lee, Sam Fuld, Brandon Guyer and Robinson Chirinos in exchange for Matt Garza, Fernando Perez and Zac Rosscup. That was actually the second trade of Archer's career though, as he was first drafted by the Indians and sent to Chicago along with John Gaub and Jeff Stevens to acquire Mark DeRosa back in 2008.
Archer was already under team control through the 2019 campaign, but this new contract will give the Rays options that run through the 2021 season, meaning the Rays haven't actually guaranteed any free-agent seasons with the deal. However, they will obtain cost certainty and two optional years of control, making it worthwhile risk for the team. From Archer's standpoint, he acquires financial security for a lifetime, sets a service time record and would hit the open market at age 33 if both options are eventually exercised.
For the 2014 season, Archer will join Moore, David Price, Alex Cobb and Jake Odorizzi/Jeremy Hellickson in the rotation (Hellickson is currently on the disabled list). While Price's long-term future with the club is in doubt, the Rays will now control Archer, Moore and Odorizzi through at least the 2019 season, with Cobb under control through 2017 via arbitration. Hellickson is controlled through 2016.
The Rays alerted the media that an announcement would be coming this morning, and Ken Rosenthal of FOX Sports was the first to report the six-year agreement, noting that it was in the $25MM range (via Twitter). Jon Heyman of CBS Sports pegged the exact value (via Twitter), while Yahoo's Jeff Passan added the trade bonus. Passan and ESPN's Jerry Crasnick added details approximating the value of the option years, and Passan noted the Super Two technicality as well. Marc Topkin of the Tampa Bay Times reported the year-to-year breakdown (via Twitter).
Photo courtesy of Kim Klement/USA Today Sports Images.