The Angels have officially agreed to acquire All-Star closer Huston Street from the Padres, as first reported by Jim Bowden of ESPN.com (Twitter links). It is a four-for-two deal, as Ken Rosenthal of FOX Sports first tweeted.
In return for Street and 2013 sixth-round draft choice Trevor Gott, San Diego will receive second base prospect Taylor Lindsey, who entered the year as the Halos' top-rated prospect in the eyes of Baseball America, as well as 23-year-old righty R.J. Alvarez, who BA ranked fourth among Angels prospects. Two other minor leaguers are also headed to San Diego: rising shortstop prospect Jose Rondon and righty Elliot Morris.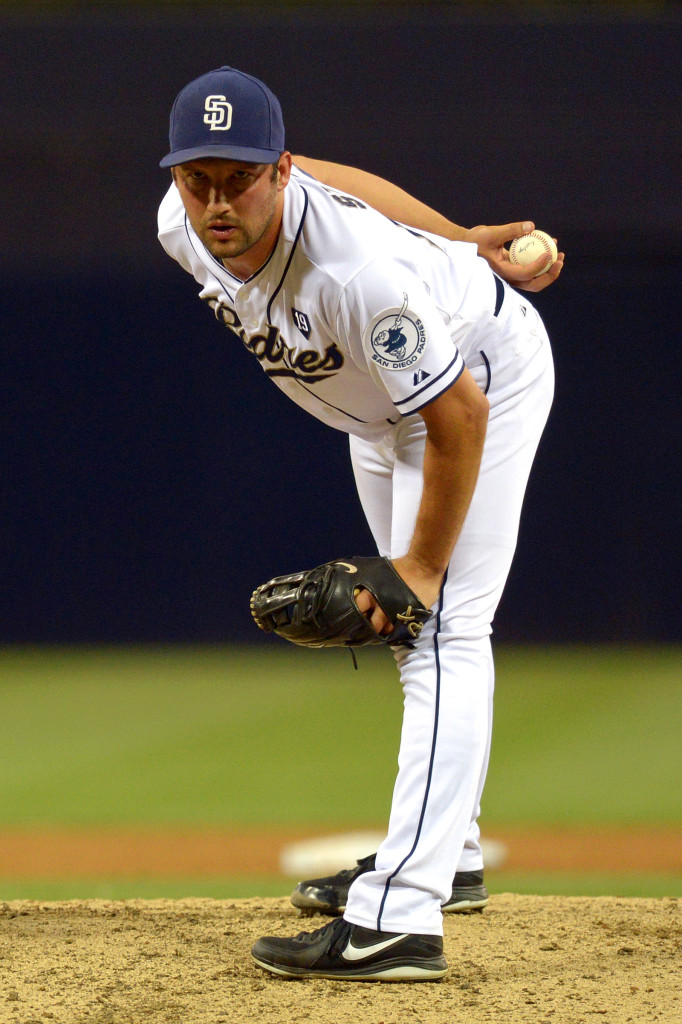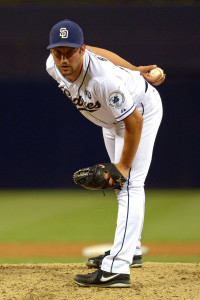 Street has been one of the most effective late-inning relievers in baseball this year. In his age-30 season, Street owns a 1.09 ERA backed by 9.3 K/9 against just 1.9 BB/9. He also sports a 42.5% groundball rate that is his best mark since his rookie year of 2005. While Street's earned run mark is propped up somewhat by the fact that he has a remarkable 100% strand rate, ERA estimators also like his work thus far (2.90 FIP, 2.95 xFIP, 2.46 SIERA).
Street's contract, of course, makes up a good portion of his appeal, and also presumably opened up a broader market for his services. He is owed only the remainder of his $7MM salary this year and comes with a $7MM club option for 2015. That manageable commitment arguably made him the most attractive closer acquisition candidate on the market this year — at least, that is, unless and until the Red Sox make Koji Uehara available. It appears that the Angels decided it was worth parting with a larger prospect haul to add Street, and do so now, rather than waiting to pursue one of the more expensive relief options that might have been had, such as Jonathan Papelbon of the Phillies.
For the Angels, Street represents fourth reliever added in the last month, joining Joe Thatcher, Jason Grilli, and the since-released Rich Hill. Street will presumably bump Joe Smith out of the closer role that he has occupied since deposing Ernesto Frieri, who was of course dealt for Grilli. Of course, Smith — who inked for $15.75MM over three years before the season — has been every bit as good as Street this year (2.32 ERA with 9.7 K/9, 1.9 BB/9, 58.1% groundball rate).
The other piece of the deal for Los Angeles, Gott, had been throwing at Double-A after earning a mid-season promotion. The 21-year-old has just a 4.63 ERA with 8.5 K/9 and 6.9 BB/9 through 11 2/3 frames at that level, but had worked to a 3.16 mark on the back of 8.9 K/9 against 2.6 BB/9 through 31 1/3 High-A innings. Gott did not rank among San Diego's thirty best prospects entering the year in the eyes of Baseball America.
San Diego looks to have achieved a strong return for Street. Lindsey, 22, was taken in the sandwich round of the 2010 draft and landed in the 93rd overall spot on Baseball America's top-100 prospect list. His calling card is his unconventional but effective left-handed bat. He profiles as an average runner and fielder, according to BA. In his first season at Triple-A, Lindsey owns a .247/.323/.400 slash with eight home runs and seven stolen bases.
Though it is generally unwise to look too far ahead with prospects, it appears that Lindsey is close to earning a shot at big league playing time and makes for a nice fit with San Diego. With Chase Headley set to hit the open market this coming offseason (if he is not traded earlier), Jedd Gyorko could slide to the hot corner with Lindsey slotting in at second. (Of course, 2011 San Diego first-rounder Cory Spangenberg is also filtering up the system as a keystone option, though his prospect sheen has dimmed in recent years.)
For his part, Alvarez has dominated upon being promoted to Double-A for the 2014 campaign. Exclusively a reliever, he has allowed just one earned run in 27 innings of work, striking out 12.7 while walking just 3.3 batters per nine. That performance supports Baseball America's scouting report from before the season, which praises Alvarez for his big fastball and power slider. Indeed, according to BA, the Friars may have picked up their closer of the future by dealing their closer of the past, as Alvarez has 9th-inning upside.
In the meantime, presumably, Joaquin Benoit will step into San Diego's closer role. He has been outstanding, with a 1.86 ERA and 10.5 K/9 versus 2.1 BB/9, since signing a two-year, $15.5MM deal (with a $8MM club option for 2016). The veteran could still be dealt, Rosenthal tweets, but San Diego will "raise the bar" on its demands having already shipped out its incumbent closer.
As for Rondon, a 20-year-old from Venezuela who was rated the Halos' 12th-best prospect coming into the year, Baseball America says he has a good hit tool and approach, but lacks any power to speak of. He is not much above average on the bases and is a good, but not spectacular fielder who could become a second baseman or utility player as he moves forward. Of course, the youngster has only raised his stock with a strong .327/.362/.418 slash in 324 plate appearances at the High-A level this year. With half a year in the books, Rondon had already jumped to 5th among Angels prospects on MLB.com's ranking.
Morris, 22, was a fourth-round selection last year for Los Angeles who signed for a $387.3K bonus. He has moved up to the High-A level in his second season as a professional, and owns a 4.17 ERA through 45 1/3 innings with 7.9 K/9 and 5.6 BB/9.
Bowden tweeted that Rondon was part of the deal, while Rosenthal tweeted Gott's inclusion.