The Padres have officially agreed to a two-year, $13MM extension with outfielder Seth Smith, as originally reported by MLB.com's Corey Brock (Twitter links). Smith will earn $6MM next year and $6.75MM in 2016 before an option year in 2017, when the club will decide whether to pay a $250K buyout or $7MM salary, Brock reports on Twitter.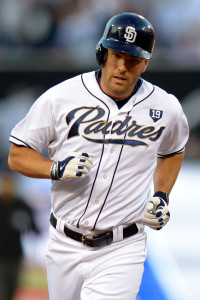 Surprising on several levels, the new contract for Smith will presumably keep him off the upcoming trade and free agent markets. Indeed, he has been assured he will not be dealt, according to Jon Heyman of CBSSports.com (via Twitter). Smith, a 31-year-old who swings from the left side, was playing out his final year of arbitration eligibility in San Diego after being acquired for reliever Luke Gregerson before the season.
To be sure, Smith has been excellent thus far for the Padres. He owns a .281/.384/.506 triple-slash and 9 home runs through 277 plate appearances. Those numbers are good for a park-adjusted 158 OPS+ and 155 wRC+. Though his defense has never been a strong suit, Smith has still managed to put up 2.2 fWAR and 3.0 rWAR in just about a half-season of work in 2014.
On the other hand, that tally of wins above replacement is more than twice what he has produced on average over the past four seasons. Between moving out of Coors Field (after the 2011 season) and into Petco Park, Smith had slashed .246/.331/.406 with 22 home runs in 851 plate appearances for the A's. It would be unrealistic to expect Smith to keep up his torrid current pace, of course, though projection systems ZiPS and Steamer like him to maintain a more-than-serviceable 120 wRC+for the rest of the season.
In terms of value, Smith will receive a deal that lands just north of several two-year contracts signed over the last free agent period. David Murphy got two years and $12MM from the Indians, while Rajai Davis and Nate McLouth received two-year pacts for between $10MM and $10.75MM. Put in those terms, the deal appears to be a fair one for both sides, with each avoiding the risk of shifts in second-half performance as well as the unpredictable nature of the open market.
The larger question, it would seem, is whether the contract makes sense for San Diego. Even after a recent run of good play, the club remains 10.5 games back in the NL West and 8.5 out of the Wild Card. Smith looked to be an attractive trade chip in the run-up to the deadline, with his pop from the left side of the dish already drawing calls. Then, of course, there is the fact that the Padres just fired GM Josh Byrnes, and are currently in the process of selecting a new steward while operating under a trio of preexisting executives.