The Cardinals only made one big move this offseason, but it was a big one indeed, and they're again in strong position to contend despite an offseason touched by tragedy.
Major League Signings
Trades And Claims
Extensions
Lance Lynn, SP: Three years, $22MM (with incentives for playing time that can push the deal to $23.5MM)
Jordan Walden, RP: Two years, $6.6MM plus 2017 option
Jon Jay, CF: Two years, $10.975MM
Notable Minor League Signings
Notable Losses
Needs Addressed
The Cardinals' offseason began in the worst way imaginable, as outfielder Oscar Taveras, a 22-year-old potential star, passed away along with his girlfriend Edilia Arvelo in a car accident in the Dominican. The tragedy shook not only the Cardinals organization but the entire sport, which lost one of its brighter young talents.
Following Taveras' death, the Cardinals made one dramatic move to replace him in right field, then had an otherwise quiet offseason. That dramatic move came in mid-November, when they shipped Shelby Miller and pitching prospect Tyrell Jenkins to Atlanta for Jason Heyward and Jordan Walden.
The Cardinals paid heavily, giving up four years of control for Miller and six of Jenkins in order to get one year of Heyward and two of Walden. (The Cardinals added an extra year of control for Walden when they signed him to a two-year deal with an option in December.) The key to the trade, however, might be that the Cardinals know their pitchers better than anyone else does. Miller is only 24 and still has an electric arm, but his strikeout rate per nine innings alarmingly declined from 8.8 in 2013 to 6.3 last year, and his walk rate rose as well. Miller basically has two pitches (he threw his changeup just 2.4% of the time last year), and his curveball declined in velocity last year, becoming much more hittable in the process. Miller improved down the stretch and is clearly a big-league starter going forward, but if the Cardinals felt comfortable selling low on a pitcher who once looked like an emerging ace, they might well have good reasons.
Jenkins, meanwhile, is still 22 and has twice been rated in Baseball America's top 100 prospects list, but his performance record doesn't yet match his reputation, and he missed chunks of the 2013 and 2014 seasons with a shoulder injury. He did pitch well in the Arizona Fall League after the trade, and like Miller, he has a terrific fastball. But he's still at least a year from the Majors and represents plenty of risk.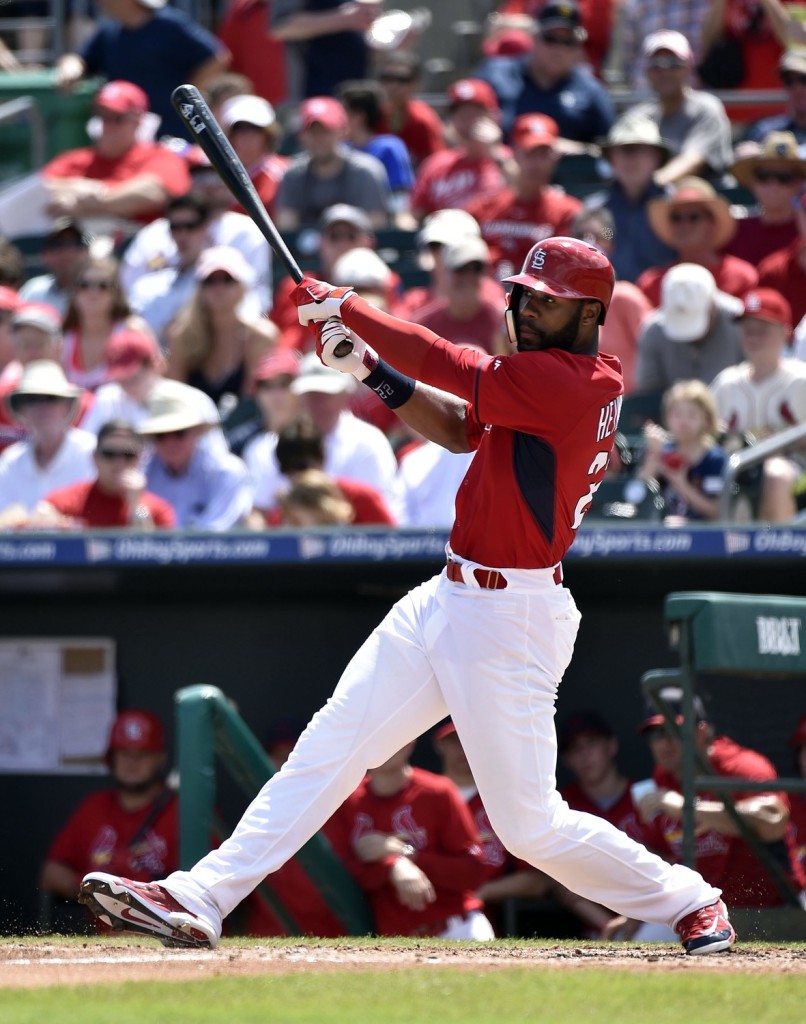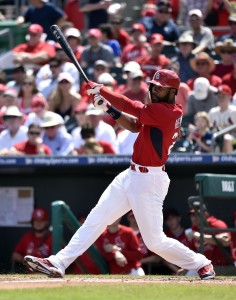 Getting a prime season of Heyward in the deal was a coup for the Cardinals, much more so if they can extend him before he becomes a free agent after the season. Heyward is still only 25 and is an elite defensive corner outfielder and a reliable on-base threat. And given his off-the-charts tools and athleticism, he probably still has untapped upside, perhaps a lot of it. He already posted 5.1 fWAR last year while hitting a relatively meager .271/.351/.384; if he can return to, say, his 2012 total of 27 home runs, his $7.8MM salary will make him among the best values in the big leagues.
Walden is no mere throw-in. He dramatically improved his ground ball rate last year, although possibly at the expense of his walk rate. Either way, his blazing fastball should help him strike out more than enough batters to be a successful setup man. Walden's extension, too, was a smart move, though a small one, for the Cardinals. Between his $2.5MM 2015 salary and his $350K signing bonus, the Cards will pay Walden less in 2015 than the $3MM MLBTR projected, and Walden's $3.5MM 2016 salary is far less than Cardinals would have had to pay through the arbitration process if he had had a good 2015 season. The Cardinals also got the rights to a reasonable $5.2MM option (or a $250K buyout) for 2017.
Beyond that, the Cardinals didn't have many holes, and thus had few excuses to spend. The Cards added Matt Belisle to their bullpen after he spent six years in the Rockies organization. Belisle is coming off his worst year in Colorado, posting a 4.87 ERA with 6.0 K/9 and 2.6 BB/9 in 2014, but he posted solid peripherals in four straight seasons before that. The Cardinals won't have to depend on him to pitch high-leverage innings, and if he doesn't pitch well, he won't have cost them much.
They also signed corner infielder and strikeout king Mark Reynolds to a cheap one-year deal. Incumbent first baseman Matt Adams has a career .553 OPS against lefties, and allowing Reynolds to smash southpaws while sitting against righties should enable the Cardinals to get the most bang for their buck. Reynolds himself had a .573 OPS against lefties last season, but an .809 OPS against them for his career. And while he's had a reputation as a marginal talent for several years now (failing to top a .221 batting average in five straight seasons will do that), he's never been used as a part-timer, exactly — the Brewers gave him 433 plate appearances last year, his lowest total since he was a rookie. Giving him about 250 plate appearances, most of them against lefties, seems like a good way to harness his power, which remains formidable.
Finally, in addition to the aforementioned Walden contract, the Cardinals signed starter Lance Lynn and center fielder Jon Jay to fairly straightforward extensions that buy out arbitration seasons. Lynn's $22MM deal buys out all three of what would have been his arbitration years. MLBTR's Matt Swartz guessed that Lynn would have made something like $4.5MM for 2015, so it isn't hard to see how Lynn might have reached or topped $22MM in three years total. At the same time, Lynn received a hefty chunk of guaranteed money and didn't delay his free-agency eligibility.
Jay's deal is even simpler. He had already been through arbitration once, and he and the Cardinals had already exchanged figures for this offseason, with a midpoint of $4.55MM. The extension essentially merely guarantees him a modest raise for 2016 — slightly smaller than the one he would have received had he gone year-to-year, but that's to be expected given that the Cardinals agreed to pay his salary for both years up front. That point might seem significant to a player who briefly lost his everyday job to Peter Bourjos last year, although perhaps it shouldn't be. Jay is, at this point, probably slightly undervalued. Particularly in the 2013 season, Jay developed a reputation for being defensively erratic. For his career, though, that's not the story the numbers tell, and his OBP-heavy offensive game is consistently strong.
Questions Remaining
Not many. The Cardinals remain a strong team from top to bottom, and attempts to find their weaknesses mostly amount to nit-picking. The team's fifth starter job is currently unsettled, although Marco Gonzales, Carlos Martinez and Jaime Garcia all have upside. (The Cardinals might be leaning toward Garcia despite his long history of arm issues, since they can most easily keep all three pitchers in the organization by sending Gonzales back to the minors and Martinez to a relief role.) The Cards' bullpen isn't outstanding behind Trevor Rosenthal, particularly given the loss of Pat Neshek, but the additions of Walden, Belisle and minor-league signee Carlos Villanueva could all help, and hard-throwing rookie Sam Tuivailala could be a wild card. Also, Martinez would help the Cards' bullpen depth tremendously if he were to lose out on the rotation job.
Beyond that, the questions, such as they are, are broader. The Cardinals' core is good, but much of it is somewhat old. The Cards will lean on a great catcher (Yadier Molina) who will be 33 in July, a very good shortstop (Jhonny Peralta) who will be 33 in May, a great 33-year-old starting pitcher (Adam Wainwright), and good players in Matt Holliday and John Lackey who are even older. There are certainly scenarios in which several of those players falter at once this season, and the Cardinals are far worse than expected. The Cardinals' depth behind Molina is one weakness that could become a problem if he gets hurt, as he did last year when he missed several weeks with a thumb injury. A minor deal with the Orioles for catcher Michael Ohlman might not help much, either, at least not right away, since Ohlman hit sparingly even at Double-A last year.
Deal Of Note
Last year, MLBTR's Tim Dierkes examined the sorts of minor-league free agents teams typically sign to big-league deals. Such players are typically around 27 when they sign, and within that context, the Cardinals' signing of 28-year-old infielder Dean Anna to a big-league deal fits right in. Typically, though, players who receive such deals are former top prospects or hard throwers. Anna, in contrast, is a former 26th-round pick who had to scrap for playing time even in the low minors. He's also coming off a .207/.325/.308 season at the Triple-A level, making him an even more unlikely candidate for a big-league deal.
What Anna does have is versatility (he can handle shortstop, second and third, making him a legitimate utility infielder) and on-base ability. Anna posted a .410 OBP at Triple-A Tucson in 2013 and has a .380 career minor-league OBP. Aside from a handful of games with the Yankees last season, Anna has no big-league track record, so the Cardinals' Major-League deal amounts to a relatively cheap gamble that Anna's minor-league track record can translate to the Majors. They can control him for up to five more years after this one if it does.
At this point, though, it's not even guaranteed that he'll make the team, as he's played sparingly in Spring Training. Another unproven infielder acquired in a relatively low-profile deal, Ty Kelly, has impressed observers. Like Anna, Kelly has a great track record of providing OBP in the high minors, although Kelly doesn't play shortstop, instead spending most of his time at second and third and in the outfield corners.
In any case, if Anna doesn't make the squad, he could end up providing good depth at Triple-A. He might prove to be valuable if Peralta gets hurt or second baseman Kolten Wong doesn't maintain the improvements he made in 2014.
Overview
Despite an aging group of core players, the Cardinals have an enviable blend of veterans, good players in their primes (Heyward, Lynn, Matt Carpenter) and youngsters with upside (particularly Michael Wacha and Martinez, but also Wong, Gonzalez, and outfield prospect Stephen Piscotty, who provides a solid Plan B if Holliday is out for an extended period). That diversification of assets should limit their downside — there's a lot of talent here, and it's spread fairly around the diamond and across the spectrum of player ages. They're a bit too heavily weighted toward veteran talent, although that's not necessarily surprising for a franchise that's had seven straight winning seasons (and just lost its highest-upside young player in tragic circumstances). And the fact that most of their long-term contracts aren't backloaded keeps them flexible.
With that in mind, the Cardinals can watch the season unfold, and use the trade market to address any weaknesses that emerge. They can also plan for the future. Lackey and Heyward are eligible for free agency after this season. While an extension for Lackey doesn't look likely, signing Heyward, already a very good player who still has youth and upside, could become a priority. If Heyward departs, the Cardinals will likely have the flexibility to make a splash in next offseason's free-agent market, if they so desire.
Photo courtesy of USA Today Sports Images.