The Red Sox will promote top pitching prospect Eduardo Rodriguez, Tim Britton of the Providence Journal reports (Twitter links).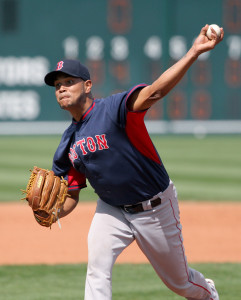 Rodriguez may only receive a spot start, per Britton, but regardless it'll be the first MLB experience for the 22-year-old lefty. Acquired last summer from the Orioles for relief ace Andrew Miller, Rodriguez entered this year (as he did last) as a consensus top-100 prospect league-wide.
With a late May call-up, Rodriguez would stand some chance of achieving Super Two status if he can stick on the roster, but that's hardly a sure thing. And it seems that he will need to pitch his way into a regular rotation spot, as the club is simply pushing back its current starting five.
Though his value had dipped somewhat at the time he was sent to Boston, Rodriguez was still quite a prize (the result of a trade deadline bidding war). He also quickly restored his former luster, according to reports at the time, by regaining fastball velocity in short order.
After a dominant end to his season at the Double-A level last year, Rodriguez earned a promotion to the highest level of the minors to open 2015. He has not disappointed, striking out 8.2 and walking just 1.3 batters per nine over 48 1/3 innings, posting a 2.98 ERA for Pawtucket.
Now, Boston will see what the youngster can provide at the big league level. It's no secret that the club's starting pitching has had its struggles, though the group has been somewhat better in recent weeks. It seems likely that Rodriguez could earn another start, at least, with a solid outing. Certainly, it behooves the Red Sox to give him a chance and see what they have as they weigh outside additions over the summer.
Photo courtesy of USA Today Sports Images.