This post completes a series in which MLBTR reviewed the offseason moves of every team in baseball. You can find all of those posts at this link.
After coming one game away from baseball's top prize in 2014, the Royals again reached the postseason in 2015, this time closing out the job with their first World Series title in 30 years. The celebratory parade in Kansas City was a sight to behold, but GM Dayton Moore and his staff had plenty of work to do in what was a busy offseason.
Major League Signings
Alex Gordon, OF: Four years, $72MM plus 2019 mutual option
Ian Kennedy, RHP: Five years, $70MM plus opt-out after 2017 season
Joakim Soria, RHP: Three years, $25MM, plus 2019 mutual option
Chris Young, RHP: Two years, $11.5MM, plus 2018 mutual option
Mike Minor, LHP: Two years, $7.25MM plus 2018 mutual option
Total spend: $185.75MM
Notable Minor League Signings
Trades and Claims
Extensions
Notable Losses
Needs Addressed
The Royals entered the offseason with a pair of corner outfielders hitting free agency: Alex Gordon and Alex Rios. Gordon, the former No. 2 overall draft pick who has emerged as the face of this new wave of contending baseball in Kansas City, was the clear priority for Moore and the rest of the front office. With early reports that the Royals hoped to re-sign him on a three- or four-year deal, significant doubt was cast on that possibility. It seemed implausible to many, myself included, that Gordon could be had for a deal of that length. However, he was one of many outfielders that lingered on the market longer than pundits expected, and he ultimately signed for $72MM over a four-year term shortly after New Year's Day. Retaining Gordon was a huge win for the fans, and the fact that the Royals were able to do so at a reasonably manageable price was a plus for the front office. Gordon's contract is still a record-setter for the typically cost-conscious Royals, but the rest of their roster is affordable enough over the next couple of seasons that it shouldn't be burdensome.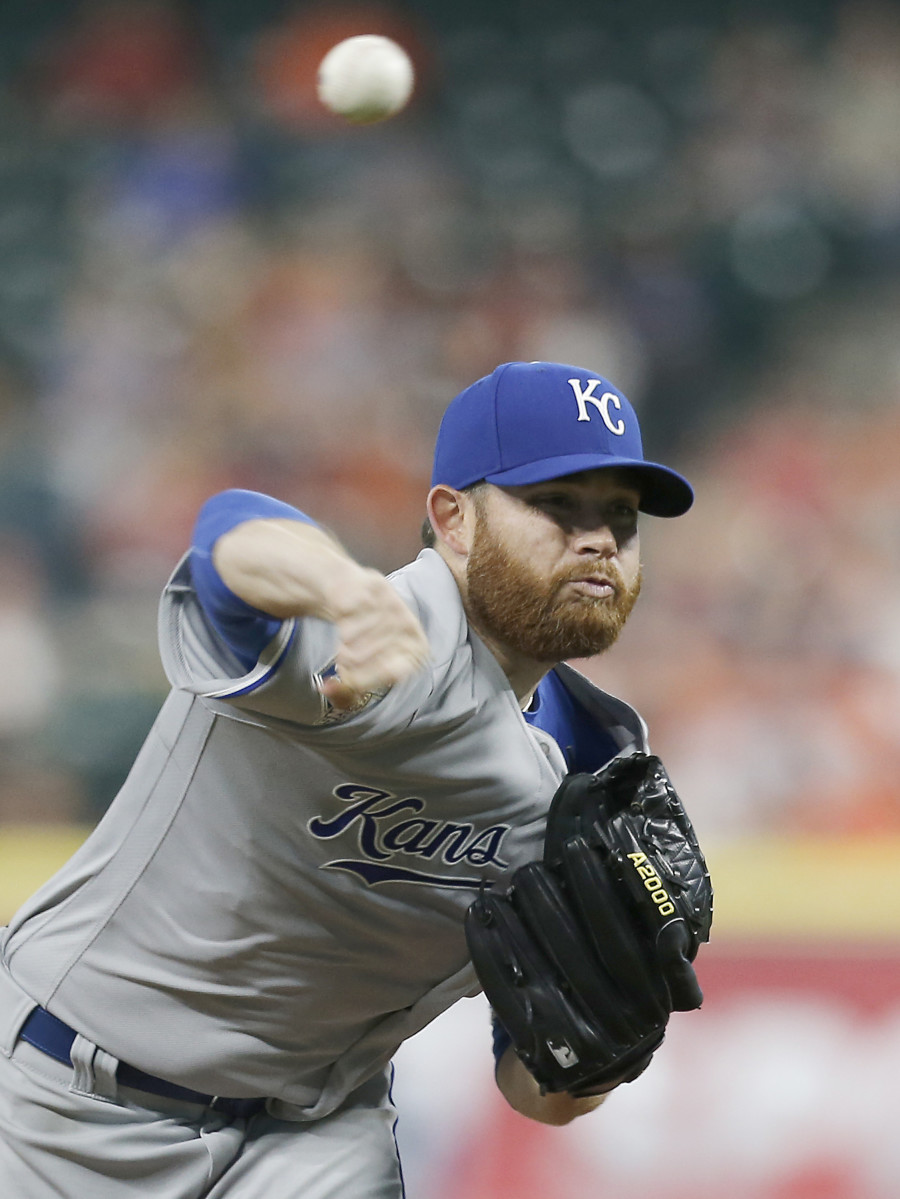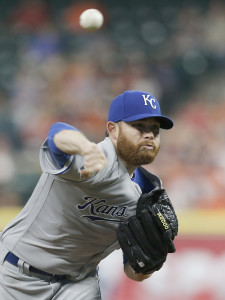 With Cueto, Young and Guthrie lining up as free agents, the Royals needed to supplement their rotation with innings. They were linked to a fair number of free-agent starters, but the primary addition to their rotation was rather stunning. Ian Kennedy always made sense as a target for the Royals — a fly-ball pitcher that would benefit from a large park and excellent defense (plus, Kansas City's relationship with Scott Boras is strong) — but the terms of the contract were jarring. I was aggressive on Kennedy's free agent stock this winter and always considered the narrative that he should accept San Diego's qualifying offer to be ludicrous, but despite being more bullish on his earning power than most, I was still floored when he secured not only a five-year deal worth $70MM but also an opt-out clause.
Kennedy's skill set is a great fit for a Royals club that can mask his greatest deficiencies via the aforementioned stadium and defensive prowess, but the contract is still teeming with downside. Kennedy is guaranteed just $27MM of that $70MM sum, meaning he'd be opting out of a three-year, $43MM contract as he heads into his age-33 season. While that's certainly possible, Kennedy's inconsistent track record and homer-prone nature also make it easy to envision a scenario where that sum tops what he'd earn on the open market. A spike in his homer-to-flyball ratio similar to the one he experienced in another pitcher-friendly environment in 2015 and 2013 would leave the Royals with an unsightly contract.
The Royals made a pair of smaller-scale commitments in the rotation as well. First, they paid up for right-hander Chris Young after two years of drastically outperforming his peripheral stats thanks to his propensity for weak fly-balls (and, weak contact in general). Young shouldn't be counted on for innings, having topped 100 frames in a season just thrice since the conclusion of the 2008 season, but he's being paid a fairly modest $11.5MM over the next two seasons and doesn't need to do all that much to justify the investment. The Mike Minor contract is even lower risk, financially speaking, as the lefty followed former teammate Kris Medlen from Atlanta to Kansas City and signed a similar contract. Minor is recovering from shoulder surgery, but if he resembles anything close to the 2012-13 version of himself upon his return, it'll be an easy win for the Royals.
The loss of Greg Holland to Tommy John surgery created a hole at the back of the Kansas City bullpen and turned their dominant late-inning trio into a still-formidable duo of Wade Davis and Kelvin Herrera. The Royals sought to fill in the Holland-sized void by reuniting with Joakim Soria, but did so by paying top-of-the-market dollars for a 31-year-old reliever (soon to be 32) that delivered fairly pedestrian results in 2015 prior to a trade to the Pirates. While Ryan Madson's age perhaps dissuaded the Royals from matching the Athletics' $22MM commitment in him (understandably so), it was fairly surprising to see the Royals turn around and offer even more money to a setup man that will pitch the final season of a three-year deal at age 34.
Read more analysis after the break…
Questions Remaining
While some of the Royals' offseason investments look a bit questionable, it's still tough to find a glaring weakness on the team. The Royals have an offense that rarely strikes out, a strong bullpen and one of the game's best defenses, which will help to offset the fact that the rotation is comprised mostly of mid-rotation arms. The likes of Salvador Perez, Eric Hosmer, Mike Moustakas, Lorenzo Cain, Alex Gordon and Alcides Escobar are all controlled beyond 2016, and the resurgent Kendrys Morales will reprise his role as the club's DH this season (before likely testing the open market or having his mutual option bought out). All of that looks good on paper, but there are a few spots that could be questioned.
Kansas City's investment in Omar Infante has been a bust to this point, with the second baseman hitting just .240/.269/.331 since signing a four-year deal worth a hair north of $30MM. He's been a bit better this season, but with Infante and the light-hitting Christian Colon representing the club's top options at second base, it wouldn't be a surprise to see Kansas City seek a second-base upgrade for the second consecutive summer. Right field, too, could represent a potential area of upgrade. Jarrod Dyson is a stellar defender and adds plenty of value on the bases, but he's dealt with an oblique issue already this season and owns a lifetime .256/.322/.343 batting line in 1214 plate appearances. At the very least, an upgrade over Paulo Orlando as a platoon partner could be worth exploring.
The other question for the Royals is whether they have enough in the rotation. Edinson Volquez, Yordano Ventura, Kennedy, Medlen and Young is a solid grouping, but Medlen and Young combined for just 181 2/3 innings last season. Ventura, meanwhile, has never topped 183 innings in a season. Kansas City made it work with a similar collection of arms that also lacked a track record of durability in 2015, but they had to trade for Cueto midseason and parted with one of their top near-MLB-ready arms (Sean Manaea) in the Zobrist deal. Dillon Gee and Minor provide some alternative options as the season wears on, but rotation depth could become an issue.
Deal of Note
For the better part of 18 months, there was talk of the Royals extending the contract of Salvador Perez — who infamously signed a five-year, $7MM contract that quickly became regarded as the most team-friendly deal in all of Major League Baseball. Perez's new agents at the Beverly Hills Sports Council brokered a new deal with the club that effectively locked in the option years on Perez's preexisting deal and extended the team's control of Perez by two seasons for an additional $35MM.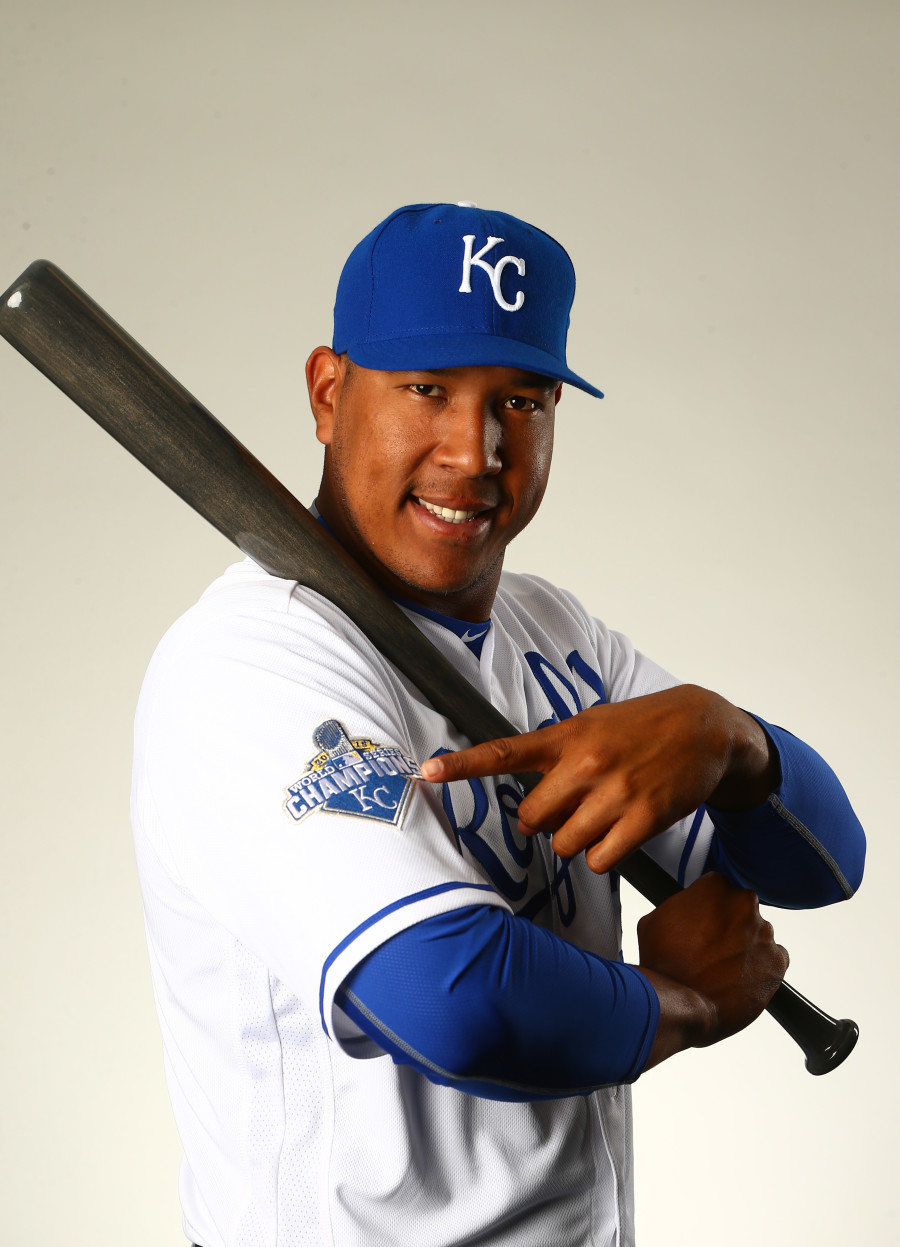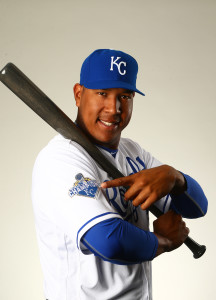 While there's every chance that the highly durable and excellent Perez will justify the value of that contract, from a pure business/risk standpoint, it's difficult to believe that the Royals tore up a contract that carried so much surplus value. Perez was already controlled through the 2019 season, with club options of $3.75MM, $5MM and $6MM due to follow his 2016 salary of $2MM. That's an incredible bargain for even a passable big league catcher, let alone one that has excelled to the levels that Perez has since establishing himself as the Royals' regular catcher. The Royals not only forfeited the right to back out of those options in the event of a notable injury to Perez, they also signed themselves up for a considerable amount of risk beyond the previous scope of the contract.
In part due to Kansas City's reliance on budget backups, Perez easily has the largest workload of any catcher in baseball, having logged 3635 innings behind the plate dating back to the 2013 season. In that time, only four other receivers have even topped 3,000 innings: Miguel Montero (3037), Russell Martin (3055), Jonathan Lucroy (3061) and Yadier Molina (3272). Perez's workload tops his next-closest competitor by nearly 400 innings; he's caught about 40 more games' worth of innings than has Molina in that time span. That type of workload is taxing on any catcher's body, but one has to imagine it's particularly taxing on Perez, who at 6'3″ and 240 pounds is one of the largest catchers you'll encounter. Indeed, Perez's production at the plate has steadily declined over the past few seasons by virtually any measure. Per wRC+, Perez's bat was 14 percent above the league average back in 2012 (114 wRC+). Since that time, he's dropped to 106 in 2013 (six percent above average), 92 in 2014 (eight percent below) and 87 in 2015 (13 percent below). Kansas City had the choice of going year-to-year and seeing what type of impact that workload had on a backstop of Perez's size, and instead chose to not only lock him in through age 29 but also extend him through age 31 at a fairly premium rate.
It's understandable the the Royals would want to restructure Perez's contract in an act of good will, and I'd be remiss not to note that the move was undoubtedly a popular decision in the clubhouse, where Perez is beloved by his teammates. And it's not as if the two years added are without value. However, that's a steep price to pay and an exceptional amount of risk to take on in negotiations where the Royals seemingly should have held all of the leverage. Extensions, almost by definition, are designed to lengthen a club's control at a below-market rate or lock up a player that is nearing the open market, but this deal meets neither of those criteria. Perez's extension strikes me as a clear win for the player, even if he lives up to his end of the bargain and proves capable of handling a historically large workload.
Overview
The Royals have been one of baseball's best teams across the past two seasons thanks largely to an elite bullpen, a high-contact/low-strikeout approach and a significant emphasis on speed and defense. While Kansas City fans are assuredly dreading the days that Cain, Hosmer and Moustakas hit free agency, the good news is that the club has at least two more years of each. The Royals returned the vast majority of last season's World Series roster, and they're positioned as one of the top teams in a deep American League that features very few weak spots. While it's fair to question the long-term wisdom of some of this offseason's dealings, it's hard to criticize the organization for continuing to invest after its historic breakthrough, and the simple fact is that the 2016 Royals look as formidable as any club in the AL. This type of sustained run is exactly what the front office had in mind when building the club's young core of Hosmer, Moustakas, Cain, Escobar, Gordon, Perez, Ventura, etc. The Royals are not sneaking up on anyone; they're a postseason favorite and a force to be reckoned with.
Now, you can weigh in on the Royals' winter (link for mobile app users):
Photos courtesy of USA Today Sports Images