MLBTR is publishing Offseason Outlooks for all 30 teams.  Click here to read the other entries in this series.
The Rockies made their triumphant return to the postseason, but bowed out after dropping the Wild Card play-in game. Overcoming the Dodgers in the NL West will be a tall order, and the Rox face several roster questions.
Guaranteed Contracts
Options
Arbitration-Eligible Players (service time in parentheses; projections via MLBTR & Matt Swartz)
Free Agents
[Colorado Rockies Depth Chart; Colorado Rockies Payroll]
There are some needs here, but also some resources. Colorado's payroll has ramped up rather noticeably in the past three seasons, going from $97MM to $112MM and then up to $127MM. As things stand, the team's 2018 guarantees plus anticipated arb costs add up to about $90MM. Thus, even if there's no further boost — that's still unclear — GM Jeff Bridich could have nearly $40MM of open payroll to play around with.
Where, then, do the needs lie? The most noticeable hole, perhaps, is at the back of the bullpen. Greg Holland proved a worthwhile free agent acquisition last winter, though incentives drove his one-year cost up to a healthy $15MM (from an initial $6MM salary). He gave up the chance at another $15MM payday and is expected to decline a $17.4MM qualifying offer, preferring instead to return to free agency. With live-armed lefty Jake McGee and midseason acquisition Pat Neshek also reaching the open market, the Rox will lose a large portion of the their late-inning firepower.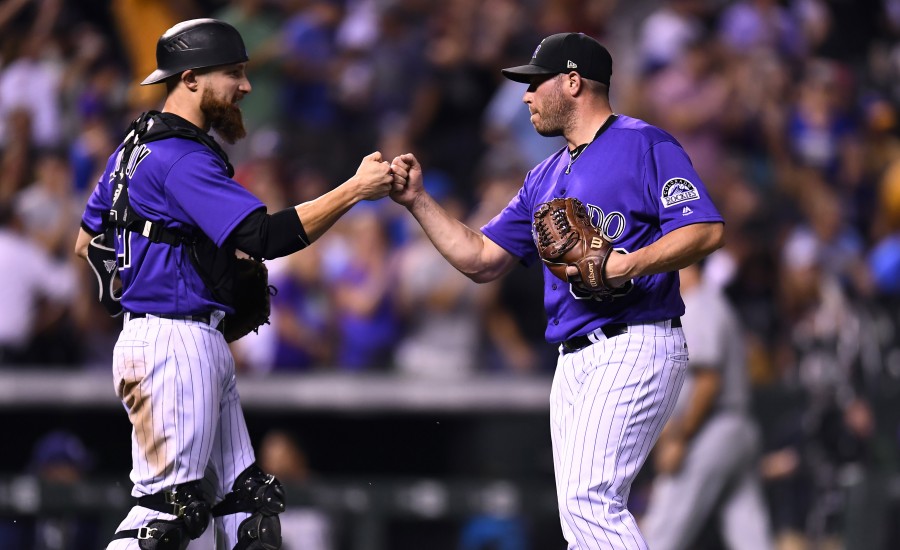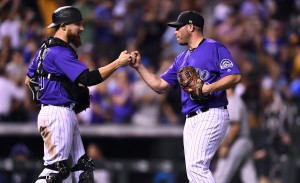 Colorado could pursue some or all of its own free agents, and perhaps it's reasonable to anticipate that to a point. It certainly seems that both Holland and the team are fond of one another, but he's going to cost a bundle and comes with all the risks one might imagine would accompany a soon-to-be 32-year-old reliever that recently underwent elbow surgery. The Rockies have a few power arms on hand, including Adam Ottavino and youngsters such as Carlos Estevez, but it's difficult to imagine any being entrusted with the ninth inning. If Holland can't be had, then, it's possible to imagine Bridich checking into the trade market or shopping from among a variety of late-inning arms. Some free-agent hurlers have significant closing experience, such as Addison Reed and Steve Cishek, while others have arguably shown enough to deserve such an opportunity. Among the interesting names on the market are the veteran control artist Neshek, former Rockies hurler Juan Nicasio, and Brandon Morrow. Even if the club lands a big closer, it could consider those and other options as it seeks additional setup options. The team has two southpaws with Mike Dunn and Chris Rusin, but another righty late-inning arm would be welcome.
The fact that there are some openings shouldn't be read as a suggestion that the pitching staff isn't in a good place. In fact, the rotation looks solid enough that it could distribute some spare arms to the 'pen if the team enjoys good health fortune. Though Tyler Chatwood is on his way out, the Rockies have compiled a group of solid hurlers behind staff ace Jon Gray. German Marquez and Kyle Freeland, and Chad Bettis are all but certainties for rotation spots so long as they are healthy. Antonio Senzatela and Jeff Hoffman faded late, while Tyler Anderson struggled early and closed strong, but all three could compete for the final job out of camp. Those that fall shy will bolster the relief corps or remains stretched out at Triple-A for depth. It's conceivable that the Rockies could add another veteran pitcher to this mix, but hardly necessary; it's more likely, perhaps, that the club will sign a swingman type for the pen and/or add a veteran or two on low-commitment minors deals.
One way to squeeze value out of an existing pitching staff is to improve the catching situation, and that figures to be an area of focus for Colorado. Tony Wolters slid offensively last year, while Tom Murphy struggled through an injury-limited campaign. Mid-season acquisition Jonathan Lucroy shored things up once he arrived and looks to be a strong candidate for a return. Lucroy is already 31 years of age and comes with some questions after lagging at the plate and in the framing department in the first half of 2017. But he has been one of the game's best receivers for some time now and rebounded upon his arrival in Colorado. Now, he's a known quantity who would fill a clear need. Other open-market options include Alex Avila and Welington Castillo.
Otherwise, half of the lineup is fixed. Third baseman Nolan Arenado, shortstop Trevor Story, second baseman DJ LeMahieu, and center fielder Charlie Blackmon are all everyday players. The only offseason questions facing this group relate to the possibility of new contracts. Blackmon and LeMahieu are each entering their walk years, while Arenado is just one season behind them. It's possible to imagine the Rockies exploring long-term arrangements with any of these players, but getting something done will likely require an uncomfortable contractual commitment — especially with Arenado and Blackmon, who are among the very most productive players in the game. The former is still just 26 and could reasonably point to the Giancarlo Stanton extension as a comp; the latter is already 31, thus limiting his contractual upside, but could legitimately seek a four-year promise at a premium rate of pay to forego a shot at free agency. Story, meanwhile, seems safe in his job for now but doesn't look like an extension candidate at this point given his strikeout problems and the presence of the fast-rising Brendan Rodgers.
That brings us to the potential moving parts on the position-player side of things: first base, the corner outfield, and the bench. There are options here, though it's also possible the Rockies will take a fairly simple path to rounding things out.
Ian Desmond was supposed to slot in at first last year, a quizzical decision from the start that only looked worse as the season wore on. Desmond struggled at the plate upon returning from injury and ultimately ceded first base to Mark Reynolds, who is now again a free agent. Ultimately, Desmond played mostly in the corner outfield, and it seems likely the versatile veteran will be penciled in there to open the year. Colorado can do little but hope that he follows the path of Gerardo Parra, who surged after a disappointing first season after joining the club as a free agent. Those two could serve to occupy a major portion of the time flanking Blackmon. Meanwhile, the Rockies have a slate of other outfield possibilities on hand. Left-handed hitters Raimel Tapia, Mike Tauchman, and David Dahl are all on the 40-man. Each has shown quite a bit of promise at times but also comes with questions of varying kind and degree. The righty-swinging Noel Cuevas was also just placed on the 40-man and could compete for a job.
Put it all together, and it's certainly possible that the Rockies already have compiled their outfield unit. Viewed that way, the offseason path is simple: salute former star Carlos Gonzalez on his way out the door and think about a plan to account for the loss of first baseman Mark Reynolds, who provided sufficient production at a bargain rate in 2017. With Pat Valaika on hand to function as a utility option, there really isn't much to do but settle first base.
At first, there are a multitude of options. Colorado could plan to rely upon youngster Ryan McMahon, who has little to prove at Triple-A. (He has also spent time at second and third, which increases his roster utility now and in the future.) The lefty hitter might be complemented with a right-handed-hitting addition, which could come in the person of Reynolds. Despite tallying thirty home runs, it is worth noting that the 34-year-old's overall batting productivity remained in the realm of league average, as it has been for most of the past six seasons. With quite a few other slugger types floating around in free agency, Reynolds likely won't require a major outlay to bring back. Alternatively, the club could look to players such as Mike Napoli or Danny Valencia to join McMahon.
That is the most straightforward and cost-effective way for things to go, but hardly the only one. It's plenty arguable that the Rockies can and should pursue a more aggressive approach — particularly with an imposing Dodgers team still dominating the division. Colorado pursued Jose Abreu as a free agent and might see a lot to like in his contractual rights. Abreu is one of the game's better hitters; while he's not cheap with a projected $17.9MM arbitration salary in his second-to-last arb year, that's a cost level that won't break the bank. And the Rockies likely have sufficient prospect depth to entice the White Sox without bankrupting their future. You can probably squint and see high-priced free agent Eric Hosmer as a fit here, particularly given Colorado's track record of seeking reputed high-character types, and free agency also comes with a variety of other quality first basemen (most notably, the switch-hitting Carlos Santana). Conceivably, the Rockies could also even revert to their original plans with Desmond, putting him in some sort of first base/super-utility role while adding a bigger corner outfield piece instead of a first baseman.
It's possible to imagine quite a few scenarios, really. Investing in a veteran position player, for instance, might free the Rockies to utilize young position-player assets to acquire a quality young reliever. It's an exciting time to be a Rockies fan — though that also means expectations will be high for Bridich and his staff.
Photo courtesy of USA Today Sports Images.