10:04pm: The Associated Press reports that the Rays will pay $14.5MM to the Giants and are responsible to the $13MM that is yet owed to Span. Specifically, the Rays will pay $2MM to the Giants by the end of 2017 to cover Longoria's $2MM trade bonus, and they'll also pay another $3MM by Oct. 31, 2022. The remaining $9.5MM, per the AP report, will be deferred in payments from 2025-29.
In essence, then, the Giants are adding $60.5MM to their long-term ledger in order to acquire the final five years of Longoria's contract. Moreover, it doesn't appear that San Francisco will take much of a hit at all in terms of the luxury tax. So, when paired with the shedding of Matt Moore's contract, the move should afford the team ample opportunity to add at least one outfielder on a multi-year deal while remaining comfortably south of the $197MM luxury tax threshold.
7:30pm: Marc Topkin of the Tampa Bay Times reports (via Twitter) that the Rays will send between $10MM and $15MM to the Giants to cover a portion of Longoria's remaining $86MM as well as a $2MM trade bonus.
11:51am: The Rays and Giants have agreed to a deal that will send Evan Longoria to San Francisco. Young infielder Christian Arroyo headlines the return, with veteran outfielder Denard Span going along with him to offset some of Longoria's salary. Young pitchers Stephen Woods and Matt Krook are also bound for the Tampa Bay organization.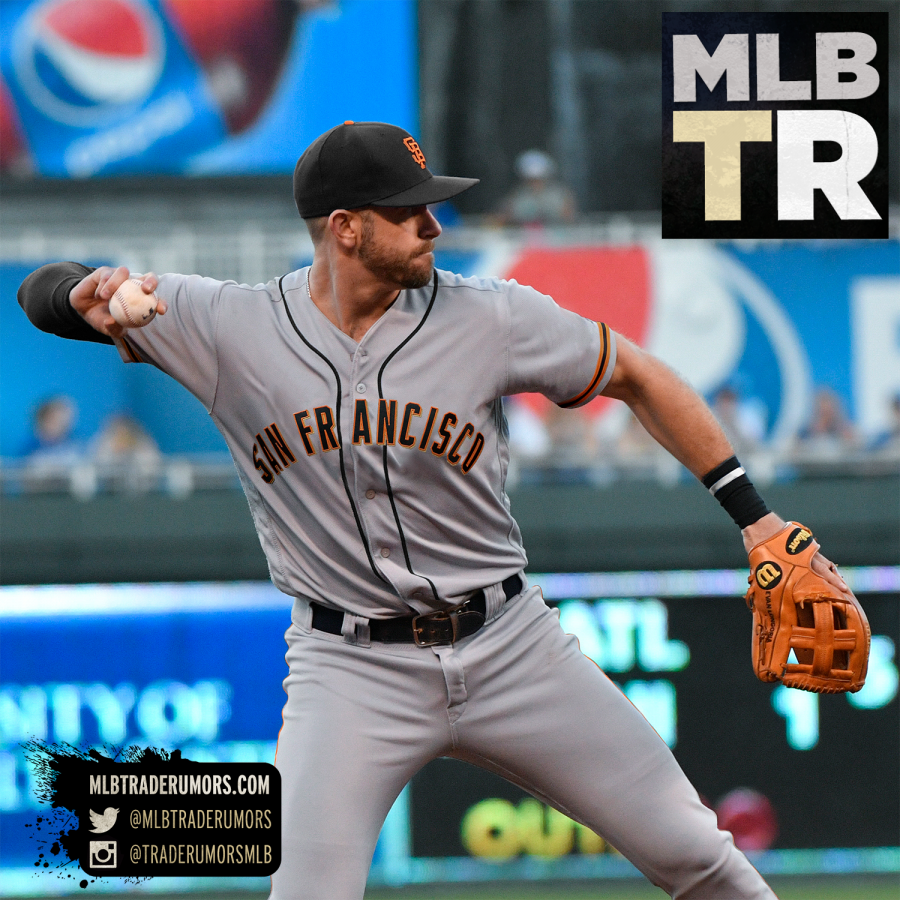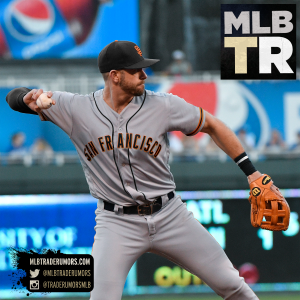 In addition to taking on Span's contract, Tampa Bay will ship an as-yet-unknown amount of money to the Giants. The 32-year-old Longoria is owed another $86MM between now and 2022, including a $5MM buyout on a $13MM option for the 2023 campaign. He will also receive a $2MM assignment bonus.
Just how much of that will end up on the Giants' books remains to be learned. The precise cash exchange has yet to be reported. Plus, there's a bit of uncertainty surrounding Span's future obligations. He is owed $9MM for 2018, along with a $4MM buyout of a $12MM mutual option for the ensuing season. Those obligations seem destined for San Francisco, but it's not yet clear what'll happen with the remaining $3MM signing bonus payment owed to Span in one month.
For both organizations, there's quite a bit of risk in a transaction involving Longoria. The Giants are taking on a high-priced player who struggled to a career-low .261/.313/.424 batting line in 2017 — adding to a collection of costly, aging veterans. But the Rays are parting with the long-time face of the franchise.
If Longo can bounce back, the rewards could be significant. His days of top-level offensive production are likely in the past, but Longoria was a .273/.318/.521 hitter as recently as 2016, when he also swatted 36 home runs. Of course, that followed two less-than-excellent campaigns, so the overall trajectory of late has framed Longoria more as a solidly above-average hitter than an excellent one.
That said, it's important to bear in mind that Longoria has also long delivered value with his glove. Though Defensive Runs Saved had observed a downturn of late, it credited him with a substantial bounceback (+11 runs) in 2017. Despite the tepid offensive output, then, Longoria contributed 3.6 rWAR and 2.5 fWAR in 2017.
In return for Longoria, the Rays will get not only salary relief but also some young talent. Arroyo is the chief piece here. He had a messy MLB debut and missed time due to injury in 2017, but is only 22 years of age and destroyed Triple-A pitching in a limited sample in the just-completed campaign. In the best-case scenario for the Rays, Arroyo may be able to compete for a job out of camp.
Span's inclusion is mostly about cost. Still, he remains a useful player even as he closes in on his 34th birthday. In 2017, Span slashed .272/.329/.427 with a dozen home runs over 542 plate appearances. Though he's no longer really capable of regular time in center and has battled through core and hip injuries in recent years, Span ought to be capable of at least average work in a corner spot and has long been a productive baserunner.
Padding the return here for the Rays are a pair of interesting young arms. As Eric Longenhagen of Fangraphs tweets, both have quality stuff that still remains to be harnessed. The 22-year-old Woods just threw 110 innings of 2.95 ERA ball at the Class A level, with 9.2 K/9 against 5.2 BB/9. The righty is considered a relief prospect, as is the left-handed Krook, who will play the coming season at 23 years of age. Krook was unsigned as a first-round pick in 2013 and landed with the Giants as a fourth-rounder in 2016. Over his 91 1/3 frames at High-A in the just-competed season, Krook worked to a 5.12 ERA with 10.3 K/9 and 6.5 BB/9.
For the Rays, this move may be a precursor to further action. The club has been in talks on closer Alex Colome all winter. Many anticipate the team will trade a starter, with star Chris Archer representing the most intriguing possibility. Replacing Longoria with Arroyo means there's arguably still some excess infield depth to work from. And Span could either be used as a part-time player or sent elsewhere to realize further cost savings.
The Giants, meanwhile, still have needs and will be looking to fill them without going over the luxury tax line. It seems this swap won't impact their spending capacity too significantly, since the average annual values of the two contracts involved aren't too far apart. But the move takes one outfielder out of the equation while filling the gap at third, possibly leaving the Giants still searching for both a center and corner piece.
Marc Topkin of the Tampa Bay Times first reported Longoria was going via trade (via Twitter). Jeff Passan of Yahoo Sports (links to Twitter) and Robert Murray of Fan Rag (via Twitter) reported the other pieces involved. Murray was first to note on Twitter that the sides had struck a deal, with Jon Morosi of MLB Network (Twitter link) and Ken Rosenthal of The Athletic (Twitter link) mentioning the key names involved.
Photo courtesy of USA Today Sports Images.