The Rockies have announced an extension with outfielder Charlie Blackmon. In addition to re-working his already agreed-upon 2018 salary, the new deal covers five additional seasons, giving the Rockies control over three would-be free agent campaigns and providing the ACES client with a pair of player options for two further years.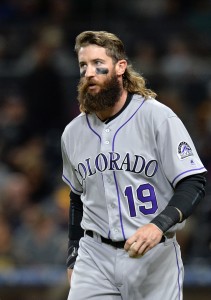 Blackmon will be guaranteed $94MM in new money, $63MM of which comes over the three seasons that are locked in before the player options, according to Craig Calcaterra of NBC Sports (Twitter link). He will also receive the same amount ($14MM) he was already promised for 2018, though $2MM of that figure will now come by way of signing bonus. He'll then earn $21MM annually from 2019 through 2021.
In the final two potential seasons, Blackmon will consider a $21MM player option for 2022 and, if he's still playing under the contract, a $10MM option for 2023. That final option number could escalate by up to $8MM. As Ken Rosenthal of The Athletic tweets, it will move north by $5MM so long as Blackmon takes 400 plate appearances. He can boost the figure by $2MM with a first, second, or third-place finish in the MVP voting or by $1MM if he lands fourth or fifth. The contract also includes limited no-trade protection.
Blackmon, who'll turn 32 in July, has ramped up his productivity over the past two seasons to become one of the game's best all-around outfielders. He has won consecutive Silver Sluggers and placed fifth in the National League MVP voting in 2017.
More importantly, the numbers suggest that Blackmon is primed to continue his success. Blackmon has racked up 400 hits over the past two seasons, carrying an eye-popping .327/.390/.578 cumulative slash line that impresses even after accounting for the fact that he plays half of his games at Coors Field. He no longer swipes many bags, but made up for that lag in the counting-stat department by hitting a career-high 37 long balls last season. Notably, he also boosted his walk rate to a career-high 9.0% in 2017. While that's hardly a premium figure, it's promising that it is moving northward at this stage. And Blackmon has also fared rather well historically against left-handed pitching.
Though he grades mostly as an average performer in center, and may ultimately move out to a corner spot before this deal is up, Blackmon is a solid defender and good baserunner as well. He has also stayed on the field consistently since emerging as a full-time player in 2014.
The move will keep one of the Rockies' biggest stars on hand through at least his age-34 season while committing the team financially through his age-36 effort. Whether the Colorado organization can similarly lock up its other top player, third baseman Nolan Arenado (a free agent after 2019), remains to be seen.
This contract also removes a significant player from the much-anticipated 2018-19 free agent class. While Blackmon never was going to carry quite the earning power of some of the other intriguing names who'll soon reach the open market, he had certainly profiled as one of several players that could have pushed for nine-figure contracts.
As it turns out, Blackmon's new contract topped nine figures only nominally. Of course, he's locking that figure in now rather than rolling the dice on how things turn out in the season to come — not to mention how the next free agent period will go after a long, strange 2017-18 offseason. And he'll get to stay with the only organization he has played for. There's also value in controlling the outcome of the final two seasons of the deal, though perhaps not all that much given how long in the tooth Blackmon will be when it comes time to make a call on those years.
Blackmon also had to contend with anticipated market unease over his age as well as the fact that he has rather significant home/road splits (131 wRC+ vs. 100 wRC+ for his career). It was fairly unlikely that he'd have received a much lengthier commitment upon entering the market at 32 years of age. The Coors factor is harder to gauge, but could certainly also have been a factor in limiting interest.
All told, there's certainly a case to be made that Blackmon could have earned a fair bit more had he waited. Way back in the 2012-13 offseason, Josh Hamilton secured a five-year, $125MM pact entering his age-32 season. Then again, the amply accomplished Lorenzo Cain — nowhere near the hitter Blackmon is, but a better performer in other areas — is only months older than Blackmon and secured just $80MM for his own five-year term. Another monster season might, in the right market circumstances, have allowed Blackmon to drive up a bidding war and earned a decent bit more than he will. Odds are, though, that he will not have left an enormous pile of cash on the table when all is said and done.
Photo courtesy of USA Today Sports Images.