The Diamondbacks have extended GM Mike Hazen, the team announced and MLB.com's Steve Gilbert tweeted. Terms of the multi-year pact remain unknown at this time.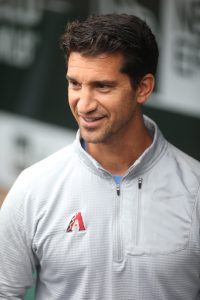 It's tempting to raise an eyebrow here at the timing. Hazen was originally hired away from the Red Sox and has deep roots there. The powerhouse Boston organization has just launched a hiring search for a new head of baseball ops. But that wasn't a factor, the team has made clear, with new contract talks having started before the BoSox seat came open.
Regardless, it's plenty understandable that the Arizona organization was interested in settling Hazen's long-term status — and ensuring he'd be around for years to come. His original deal ran through the 2020 season, meaning he'd have entered the ensuing offseason as a lame duck of sorts.
While the Snakes haven't enjoyed runaway success since Hazen took the reins, it's hard to argue with the work he has done. The long-time Boston exec originally came aboard on the heels of a brutally disappointing 2016 season. At the time, the organization faced an array of challenges: an MLB roster that had talent but wasn't quite good enough, a few challenging payroll commitments, and a questionable farm system.
It seems fair to say that there have been improvements on all fronts to this point, with Hazen navigating some especially tricky transactional matters. Since taking over, Hazen has traded away superstars Paul Goldschmidt and Zack Greinke. He has allowed long-time stars A.J. Pollock and Patrick Corbin to depart as free agents. And yet the club is closing in on a third-straight winning campaign, even as it now oversees a manageable slate of future salary obligations and features a much-improved prospect pool.
Remarkably, Hazen has yet to ink a single free agent to a contract of $10MM or more. He has added quite a few low-cost veterans, not all of which have worked out, but has done most of his most notable work via trades and extensions.
Hazen's first deal remains fascinating. He brought in the since-extended Ketel Marte, who has now morphed into a star, along with the talented but oft-injured Taijuan Walker in a swap that cost Mitch Haniger and Jean Segura. When the Snakes made a surprise charge in his first year at the helm, Hazen landed J.D. Martinez for a relative pittance. He couldn't get a deal done with JDM, but did extend fellow deadline acquisition Eduardo Escobar at an appealing rate. The Goldy swap netted Luke Weaver and Carson Kelly (along with prospect Andy Young) for one last season of the former MVP.
Most recently, the Greinke deal shed most of the obligations to the veteran starter while adding four promising prospects. Hazen cashed in well-regarded prospect Jazz Chisholm for intriguing young rotation piece Zac Gallen and also brought in steady back-end starter Mike Leake for cheap. Despite the loss of Greinke, the Snakes have threatened a surprise Wild Card run — though that's a long-shot at this point.
All things considered, it has been an impressive performance to this point for Hazen, who'll have more interesting decisions to make this winter. While the D-Backs have a lot of ground to make up if they're to challenge the Dodgers, they have a fair bit of payroll space and young talent to work with. Odds are we'll continue to see a strategy that largely defies simple categorization, with Hazen focusing not on "contending" or "rebuilding" so much as cost-efficient decisionmaking that enhances the organization's overall talent base.
Photo courtesy of USA Today Sports Images.