Former major league outfielder Brad Hawpe was a more-than-respectable offensive player during his peak with the Rockies. While Hawpe had difficulty early on from his debut in 2004 through the next season, he combined to slash .288/.384/.518 (124 wRC+) with 99 home runs in 2,338 plate appearances from 2006-09. The last of those four years, an All-Star campaign for Hawpe, went down as his final truly effective effort as a hitter. After Hawpe got off a .255/.343/.432 start (94 wRC+) with only seven homers in 2010, the team released him late that August.
Hawpe, then 31 years old, drew a vast amount of interest when he reached free agency amid a pennant race. He ultimately signed a minor league contract with the Rays, who at the time were in a hotly contested fight for AL East supremacy with the Yankees and Red Sox. The Rays did end up with 96 victories and a division crown that season before falling in the ALDS, but their regular-season sucess wasn't Hawpe's doing. He debuted with Tampa Bay on Sept. 1 and went on to hit .179/.304/.333 with two homers in 39 at-bats in its uniform.
Hawpe didn't participate in the Rays' postseason series, and shortly after its conclusion, he rejected their arbitration offer in order to revisit the open market. Because he was a Type B free agent under MLB's old system, the Rays were entitled to a compensatory draft pick for losing Hawpe. And they did watch him exit when he took San Diego's $2MM guarantee in January 2011. Hawpe didn't produce as a Padre or as a member of the Angels, with whom his career concluded in 2013, but the Rays have benefited immensely from his short-term run with them and stand to continue gaining from it over the long haul.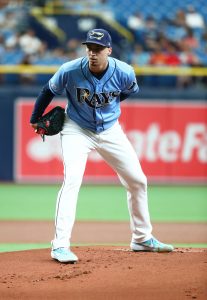 In essence, the Rays traded one month of Hawpe – who cost them very little money – for the 52nd selection in the draft. The Rays used that choice on a then-Washington state high school left-hander named Blake Snell. The year Tampa Bay drafted him, Baseball America wrote in his scouting report, "Because of his signability, his velocity and how well he has performed in front of crosscheckers, Snell could get popped as high as the supplemental first round, though on pure talent he would probably go a few rounds later."
The gamble has worked out for the Rays, with whom Snell has been elite at times dating back to his first season in 2016. He spun 89 innings of 3.54 ERA ball then, and though Snell struggled enough the next season to earn a short-term demotion to the minors, he returned to MLB to finish with a decent 4.04 ERA in 129 1/3 frames. But it was 2018 when Snell truly took off; owing in part to a jump in velocity, he pitched to a 1.89 ERA with 11.01 K/9 and 3.19 BB/9 across 180 2/3 innings en route to AL Cy Young honors.
With injuries troubling him, Snell was unable to reign atop the AL again last year, when his ERA ballooned to 4.29 in 107 innings. However, that's not to say he totally fell off the map. You'd be hard-pressed to find a team that wouldn't sign up for the 3.32 FIP and 12.36 K/9 against 3.36 BB/9 he posted last season.
The Rays already extended Snell on a five-year, $50MM guarantee deal before the prior campaign, keeping a high-end starter under control through 2023. To think, it all started with the minor addition of Hawpe a decade ago. Not bad.
Photo courtesy of USA Today Sports Images.