Former MLB catcher Gary Bennett chatted with MLBTR readers for more than two hours this morning. Click here to read the transcript and learn more about Bennett below: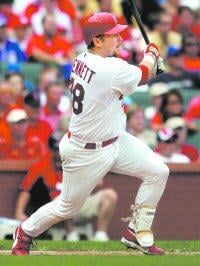 Gary Bennett was drafted by the Phillies in the 11th round in 1990 out of Waukegan East High School.  His MLB career began with a single plate appearance more than five years later, when he pinch-hit for the Phils against David Wells.  His first big league home run came in 1999, at the age of 27.
In July of 2001, Bennett was traded to the Mets for Todd Pratt.  A year later, he was dealt to the Rockies.
It was in 2002, at the age of 30, that Bennett landed regular work in the Majors, serving as Colorado's primary catcher.  He then signed a free agent deal with the Padres, leading their '03 club in innings caught.  After the '03 season, Bennett signed as a free agent with the Brewers.  He served as the backup to Chad Moeller that year.
On to the Nationals in '05, Bennett's life as a big league mercenary catcher continued, this time with Damian Miller as his counterpart.
Bennett moved to the Cardinals for the '06 season, working behind Yadier Molina.  The Cards beat the Tigers in five games in the World Series that year, and Bennett earned a ring.  The Cardinals retained Bennett for '07, providing some rare continuity, after which he closed out his career with the Dodgers.
In the end, Bennett spent over 4,200 innings in the Majors behind the dish, catching pitchers such as Jake Peavy, Ben Sheets, and Adam Wainwright.  He also hit a homer off Sheets at one point, taking Dontrelle Willis and many others deep as well.  Memorable moments included walk-offs on back-to-back days against the Cubs in '06 – one a single and the other a grand slam.
In 2007, Bennett was one of the players named in the Mitchell Report.  He owned up to his use of human growth hormone, later telling Rick Hummel of the St. Louis Post-Dispatch, "It was unethical, cheating, taking performance enhancement stuff."
After Gary's playing days wrapped up, he became a partner in a training academy called Slammers Baseball.  Other ventures have included medical device sales, real estate, and non-profit foundations such as CASA Lake County and Science of Sport.  The Bennetts also have three kids, one of whom played baseball at Mizzou and another currently playing at Illinois.  You can follow Gary on Twitter @gdbjr5.
Gary offered to chat with MLBTR readers, and we're happy to have him!  Click here to join the live chat.
If you're a current or former MLB player and would like to do a one-hour chat on MLBTR, please contact us!