It's becoming common for teams to sign promising young pitchers to extensions, but the Dodgers haven't locked up their young arms with the same frequency as other clubs. Instead, they have generally obtained starting pitchers through free agency this decade (Darren Dreifort, Andy Ashby, Derek Lowe, Randy Wolf, Vicente Padilla and Hiroki Kuroda are some noteworthy pitchers to sign with the Dodgers as free agents since 2000). 
It's not easy to develop pitching, and the Dodgers haven't had an overwhelming amount of young starters worth extending, but that's no longer the case. Chad Billingsley and Clayton Kershaw have become two of the team's best pitchers, so they are candidates for extensions this winter. 
The last pitcher to sign an extension was a young left-hander, like Kershaw. It's possible that the Ricky Romero extension – a deal that was based on the ones Jon Lester and Yovani Gallardo signed – becomes a model for a contract between Kershaw and the Dodgers. Here's how Kershaw's current numbers compare to the ones those three starters had when they signed their respective deals: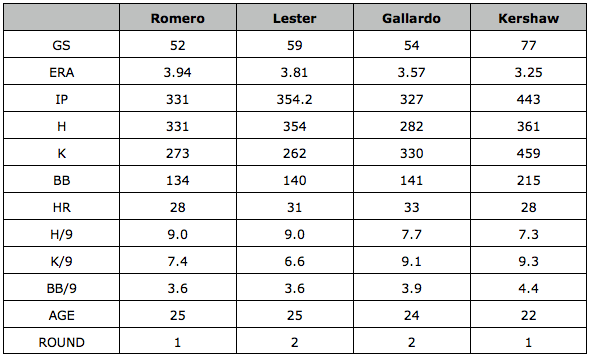 The pitchers are comparable, but Kershaw stands out. He is younger than the other three pitchers were when they signed extensions, he has a lower ERA, more starts and innings, a better strikeout rate and fewer hits allowed per inning pitched. Kershaw's walk rate is the one blemish on his record, but he's walking fewer batters than ever this year (3.9 BB/9). 
Romero, Lester and Gallardo were heading into their final pre-arbitration seasons when they signed their respective deals, all of which were worth $30MM or so. This winter, Kershaw will also be entering his final pre-arbitration season, but he will be in position to seek more guaranteed money. After all, he has pitched more innings, posted a better ERA and struck out more batters at a younger age. The Dodgers would do well to lock Kershaw up to a five-year $30MM extension, but Kershaw's representatives would have reason to ask for more.