The Blue Jays have a lot of options when it comes to Kevin Gregg. They will soon decide whether to let him leave, keep him for one year or keep him for two years.  After the season, the Blue Jays can buy Gregg out for $750K, exercise his 2011 option (for $4.5MM) or exercise his 2011-12 options at once (for $8.75MM).
Gregg makes things interesting in the ninth inning, walking lots of hitters (4.3 BB/9) but he has a 3.24 ERA with 9.5 K/9 in his first year with the Blue Jays. Since Scott Downs and Jason Frasor are also free agents after the season, the Jays' 'pen could easily look considerably different in 2011. 
Replacing Gregg's 31 saves wouldn't be cheap or easy. There are always bargains to be found on the relief market (Matt Capps and J.J. Putz are two recent examples), but quality relievers can command multi-year deals, especially if they close out games. Last year Brandon Lyon, Fernando Rodney and Jose Valverde put together seasons that aren't that different from Gregg's 2010 season. As the table below shows, those three right-handers signed multi-year deals worth $11MM or more.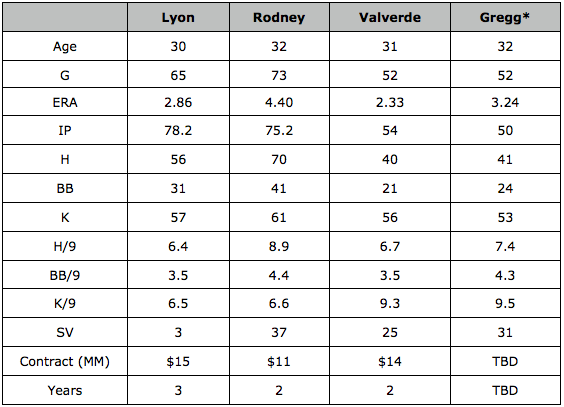 *Gregg's 2010 numbers are shown. All other numbers are from 2009.
It seems likely that the Blue Jays will pick up at least the 2011 portion of Gregg's option. He has pitched well, and unless the Blue Jays plan on gambling, they'll have trouble replacing Gregg for a net cost of $3.75MM.
If they let him walk, they would likely obtain a compensation pick in next year's draft, since Gregg projects as a Type B free agent. But the Blue Jays are set to enter 2011 with a young rotation and seem likely to complement their starters with a veteran reliever here and there. I'm guessing that the Blue Jays bring Gregg back, at least for 2011 and maybe for the next two seasons.