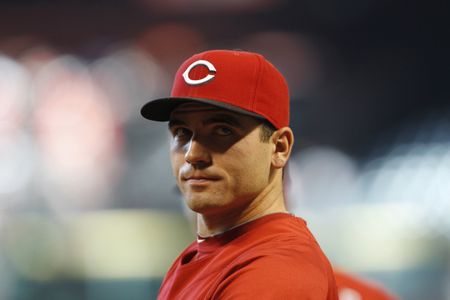 Let's take a look at some Reds-related tidbits courtesy of The Cincinnati Enquirer's John Fay..
Fay writes that "it is believed" that the Reds have made an offer to free agent shortstop Edgar Renteria.  The veteran said that the Giants' offer of $1MM showed "a lack of respect", leaving the Reds with a chance of signing the 2010 World Series MVP.
The news of Carlos Gonzalez's impending seven-year, $80MMM deal with the Rockies will likely have a ripple effect on the Reds' talks with Joey Votto.  Reds GM Walt Jocketty says that he hasn't seen the numbers on Cargo's new contract but Cincy can expect Votto to ask for even more money.  The 27-year-old, Fay writes, had two very good years prior to his brilliant season in 2010 while last year was Gonzalez's first in the majors.  Jocketty says that he hasn't talked to Votto's representation in recent weeks however due to the holidays.
The Reds are reportedly close to signing Jeremy Hermida to a minor league deal but they may continue to look for a left-handed hitting outfielder.  Jocketty confirmed that he talked to the agents for Fred Lewis and Scott Podsednik before the holidays.  
Speaking of left-handed hitting outfielders, the Reds haven't had any recent contact with Laynce Nix.  The Reds were under the impression that Nix was Seattle-bound after receiving a contract offer from the M's in December, but no deal has been reached.
Photo courtesy of Icon SMI.