Hunter Pence and his representatives at Beverly Hills Sports Council likely took notice when Mike Napoli and the Rangers agreed to a $5.8MM salary for 2011. And Pence's agency will probably be watching the cases for Luke Scott and Delmon Young just as carefully (keep track of all arbitration submissions with MLBTR's Arb Tracker).
Pence, a super two who is arbitration eligible for the second time, asked for more money than Scott, Napoli, or Young even though the Astros outfielder is a year further from free agency than the others. Pence can ask for $6.9MM through arbitration, since his career totals compare well with players like Scott and Young, who are on track to hit free agency after 2012.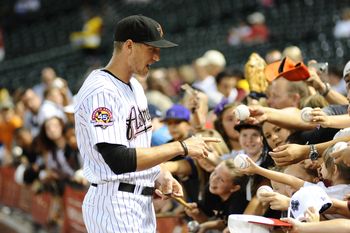 Pence doesn't have as much big league experience as Scott, Napoli or Young, but he has more career runs and stolen bases than any of them and comparable home run and RBI totals. Pence is also working from a relatively high base salary ($3.5MM) and is the only one of the players above to have made an All-Star team.
Length and consistency of career contribution matter in an arbitration hearing, which plays in Pence's favor. He has appeared in 156 games or more in each of his three full seasons, hitting exactly 25 homers three times in a row. He has finished the past two campaigns with a .282 batting average, so it shouldn't be hard for BHSC to show that Pence has been consistent and durable.
Pence is far from a perfect player; he has been successful just 61% of the time he has attempted to steal bases and doesn't walk as much as Scott or Napoli. But it's his $6.9MM asking price that could become his biggest problem. Napoli, a comparable player in terms of career accomplishments, settled for $5.8MM. Carlos Quentin, another comparable player, already settled for $5.05MM, reducing the others' leverage.
Young ($6.25MM) and Scott ($6.85MM) filed for less than Pence, but they could still help their fellow-outfielder by winning in arbitration. If they lose or settle, however, Pence will have a hard time explaining that he's worth more than the $6.025MM midpoint (the Astros filed at $5.15MM) when comparable players are making $5-6MM.
Pence and the Astros are headed to arbitration soon and what happens with Scott and Young could have a major impact on how much the Astros are paying their right fielder for 2011 and beyond.
Photo courtesy of Icon SMI.